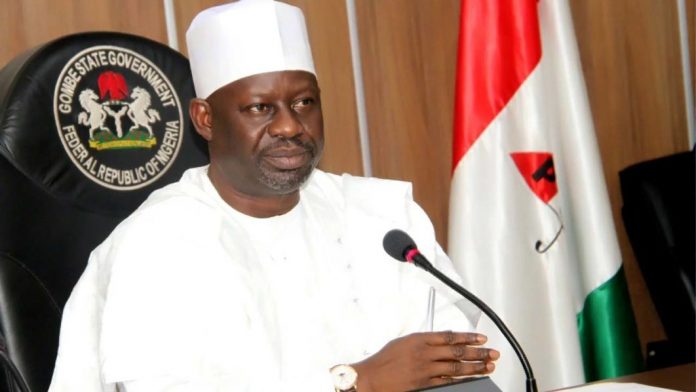 By Segun Awofadeji in Gombe Em

A major crises is at the verge of dividing the ruling Peoples Democratic Party (PDP) in Gombe State following the alleged alteration of the result of the Primary election for the Billiri East State Constituency.
THISDAY checks revealed that already, the state Governor, Ibrahim Hassan Dankwambo and the State Party Chairman, Joel Adamu Jagafa are at logger heads over the winner of the primary election. Honourable Rambi Ibrahim Ayala, allegedly won and had the blessings of the State Governor.
Checks also revealed that the State Party chairman, allegedly in connivance with the Secretary, Alhaji Buba Shanu and some party officials were bent on imposing Mrs. Rabi Daniel, immediate past Commissioner for Women Affairs and Social Welfare on the party.
But addressing a press conference yesterday over what he described as "Travesty of Justice", Honourable Ayala who presented his PDP member ship card number (8877147) and voters card number (A04831922) explained that he was declared the winner of the Primary election held on 4th October, 2018 at the Billiri Township Stadium before INEC officials with 25 votes out of the 49 accredited votes before men of the DSS, Police, Civil Defence as well as press men by the electoral officer, Barr. JA Lawal.
He stated however that to his dismay and many of his supporters, even after reaffirming his victory the next day Friday 5th October, 2018 at Custodian Hotel Gombe after the State Governor had called on the State party chairman not to tamper the result as announced earlier and a press address made by the party officials from Abuja, the State party officials refused to give him form E.C. 4B (iii) from INEC office in Abuja.
According to him, "events came to a climax yesterday when I learnt that my colleagues were filling an INEC nomination form E.C. 4B (iii) brought from Abuja, I enqired who was giving out the forms and they told me it is the State Party Secretary, Alhaji Buba Shanu, I immediately put a call to him to get my form but to my bewilderment, he told me that an appeal panel has upturned my victory and given to Rabi Daniel to serve as the flag bearer of the party. I requested to be given a copy of the decision and by who, this was declined".
While calling on his supporters to remain calm, Hon. Rambi said, "we are running a Democratic Government that is predicated on the rule of law not rule of might, we are set to challenge this decision through all lawful means to ensure that justice prevail".
However, when some correspondents visited the State Party Secretariat over the matter, neither the Chairman nor the Secretary were in their offices. Several calls were also made to them but none of them picked the calls.