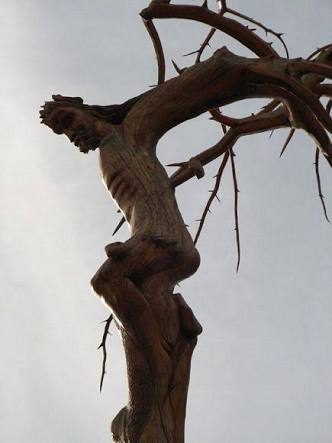 Yinka Olatunbosun reports on a visit to Forest of the Cedars, a UNESCO World Heritage Site in Lebanon which is the home of the world's largest wooden sculpture.
The increasing altitude was scary as the tour bus roared at every bend on Mount Lebanon, 6,000 feet above sea level, on the way to the Cedars' Institute. In the bus was President of the Institute, Dr. Joseph Rahme, in company of his nephew Rachid and a Lebanese-Nigerian hostess, Nisreen Kaj. Our destination was the Biblical Cedar Grove- a natural habitat of the most sought-after timber by the Phoenicians, Israelites, Assyrians, Babylonians, Persians, Romans and Turks. Interestingly too, King Solomon rebuilt the temple with the resilient. The cedar tree has survived several wars and invasions such as documented in the Epic in Gilgamesh and is a national symbol.
Dr. Rahme, perhaps the best guide anyone could wish for, knows the cedars like the back of his hand. With his family being one of the first occupants of Cedars, the walking lecture was a surge of history. Annually, he enjoys taking the participants of the Study Abroad in Lebanon (SAIL) programme on tour for three days and nights, hiking and panting. Initiated by Wole Soyinka Foundation, in partnership with the Cedars' Institute, the visit to Cedars of God is a part of the programme of Notre Dame University's Benedict XIV Endowed Chair of Religious, Cultural and Philosophical Studies.
First, a huge tree named after Prof Wole Soyinka caught our eyes. Soyinka was said to have visited the Cedar grove-extremely slippery during winter and couldn't go beyond that tree which he held unto. Thus, the tree-one of the patriarchs- earned his prestigious name. The reforestation effort by the institute was evident in the springing new cedars trees. A cedar tree usually takes several decades to mature. The felled trees also served as samples to learn how to tell the years of a tree while the oldest cedar tree is known as the Pope.
The surprise discovery in the heart of the forest was "Lamartine Cedar'' (Christ on the Cross) a monumental body of work by Sculptor Rudy Rahme whose work was mentioned in the 2007 Guinness World Records. Arguably the world's largest wooden sculpture, it took no fewer than six years for Rahme to sculpt using three dead cedar trees and direct-sculpture method, writing history on wood as he visually narrates the birth, life and death of Jesus.
The epic barbecue dinner and freshly plucked apples by Dr. Rahme were not the only factors that made the stay at Cedars pleasurable. That Nigerians could sleep without locking doors in Cedars where no one expects a thief was another. Honour came with leaving Lebanon with a miniature wooden sculpture made of cedar wood with our first names engraved on each piece.