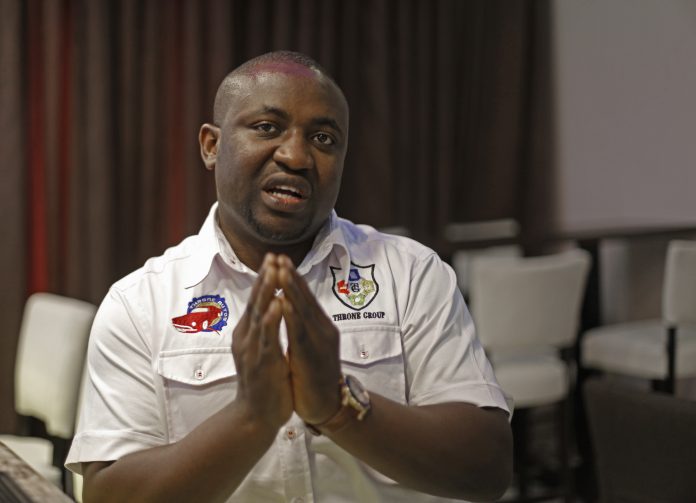 Mary Nnah writes on the efforts of Olalekan Michael Ilori, the Chief Executive Officer of Throne Group Worldwide, in helping Nigerians own cars with ease. Also, the company through its corporate social responsibility arm has empowered the less privileged in the society For the Chief Executive Officer of Throne Group Worldwide, parent company to Throne Autos, an automobile firm, Olalekan Michael Ilori, his passion is helping Nigerians own cars and other forms of vehicles with so much ease. The US-based Nigerian business tycoon thrives in helping Nigerians who desire to own cars, to purchase any car of their choice from any part of the world and at affordable prices. Explaining how it works, Ilori said, "Throne Group is a conglomerate comprising Throne Autos, Throne Shipping, Throne Charity Foundation and Throne Agriculture. Throne Autos is the arm of the company which aims at helping people to get any vehicles of their choice from anywhere in world, especially from the United States at affordable prices. We would help buy the vehicles and Throne Shipping Incorporation which is registered in the United States will handle the shipping of the vehicles to Nigeria and also we have a custom licence clearing agency in Nigeria, which deals with the clearing of the car. So we went this far to help people so that we can own their cars with ease."
Ilori who revealed that his venture into auto sales industry stemmed from the continued short changing of the Nigerians by local and foreign dealers, noted, "The hidden charges, delayed delivery and other untidy acts employed by unlicenced auto dealers, make buying car from the USA and Canada difficult for those seeking for western automobiles".
He explained further that due to the unpleasant experiences and difficulties in buying car by the majority of Nigerian citizens, the company decided to use its dealership agreement with car manufacturing companies in the United States of America and Canada to ensure that Nigerians benefit irrespective of their economic status in the society.
"All these dealings are carried out under one umbrella so that we can help you save a lot of money and we have been doing this for a couple of years now. But now we are coming out into the public formally. On the offshore now, you have to be a dealer before you can accept all these options but with Throne Autos, we can deal directly with you – buy, ship and clear your vehicles for you without much stress", he added.
Ilori who has been doing this for about seven years now, said there are a lot of challenges he has to face in the course of carrying out this line of business. "There have been a lot of challenges in this business from the issue of customs giving us hard time to congestion at the Port amongst others," he said.
Stressing on the difficulties encountered with the Nigerian custom, he said, "Sometimes we experience custom seizure of containers, which they sometimes randomly pick on consignment. They just want to check what and what you have in these containers, which in the process they delay the goods and our customers on the other hand usually don't have much patience. It is usually a very big challenge for us trying to calm down our clients."
Another challenge he mentioned has to do with the Nigeria seaport in Apapa, Lagos . He said: "The roads to the Apapa seaport is so terrible with trailers parked here and there on the major roads preventing free passage to and out of the port. All these also add to the delay we experience in getting our good to our customers."
Despite all the challenges, Ilori said Throne Autos has always found a way to stand tall and remain indomitable. "Presently we have more than 30 cars on ground that you can check up and if you find any of your choice, you can by that same day and take it away at a very affordable price. And if you can't find your choice on what we have on ground, we can always help you to find your choice anywhere in the world, ship it to your base and clear it for you. So you have nothing to worry about when it comes to Throne Autos. We have come and we have come to stay as our name implies, Throne, is a place for the king, the king might be changed but the throne will always remain", he noted.
In the seven years that Throne Wide world has been in existence, Ilori boasted of its impacts on the Nigeria economy. "Like I said early, before we came up with all these initiatives, we saw the people's struggles and how many people fall victims to scammers, by buying cars they did not bargain for. But with Throne Autos you are able to see what you are paying for and we save you the stressing of shipping and clearing your vehicle on time."
On the good carried out by the CSR arm of the company, he said through the foundation, the company is stretching out its hand to the less privileged in the society, especially the underprivileged children. The Throne Charity which came into existence just last year, but was formally launched September this year during which Ilori donated the sum of N5,000,000.00 in the foundation's purse as initial take off funding.
"We believe that children who are not well fed cannot be attentive to what the teachers say when in class. So we plan to feed them in thousands. And our farm will help companies that process foods. So in all angles we are being of assistance to the nation – in feeding the nation, empowering people and helping the less privileged. Talking about empowerment, right now Throne Group, both home and abroad, has on its list of employed about 50 staff and we are still counting. We have also created a reward system for referral so that you get 50 percent 100 dollars we charges from any purchase made by those you refer to us. So if you are able to refer five buyers to us in a month, you make like 250 dollars, which is a lot of money."
Having been in the United States for almost 10 years he decided to go into the vehicle purchase business about seven years ago. Ilori, whose Lagos is located in Ajao Estate, Lagos, lamented that government policy in Nigeria has affected his business in a way. "Look at the clearing fees for example: I am talking about the Custom Duty Fee, which sometimes is so much on the high side that it affect transactions with customers. Most of the goods coming from China and United States for example are duty free. So I think Nigeria government should make these goods accessible to Nigerians because if a lot of people can have access to these vehicles, they would become self-employed and also help their families. But if government makes it difficult to access these vehicles through stringent importation polices, they would be affecting the nation's economy negatively because by depriving people access to these vehicles, they render a lot of Nigerians jobless. If a family can access one car and use it for taxi, it is a huge benefit even to the economy of the nation. In the United States for example, a lot of people are into taxi business and these keeps them out of the streets and also improves their economy."
For his potential customers, Ilori said, "We have a lot of customers and almost every week, we have a couple of containers to offload. So I will thank our numerous customers for being supportive all the while and we also want to encourage them to also encourage other people to patronise Throne Autos for all their automobile needs. We have come to stay and as our name imply, Throne, is a place for the king, the king might be changed but the throne will always remain."