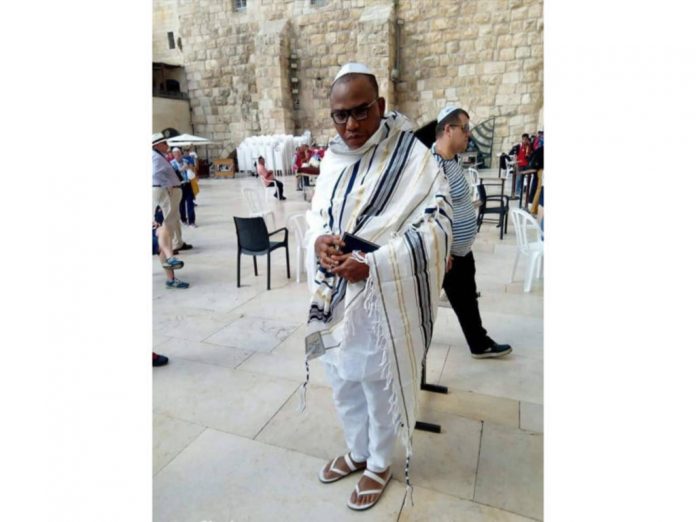 Leader of proscribed separatist group, the Indigenous People of Biafra, Mr. Nnamdi Kanu, who has not been seen for the past one year, has resurfaced in Isreal, according to a video clip and photographs posted on the internet
In the 7.29 minutes video, Kanu was seen wearing a white cloth, white sandal and a white skull cap. He was standing facing a wall and praying at a place that looked like the Wailing Wall in Jerusalem.
In the undated video, while praying, he glanced through a book that looked like a bible.
In one of the photographs, Kanu was seen in the same cloth standing with a young man in a red jersey. In another photo, he was flanked by three men.
Kanu's whereabouts had been unknown since a contingent of military personnel stormed his father's house last year.
While there were initial speculations that he may have died in that attack, there were also rumours that he was captured and in the custody of the Nigerian security agencies.
Though the military and security agencies denied he was in their custody, Kanu's family members and IPOB insisted that the Nigerian security forces must produce him.
The Nigerian government has not reacted to the latest development.
Click on the link to watch the video:
https://www.youtube.com/watch?v=NUFyg3Co-Fk