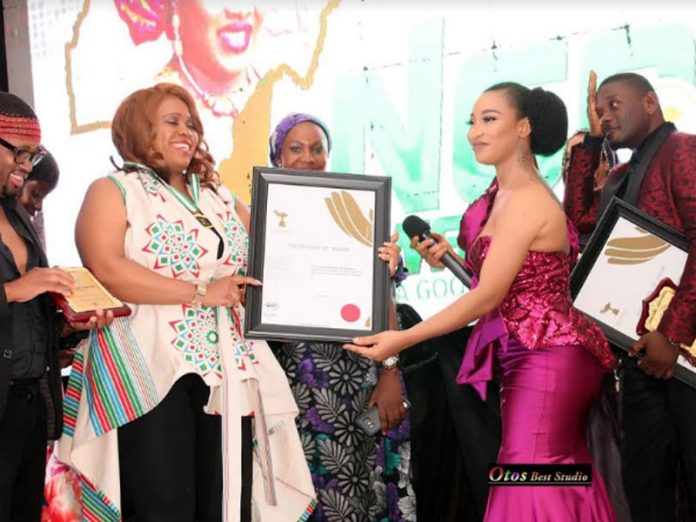 Sunday Ehigiator writes that for her selfless and positive contributions towards humanitarian services in Nigeria, South African journalist turned business woman, Ayanda Ngwane, recently bagged a humanitarian award
One of Africa's journalist turned business woman and humanitarian, Ms. Ayanda Ngwane, has bagged the Nigeria Goodwill Ambassador's Award 2018, for her selfless and positive contributions towards humanitarian services as well as building and fostering goodwill in Nigeria.
Ngwane, who is the Chief Executive Officer of Ayanda Media Networks spanning across Angola, Nigeria and South Africa, was recognised for helping to create awareness on issues of grave concerns affecting the less privileged people including the Internally Displaced Persons (IDPs) in crisis plagued part of Nigeria through the Ayanda Ngwane Foundation.
The awards platform, was instituted by the Goodwill Ambassador Events Agency to honour and celebrate both old and young individuals, including organisations that are selflessly and positively giving hope and care to the needy around them, by imparting positively to their environment.
According to the organisers, Ngwane is among the award recipients who have distinguished themselves in the areas of peace building, youth empowerment, humanitarian services, community development/job creation and the general well-being of humanity.
The President of Nigeria Goodwill Ambassadors Awards, Amb. Chris Odey, noted that such acts have hitherto gone without being applauded, adding that the award was also created too correct the 'abnormally' .
He said: "The awards have not been created to massage egos, rather to bring to fore the fact that such great deeds are being carried out albeit quietly. We believe that with the presentation of awards and accolades, others will follow suit and in so doing, create opportunities for fellow Nigerians across the world. We believe in the goodness of mankind and that our humble effort will assist in the general development of our world, one step at a time."
Ngwane who is a former Editor with Leadership Newspapers, expressed gratitude for receiving the awards especially for the fact she was doing her works as services to humanity without expecting any accolades.
She said: "I have been doing this humanitarian work since. I even partnered the South African High Commission in Abuja to get mobile clinics and library for the IDPs. I still get my hands 'dirty' for the sake of disadvantaged and poor in Africa through the Ayanda Ngwane Foundation."
Also speaking about the award recipient, Mr. Ibrahim Aminu Ndakpoto of the Office of the Deputy Chairman House Committee on Petroleum Upstream National Assembly Abuja, said: "Ayanda Ngwane is a definition of true journalism. My first contact with her was when she flew her crew into Ilorin for event coverage and I said to her how much is your charges?
"She said we don't do reporting for money but to inform the populace. Ayanda media PR spans across Africa, Europe and United States of America. One thing you can't take away from her is the truth, which is not driven by price but service. I stand to say without contradiction that Ayanda simply is the best PR company I know in Nigeria with very good new media coverage."
Ngwane is a journalist by profession, host and producer of 'Sharing with Ayanda TV Show', Editor in Chief of Diplomatic Envoy Newsletter and media consultant with working experience that spans across the African continent.
She is a renowned PR/Media Consultant in Nigeria, Angola and South Africa, as well as the publicist for 2015 Davos World Economic Forum (African Chapter) and African Women in Leadership Conference.