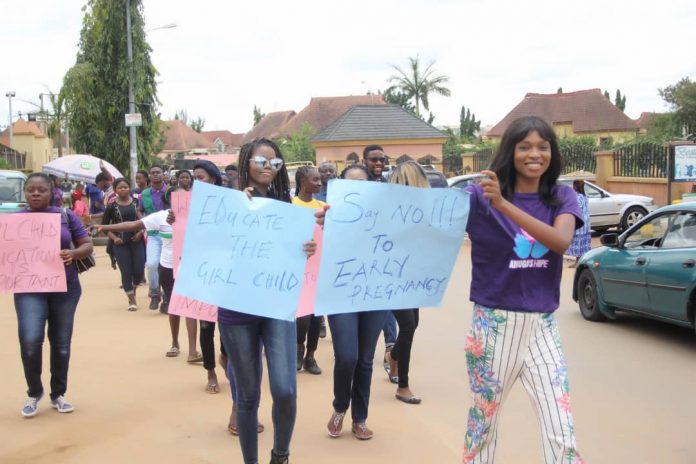 By Mary Nnah 
Amuga's Hope Foundation recently took the city of Abuja by storm during this year's edition of it's Hope Awareness day.
Led by its founder, a super model and philanthropist, Bertha Amuga, this year's awareness campaign, which took place at Durumi, Abuja, was a walk centred on creating awareness against teenage pregnancy, molestation, child abuse and rape.
It also stressed the need for stakeholders to educate the masses on the importance of early awareness and education about sex to their wards from early age in order to prevent teenage pregnancies.
The exercise, Amuga said was also to create peace between teenage mothers and the society, adding, "we should not discriminate against teenage mothers because most times it is not really their fault that they fall victims.
"Some are pregnant as result of rap and also lack of education and awareness and that is why we are preaching early education about sex.
"Sometimes these children need love and care from their parents and guardians, which they do not get and so they go out looking for love from strangers who take advantage of them.
"These girls are just babies that got pregnant out of wedlock and they need support to avoid them and their babies growing up to become threats to our society.
"We can avoid this by giving education and empowerment to these young mothers. We are calling those of us with conscience to be responsible for the young and future mothers of our generation.
"There is an urgent need for parents and guardians to start educating their children, especially the girl child early enough on sex education and the need for them to be conscious of what they want in life.
"Most especially they should preach abstinence to these young people because that is the best way to stay safe."