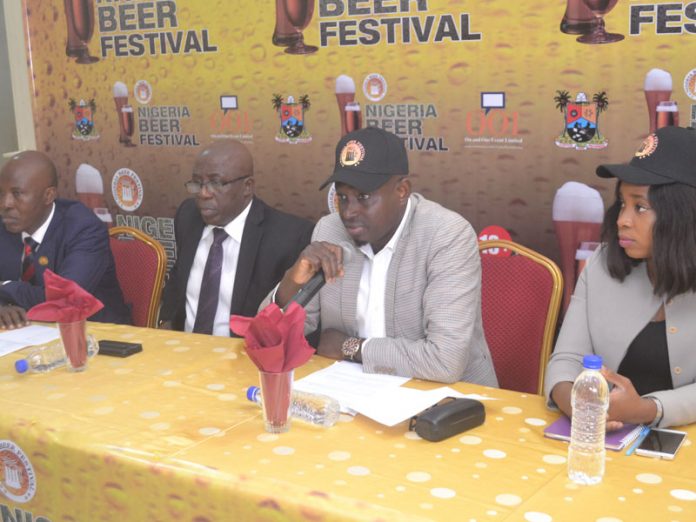 Mary Nnah
Lagos State is set to host the second edition of the Nigeria Beer Festival between Thursday October 25 to Wednesday October 31, 2018, and organisers of the event have promised to crown the week-long event with maximum entertainmentfor fun loving Lagosians.
Speaking at a press conference to announce the event in Lagos yesterday, Mr. Fola Adeyemi, the Permanent Secretary, in the State Ministry of Tourism, Arts and Culture explained that the festival is in line with government's agenda to grow the tourism and economy of the state.
He stated that Lagos state is collaborating with beer brewers in the country and their counterparts across the globe to stimulate the economic and tourism potential in the State.
He enjoined Lagosians to come out in their large numbers to enjoy the ambience of the festival, assuring that the city is safe for fun lovers because of the various infrastructure developments by the state such as Light-up Lagos among others.
"Lagos is a city state and in league with great cities all over the world. We are actually moving the state to a 24- hour economy and this festival will be part of the beneficiaries. Lagos is safe for fun and business. We are joining the global tourism world to create impact on the economy of Lagos and Nigeria." he said.
Also speaking at the event, Akinola Oluwaleimu, General Manager of On and One Events Limited, the organisers of the festival informed that the festival will be held at the Eko Atlantic City, Bar Beach Water front Ahmadu Bello Way, Victoria Island, Lagos to give it a carnival atmosphere.
He noted that the festival, will promote responsible drinking among drinking-age (18 +) consumers at all its touch points.
According to him, the event, since it debuted last year, has seen Nigeria enrolled into the league of Beer Festivals around the world, and boost the country's tourism opportunities.
"It will be a gathering of the largest community of beer consumers from across the country and beyond. This year's edition will be bigger, better and "beertiful", he said.
He revealed that the 2017 edition attracted over ten thousand beer enthusiasts and consequently the festival has proven to become a major international tourist event in Nigeria with a potential to compete with other international beer festivals around the world.
"Nigeria Beer Festival will be a carnival week of entertainment, sales and marketing and a gathering of the largest community of beer consumers from across the country to bond and 'beer'," Oluwaleimu assured.
He added that the Nigeria Beer Festival will provide a fitting ambience to showcase culture and lifestyle in a carnival atmosphere with various beer brands and other alcoholic drinks in Nigeria connecting with their existing and potential consumers.