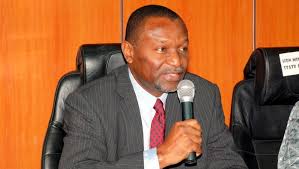 *Targets N3.6tn oil revenue, $60/b benchmark, 2.3mbpd oil production
* To provide for possible minimum wage increase
By Ndubuisi Francis in Abuja
Yielding to increasing domestic and global realities, the federal government is targeting a tighter fiscal plan, with a projected budget of N8.65 trillion in 2019.
The move to cut the 2019 budget from N9.12 trillion in 2018 to N8.65 trillion, the government explained, is predicated on the need to ensure prudence, reduce deficit and borrowing while laying greater emphasis on revenue drive.
The Minister of Budget and National Planning, Senator Udoma Udo Udoma, who gave these indications in Abuja Thursday at a public consultation on the 2019 – 2021 Medium Term Fiscal Framework (MTEF) and Fiscal Strategy Paper (FSP), said: "We want to reduce borrowing and deficit in terms of the budget size."
But he noted that in spite of a reduced budget in 2019, the administration was unwavering in providing for human capital development, education, health, and pension/gratuities.
He specifically pointed out that there will be some provision for possible minimum wage increase, adding that the government was set to redress years of underfunding of pensions and gratuities.
According to him, there is also a significant provision for national health, with one per cent of the Consolidated Revenue Fund (CRF) going to the Basic Health Care Fund as well as provision for counterpart funding for immunisation (GAVI).
Udoma disclosed that the budget will be anchored on an oil production of 2.3 million barrels per day (mbpd), $60 per barrel benchmark as well as N305 per dollar exchange rate.
The GDP growth rate for 2019 is also reviewed downward from the earlier projected 3.5 per cent in the Economic Recovery and Growth Plan (ERGP) to 3.01 per cent.
Udoma stated that with a projected 2.3mbpd oil production, a N3.6 trillion oil revenue was being targeted while independent revenue of N624 billion was being expected, down from about N847 billion in 2018.
He revealed that the 2019 budget would cut deficit by about N300 billion from N1.9 trillion in 2018 to N1.6 trillion.
According to him, the 2018 revenues, up to August 2018, was N2.48 trillion, while the full year 2017 revenue was N2.6 trillion, adding that overall, 2018 revenues current run-rate is 30 per cent higher than last year's (2017).
This, he explained, is the reason behind cutting the size of the budget from N9.12 trillion in 2018 to N8.65 trillion in 2019.
He said: "2018 revenues up to August 2018 was N2.48tn, while the full year 2017 revenue was N2.6tn. Overall, 2018 revenues current run-rate is 30 per cent higher than last year's. This is the reason we have cut the size of the budget from N9.12 trillion to N8.65 trillion."
The minister explained that inflation is beginning to inch up, after 18 consecutive months of decline, standing at 11.23 per cent in August and 11.28 per cent in September as the base effect has begun to wear off.
He expressed concern that the forthcoming 2019 general election may also create concerns for some economic actors, adding that this could have an impact on the rate of foreign portfolio investments.
He however dismissed fears that the economy might relapse into another recession, considering the last quarter growth rate.
Udoma argued that the economy is strong, although "we're not yet where we are supposed to be".
He noted that it was not enough to think that the economy could slip into recession because it posted a growth of 1.5 per cent in the last quarter as against 1.95 per cent in the preceding quarter.
He stated that macroeconomic stability has been largely achieved, noting that growth is expected to increase from 0.8% in 2017 to 2.1% in 2018 and 3.01% in 2019 with the continuing implementation of the ERGP as well as an improved outlook for oil prices.
"Employment growth usually slows down during recession and takes some time to recover. Therefore, it is not surprising that the National Bureau of Statistics data shows that unemployment and underemployment remain high in Nigeria.
"We expect more diversified and inclusive growth over the medium-term, and reduction in the rate of unemployment, as we continue to implement the policies and programmes of the ERGP," he said.
Providing further explanation on his recent pronouncement that the government was dropping the January to December budget cycle, Udoma stated that the decision was done with the election year in mind.
He observed that the National Assembly and the executive would not be disposed to providing the needed synergy for such a cycle with electioneering in full swing.
The cycle, he stated, would be pursued from the 2020 budget.