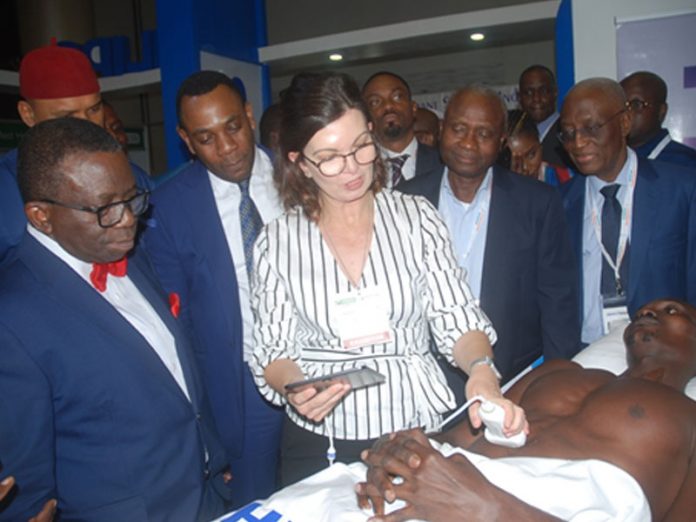 With the introduction of Lumify – a mobile application based ultrasound technology – into the Nigerian healthcare industry by Philips Healthcare Africa, it appears better days are here for the health sector. Ayodeji Ake reports
In a sector prone to what has gone wrong and what seems not to work, especially in the area of maternal and child health, primary healthcare services, disease prevention, brain drain, high death rates from diseases like tuberculosis, malaria, hepatitis B, and a host of others, there seems to be a glimmer of hope as concerned organisations have started deploying latest healthcare technologies into the country to help reduce healthcare burden and improve health indices of Nigerians.
One of such organisations is Philips Healthcare Africa. It recently deployed the latest technology of ultrasound devices into the country as one of the facilities needed to addressing the myriads of the country's healthcare challenges. The ultrasound technology, known as Lumify; a portable mobile application based approach to
ultrasound delivery, brings together mobile applications, advanced ultrasound transducer technology, integrated information technology training, education and support services to help healthcare providers improve care of patients and reduce costs of care.
Unveiling the technology at the Medic West Africa 2018 held in Lagos recently, the Chief Executive Officer, Philips Africa, Jasper Westerink described the Lumify point-of-care technology as the first ever integrated portable ultrasound system that breaks down barriers experienced by healthcare providers, medical students, teaching institutions, disaster relief organisations and hospitals with satellite clinics.
He said with Lumify, Nigerian patients and healthcare professionals will now be able to make easy and quick diagnosis, with seamless access to treatment if the need arise.
Westerink said: "Lumify is designed for emergency departments and urgent care centres, as well as other clinical settings, and will operate from a compatible smart device connected to a Philips ultrasound transducer. From description, Users will also have access to online portal where they can manage their device and access support, training and IT services.
"The transducer supports a variety of clinical allocations, including soft tissues, musculoskeletal, lung and vascular scanning. The C5-2 offers abdominal, lung and gallbladder re-sets and has obstetry and gynaecology capabilities," adding that the technology's new transducer, the S4-1, has presets for cardiac and fast examinations."
He said the device was invented as a result of a transformation drive in the healthcare system, adding that its unique way of combining connectivity, simplicity, portability and flexibility has enabled clinicians perform examinations across a variety of clinical settings, from cardiology suites down to under resourced semi-urban and rural areas.
"With this, Nigerian clinicians, as well as family doctors at small outpatient clinics can now perform scans themselves, speeding up the diagnosis process and possible treatments" he added.
He further explained that the device is an open innovation platform aimed to deliver the benefits of ultrasound early in the health continuum and expand access among more healthcare providers.
Speaking on the importance of the device, the Centre Manager, BT Health Diagnostic Centre, Lagos State University Teaching Hospital, Dr. Wale Olusanya, said this will make diagnosis easy in Nigeria, adding that the safety of the point of care has made it one of the most widely used first-line diagnostic tools across the globe.
He said: "In a constrained environment, technology like Lumify can strengthen referral pathways, thereby affording quick diagnosis in emergency situations, especially in hard to reach rural areas across the country. The Lumify system is powered by Innovative Imaging Technology (IIT). This innovation connects clinicians around the globe in real time by turning a compactable smart device into an integrated tele-ultrasound solution, combining two-way audio-visual calls with live ultrasound streaming."
He said with the system, healthcare professionals can have a face-to-face conversation with their patients, while users can switch to the front-facing camera on their smart device to show the position of the probe. "They can then share the Lumify ultrasound stream, so both parties are simultaneously viewing the live ultrasound image and probe positioning, while discussing and interacting at the same time. In addition to clinicians seeking virtual guidance, this device can be used to teach medical students", he added.
On his part, the Minister of Health, Professor Isaac Adewole, commended Philips Healthcare Africa for the innovative technology, adding that the federal government will continue to put the health of Nigerians on the front burner.