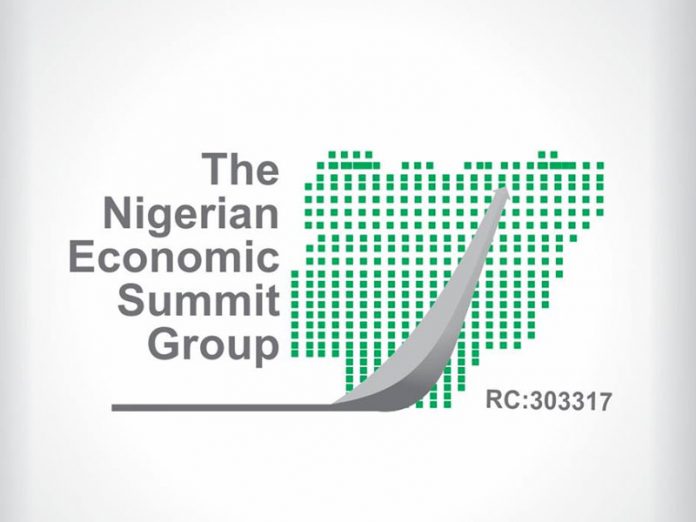 Jonathan Eze writes on how the forthcoming Nigeria Economic Summit (NESG) would address how institutional frameworks can be strengthened to foster good governance.
Strong institutions allow for more effective management of common-pool resources and environmental services, while good governance facilitates technical dynamism, gender equity, risk mitigation, and inclusion of the poor in shared growth.
In ordinary language, institutions signify core concepts of governance, such as the executive, parliament, and judiciary. In current political science, institutions take a broader meaning. They are formal rules (including constitutions), informal norms, and shared understandings.
It is generally believed that weak institutions are the basis for lack of growth and development that has hindered both national and continental growth.
Worried by this growing trend, the Nigeria Economic Summit Group (NESG) has concluded plans to host a practical dialogue on how strengthened institutions can contribute to shared prosperity. The summit is set to take off from October 22 to 23, 2018 at the Transcorp Hilton Hotel, Abuja.
This is just as the Board of Directors of the Nigerian Economic Summit Group (NESG) announced the appointment of Mr. Asue Ighodalo as its new chairman, following the resignation of the erstwhile Chairman, Kyari Bukar, last month.
Ighodalo is a founding partner of Banwo and Ighodalo, one of the foremost commercial law firms in the country.
A statement from NESG, a copy which was made available to THISDAY, stated that he obtained his first degree in Economics from the University of Ibadan; a Law degree from the London School of Economics and Political Science, and was admitted into the Nigerian Bar in July 1985.
His core areas of practice are Corporate and Project Finance, Securities and Capital Markets, Energy and Natural Resources, and Mergers and Acquisitions.
He is also a member of the Nigerian Bar Association (NBA) (immediate past Chairman of the Section on Business Law of the NBA), International Bar Association (Section on Energy and Natural Resources Law), Association of International Petroleum Negotiators, Institute of Directors Nigeria; Nigerian Economic Summit Group (Vice Chairman); Commercial Law and Taxation Committee of the Lagos Chamber of Commerce and Industry and Chartered Institute of Taxation of Nigeria.
This year's edition of NESG is designed to address how to strengthen institutional governance. Institutional governance is the process through which institutions and organisations are directed, controlled, and held accountable. It is concerned with effective systems and structures that facilitate proper decision making, accountability, control, and efficiency in the organisation. These systems and structures seek to promote leadership and operational guidance that is honest, trustworthy, reliable, credible, transparent, accountable, responsible, and has a focused intelligence. Good institutional governance and management are essential to achieving efficiency and sustainability of its local partner organisations and are vital ingredients in the maintenance of a dynamic balance between the need for order and equality in society, the efficient production and delivery of goods and services, and accountability in the use of power.
According to the organisers, the 2018 edition strives to establish practical dialogues that emphasises the need for good governance for sustainable human and economic development will present a unique opportunity for discussion among leaders and citizens to set an agenda for Nigerians to deepen civic engagement that will tackle service delivery deficits and factor conditions that impede policy implementation.
The theme for this year's summit is: "Poverty to Prosperity: Making Governance and Institutions Work" and some of the Summit's objectives will be to: underscore the link between good governance and economic growth and development, highlight the current state of governance and the challenges in delivering public services to the citizens, map key governance indicators on human development outcomes and set an agenda that emphasises citizens' dividend as a measure of good governance.
Leveraging on key components of the famous Mo Ibrahim Index for African Governance (IIAG), the summit is established on five pillars which will also serve as the sub-themes for the 5 plenaries at NES 24. These five pillars include;
Corruption and Rule of Law: Focuses on the detriments of corruption on the economy and the need for improvements on access to justice, guaranteeing speedy conclusion of litigations, preventing the diversion of public funds, enforcing public sector accountability and commencement of comprehensive reform of police services.
Effective Public Institutions: Narrows in on the importance of operational public institutions for good governance, topics that will be dissected include; delivery capacity, bureaucracy & Red Tape, incentives systems, accountability of public officials, protection of Lives and Investments in Technology.
Sustainable Economic Opportunities: Emphasises the requirement of good governance: effective execution and implementation in creating sustainable economic opportunities in this light the topics that will be addressed include; investment climate, competition, rural business climate, entrepreneurship and innovation, infrastructure and access of finance.
Human Development and Participation: Focuses on the importance of developing human capabilities and opportunities and its effect of the overall state of the nation topics in this theme include: welfare services, education quality, basic health services, poverty reduction priorities, educational access and provisions, narrowing income gaps.
Citizens' Rights: Accentuates the requirements of citizen's active participation directly or indirectly in the governmental process for effective/good governance topics to be discussed include: Freedom of Expression, Online Public Services, Human Rights Violations, Civil Liberties, Access to Information, Civil Society Participation.
Ultimately, the Summit will articulate a work plan with specific timelines for all stakeholders, especially the government, private sector, civil society and citizens, to unlock the identified binding constraints to good governance in Nigeria.
In addition to the main plenaries, there will be breakout sessions (to be facilitated by the NESG Policy Commissions), which will adopt a workshop approach in discussing the specific governance issues relating to service delivery in their focus sectors. The Summit will also feature a Startups Pitching Event to connect new ventures seeking to raise funds with potential investors
The NESG engages government, private sector, and civil society on key development issues and economic policies in Nigeria. The strategic roles of the Group include those of being a; Dialogue Partner: Shaping policy through public debate, Connector: Instituting change through influence, Watchdog: Shaping policy through research and advocacy, Intervener: Instituting change through influence that mobilises action.
The importance of this event was underscored by Governor Nyesom Wike of Rivers State at a function recently and he said that the fight against corruption could only be effective when national institutions were strengthened to act independently.
Speaking during a courtesy visit by officials of Chatham House at the Government House, Port Harcourt, recently, Governor Wike noted that political influence from high quarters has made the fight against corruption ineffective.
"It is difficult to fight corruption when the institutions are weak. It may just be a political tool to attract sympathy from western countries.
"In Nigeria, the institutions are subservient to the President. Here, police is central, but the institution is now being used for illegal acts. That is corruption. "
The governor also said fighting corruption on the pages of newspapers amounted to playing to the gallery without achieving the desired results.
He continued: "The fight against corruption must be holistic. It should not be a political weapon against opponents of the government.
"We have instances of mass corruption in the state; but Federal agencies frustrate all attempts at prosecution. This is because the affected persons are influential members of the ruling party ".
Governor Wike said that his administration was fighting corruption and everybody should join hands to fight the menace in a transparent manner.
Also speaking, one of the authors of the "New Chatham House Report: Radical Rethink Needed to tackle corruption in Nigeria", Dr Leena Hoffmann, said there was a need to fight corruption because it is vital for the development of the nation.
About NESG
Since its establishment, the NESG has been able to shape policies through its annual economic summits and other high level policy engagements. In recent times, conscious efforts have been made to place more emphasis on strategic interventions without de-emphasizing the other functions of the NESG, in a bid to further influence public policy in Nigeria. The NESG shapes policy by conducting robust research and analysis on economic and critical reform issues. Over the years, the Group has made significant input into policy changes in Nigeria through independent research and advocacy. We deliver value to our members through policy fora and engagements which grants them the unique value proposition of influence over big topics, policy insights to aid business planning and access to continuously dialogue with policy makers.