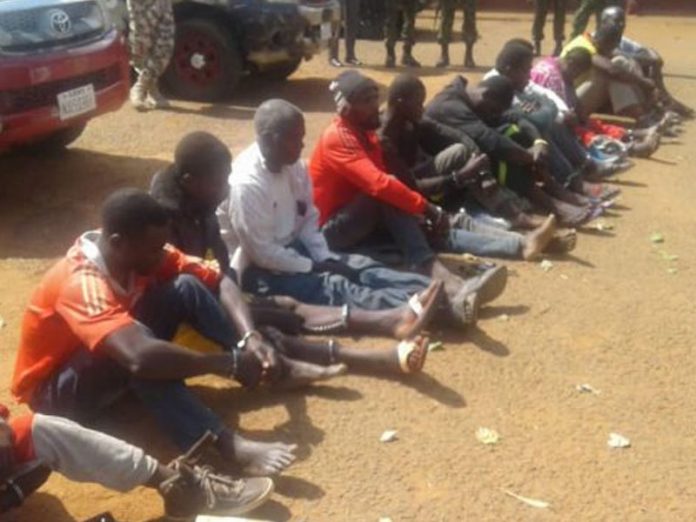 Seriki Adinoyi in Jos
Commander, Search and Rescue Operations for the missing Major-General Idris Alkali (rtd), Brigadier-General Umar Mohammed, yesterday, paraded 13 arrested suspects allegedly involved in the kidnapping of the missing retired Army General.
A woman who allegedly organised a violent protest against the operation to evacuate the death pond was among the 13 suspects.
Narrating the missing Army General's ordeal, Mohammed said: "The immediate past Chief Administration (Army), Major-General Idris Alkali who recently disengaged from service, was travelling on Abuja-Jos-Bauchi road axis on September 3, 2018, and he is yet to be seen and has not been able to make contact with family members or acquaintances since then.
"The senior officer was not aware that the youths in the area were attacking innocent and unsuspecting motorists as well as others not known due to attack by unknown gunmen in their community the previous day. All attempts to contact him on his mobile phone proved abortive. The senior officer was travelling alone in a black coloured Toyota Salon car.
"The rescue and search parties narrowed the search to Dura-Du district in Jos South Local Government area which witnessed violent riot on 3 September 2018. The geographical location also showed the likely position to be one of the abandoned mining pits filled with water at Lafande Community in Jos South Local Government area of Plateau State."
Having pumped the water from the abandoned mining pit for two weeks or thereabouts despite protests by women attributing all kinds of evil that would befall their husbands and children, if the water was drained, the following were however recovered:
A white Toyota Liteace bus with registration number PLATEAU RYM 307 XA, which was reported missing with the driver on 24 June 2018 and a red Rover Car with registration number BAUCHI AG 645 TRR which was allegedly reported to have been buried along with the occupants on 31 January 2013.
According to Muhammed, "Furthermore, a cordon and search operation was also conducted in the community and some people were apprehended. They were moved to the barracks where they were screened, profiled and interrogated. This afternoon, a total of 13 persons are going to be paraded. These suspects will be handed over to the Nigeria Police for further investigation and prosecution.
"The persons to be handed to the police include those who were in possession of fire arms without license. Those who heard and saw the criminals that stopped the retired Senior Officer, and those who pushed his vehicle into the pond but failed to report these criminal acts to security agencies.
"The troops conducting the cordon and search operation have exhibited a high level of professionalism and best international practices in accordance with the rules of engagement in apprehending some of these suspects. It is pertinent to state that all the actors involved in this criminal act who are still at large are known to us, efforts are being intensified to get them arrested as their photographs and personal details are with the relevant security agencies."
He said, "I want to seize this opportunity to appreciate members of the public for their cooperation and still solicit for anyone with credible information on the whereabouts of Maj. Gen Idris Alkali (rtd) whether alive or dead to inform us. This Headquarters can be reached on GSM number 09074028881 as sources of information would be protected and treated as confidential.
"Finally, the Division also wishes to emphasise its adherence to the principles and respect of human rights in the discharge of its constitutional duties. It further calls on everyone within its Area of Responsibility (AOR) to remain vigilant and report any suspected breach of the peace to security agencies."
Mohammed also assured the community of Dura Du area not to entertain any fear as they are said to have deserted the place for fear of molestation and arrest by the soldiers. "We are professional army. We have our rules of engagement and we also follow international best practices.
"Therefore, for those who have nothing to fear, for those who know that they have committed no atrocities, they should come back and live their lives. And for those who know that they are involved in this criminal art, I will advise them that they better submit themselves to security agencies before the long arm of the law catches up with them because we are on their trail and we will continue to trail them.
"In the first place, we did not drive anybody from his or her house. They left on their own. We don't go for indiscriminate arrests."
Mohammed further stressed: "I can tell you that the pond is situated near a block making industry. There is a house near the block industry. Those arrested saw the crime when it happened. But they failed to report to security agencies and what we are saying is that their refusal to report the crime, made them accomplices."
Acknowledging receipt of the suspects, the state Police Public Relation Officer (PPRO), Mr. Terna Tyopev said, "I have just been informed that the suspects and exhibits in the case of the missing Major-General have been transferred from 3 Division, Nigerian Army Barracks, Rukuba to the Plateau State Police Command, Jos."