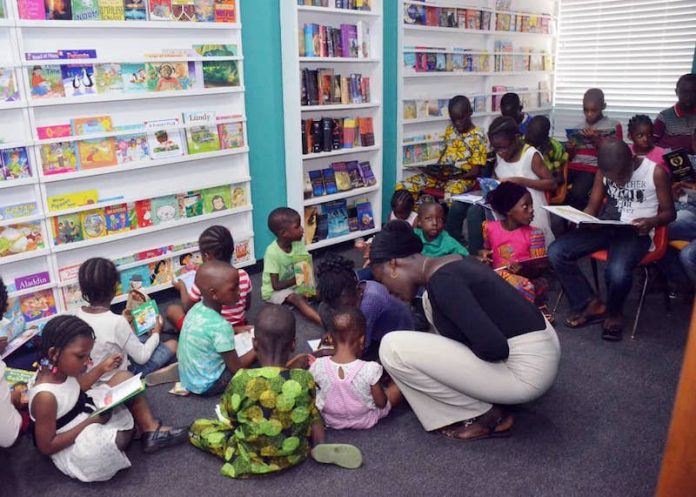 The launch of Flipbook Foundation For Literacy Advancement, a centre which started just as an act of charity in Lagos, portends positive contributions towards the problem of literacy among children in public schools. Ferdinand Ekechukwu reports
A short musical interlude with appropriate theme song for the occasion following a brief introductory remark had set the guests thinking of the subject of the day. The lyrics of the song, 'Greatest Love of All' by the legendary Whitney Houston, that the children are the future and deserve to be taught well so they could lead the way as the beauty they possess inside gives them a sense of pride to make it easier, synergies with the subject of the occasion. So it was about the future and apt that it is important that every child gets the opportunity to learn.
This was the crux as friends, family, stakeholders and the media gathered to push the boat out with Flipbook Foundation For Literacy Advancement during the opening of its flagship centre recently at Ilupeju Lagos. The Flipbook Foundation is a literacy organisation that pushes for the development of young minds. The importance of the centre is to help develop the minds of young people, especially children and teens with literacy programmes. The centre would serve children around the Oshodi, Mushin, and Ilupeju communities to learn and improve their reading and literacy skills.
There at the centre are a large collections of various books moderately displayed on the library shelves. Some of the books are from donors and volunteers, while some were bought from the bookstores. The collections speak much of the period over which these books have been gathered. "Some other time since we have been working over the years, we have always had them but not on shelves like this. So we said let's build the shelves and put them up and this is what we got. Opening time here every day weekdays is 9am -6pm. But children can come in from 2pm after school.
"We had literacy programmes done across public schools in Lagos and outside Lagos and we discovered that a lot of young people have issues with reading, writing, spelling and pronouncing and these are key factors that pre-empt the mind of any young child", one of the tutors and coordinator of the centre, Opere Oyindamola, explained as she welcomed guests.
"Any child that has difficulty reading, it might be normal or might not be normal, there are special situations that can pause a child and then the parents might not be aware, the teachers might not be aware. It might just be that the child is not showing the symptoms of such disabilities but has them.
"So this literacy centre is built to help cater specially for children; children that have such disabilities. Children that are also normal minded, but just have difficulties reading due to reasons we never know. So we are here to help them. This is our flagship centre the first of many to come by the grace of God across Lagos, across Nigeria and beyond. We need everybody, every member of the society to be part of this to grow."
The centre, which started as an act of kindness to solving literacy problem with children in public primary and secondary schools in Nigeria by an individual, portends positive contributions towards the problem of literacy among children and adults in the country, especially that the present statistics of literate and non-literate Nigerians are put almost at per (within the ratio of 50/50) according to the United Nations.
Consistently with hard work and with determination to push to where it is now, the founder of the Flipbook Foundation, Mrs. Belinda Nzeribe, a literacy advocate whose sole task is to help children to read and write so as to succeed in school and in their lives, narrates her journey. "I started this foundation because I went into the public schools one day to run a creative writing programme and we were trying to come up with ideas and I said okay 'let's write this sentence' and by the time they were done and have submitted their works, many of them could not write coherent sentences.
"This was senior secondary two (SS2), SS3 classes. I thought it was a joke, somebody then said it was worst in primary schools. So we went to primary schools and found out that nearly half of every class in every primary school all over the country cannot read and write." Befuddled by her explanation, she added: "It's an emergency that many of us are actually not very aware of. An illiterate child or a low literate child, if there is no intervention, would certainly become an illiterate adult. So what do we do when teachers are overburdened with a heavy curriculum, large classes and must close at a certain time with little time for after school programmes? It means that the private sector has to come in to help because if you say the government should do it, we probably would wait for long and nothing would be done.
"The dream is we need to set up these centres in every community that we can all over Lagos, all over Nigeria. But we start with just this one. So what we do is allow the children to come in and we take them for literacy classes; we teach them reading, we teach them comprehension because it is different being able to read and you cannot write. So some can read they can't write. So we teach them how to read how to write, comprehension and then vocabulary. And then we move on to writing and after that, we do it in such a way that these children can learn in school. So if you can read you can write you can learn. And you can access opportunities; you can be able to survive in this country and make something out of your life."
The Literacy Advancement Foundation intends to serve children who are struggling with reading so that they can also be able to improve their reading level and learn in school. The founder noted that the centre is going to serve everyone, adding that the children can walk in any time after school even on weekends to read. With book shelves everywhere, the children will have access to the books. For children who don't have books in their homes, they can come and read as much as possible at the centre.
While commending the efforts of the founder, the Director, Agency for Mass Education, Lagos State, Mrs. Kemi Kalesanwo, who represented the Special Adviser to the Governor on Education, Mr. Obafela Bank-Olemoh, explained that "because the government cannot do it alone, we need people like this, we need organisations like this to assist us, especially in the area of literacy. I head the Agency for Mass Education so I know what it is when they say some people are not literate and some people are literate. It is a big problem in the country; it is also a big problem in Lagos State.
"But Lagos has taken the bull by the horn because the governor is equally very passionate about literacy programme in the state, not just for children but also for adults. We have a whole lot of people, a whole lot of adults who can't read and write. The governor believes in adult literacy; literacy generally. He believes everybody should be able to read and write. And so the agency was given this mandate to go out and increase the number of literates that we have in the state. And so part of it is collaborating with NGOs now that is what we are doing here; we are collaborating so to say with Flipbook Foundation.
"We need people like this to come and assist, the government alone cannot do it. What I saw when I came in here today I was really impressed. Not everyone has the money to send his or her children to a private school. So if you go to a government school in the evening after school you can always come in here. It is like a mini library so to say for teenagers and for children. They come in here get books to read and if they can't read very well they have instructors who can put them through. So it is really a beautiful project."