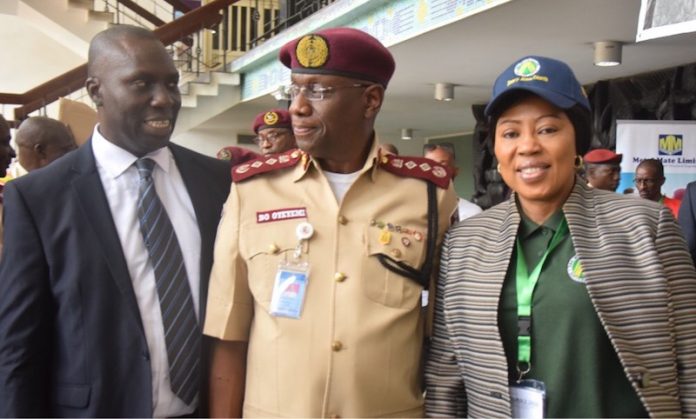 Chiemelie Ezeobi writes that following the last explosion on Otedola Bridge in Lagos that claimed 12 lives and destroyed 54 vehicles, haulagers recently converged to brainstorm on safety of life and properties as an imperative for cargo transportation on Nigerian roads
Thursday, June 28, this year, would forever go down the anals of Lagos as a black day. It was the day a massive tanker explosion occurred at Otedola Bridge area of Ojodu-Berger, claimed 12 lives and razed 54 vehicles and a tricycle. The petrol-laden truck had spilled its contents, exploded, and caught fire, with its attendant effects being disastrous.
Although it was not the first time an explosion caused by such articulated vehicles would occur, this time around, the casualties recorded was enough to jolt stakeholders and send them back to the drawing board. Over the next several weeks, different stakeholders meeting were held and the common goal was to posit for a way forward.
Four months later, the reckless attitude of articulated vehicle drivers is still up for discussion with their actions leaving massive destruction in its wake.
The country has recorded several cases of road traffic crashes involving tankers/ trailers for which several stakeholders' engagements have been held and preventive measures proffered for implementation across board, of recent is the Haulage and Logistics Magazine Annual Conference and Exhibition (HULMACE), which was held in Lagos.
Although the road haulage industry in Nigeria plays a critical role in ensuring the economic prosperity of the nation, the crashes involving articulated vehicles are much more distressing because of the higher rate in fatality and over all negative multiplier economic effects, asides environment pollution.
Statistics
Available statistics on road crashes have shown that about 85 per cent of the road mishaps are human triggered.
In a document made available to THISDAY by the Federal Road Safety Corps (FRSC), the data on articulated vehicles involved in RTCs in Nigeria has been on the high side. In 2016, the data for truck, tanker and trailer accidents were 1637, 359 and 657 respectively.
In 2017, the data for truck, tanker and trailer accidents were put at 1732, 308 and 624 respectively.
Also in 2016, the number of RTCs recorded and RTCs involving articulated vehicles were put at 9,694 and 2,653 respectively with a percentage of 27.4 per cent, while in 2017, the figures were put at 9,383 and 2,664 with a percentage of 28.4 per cent.
Therefore, the FRSC has estimated that Nigeria loses three per cent of its GDP to road crashes annually . This translates to billions of naira lost in human and capital resources.
Causative Factors
At the event conference, the Corps Marshal, Oyeyemi Boboye, listed some of the causes of road carnage by articulated vehicles to include non-adherence to road traffic safety practices, inadequate driver's training/certification and re-training leading to drivers' errors, inadequate provision of tanker/trailers parks across the country, non- adherence to safe laden/haulage practices /standards (including vehicle's) by stakeholders; inspite of practice guidance and non-functional weighbridges to assist in enforcement of axle load compliance, including overload with sundry goods e.g. Tomatoes, firewood.
He cited others as aging trucks and lack of fleet renewal programmes, heady and non-cooperative attitude of drivers and other stakeholders, security challenges and lack of clear-cut policy on tanker/truck transit in Nigeria, non- adherence to standards by operators and by tank constructors, alteration of original design value of truck heads and/or trailer, state of the nation's roads (though this is being tacked head-on currently), parking on unauthorised location along the road, failure to install speed limiting device and lack of cooperation of private tank farm owners on Safe-To-Load programme.
Further breaking down some of the root causes of such accidents on the roads
Boboye said: "It was discovered during the last Sallah patrols that 30 per cent of articulated vehicle drivers do not see at night. It is the motor boys that drive them.
"So, we conducted vision test on the highway and motor parks and we observed that 30 percent of the articulated vehicle drivers have vision problem and that is also contributing to the crashes.
"We discovered during the interview session that they think if they use glasses, they will lose their jobs. Employers should be training their drivers and encourage them with glasses to enhance driving skills.
"We have observed and presented the report and we hope the employers will be able to address this. We have communicated this to the owners. When drivers have vision problem, they should go to optometrist who will refer them to optamlogist to correct their sights.
"We are also talking to them on the need to have speed limit control on their vehicles. The price has come down to N15,000 so the noise about cost isn't valid anymore."
Boboye said a great number of drivers do not know how to drive, blaming driving schools for not living up to expectation.
He said: "We presently have 1,450 registered driving schools and over 500 were suspended due to malpractices and not following the process. This led to the commission suggesting to the 36 state governments to set up modern driving schools in order to checkmate some of these offences.
"Traffic regulation provides that when a driver accumulates 10, 15 or 21 points, he's to be sent back to the driving school for re-training, but the present driving schools have not provided enough platforms for retraining those drivers for specific offences. I am happy to have received positive responses from some state governments because it is another means of internally generated revenue for them."
Stiffer Penalties
In a bid to ameliorate this menace, the FRSC, has set plans in motion to impose stiffer penalties for road traffic offenders across board.
The corps marshal who made this disclosure, also lamented that the commission had lost 74 of its officials due to reckless acts of some drivers in the past 18 months. Boboye who warned that the commission would stop at nothing to bring killers of his personnel to justice, added that plans were already on for road traffic offenders to be meted stiffer punishment.
He said: "In the last 18months I have lost about 74 lives. We will not stop at ensuring the prosecution of those errant drivers. It is my responsibility to ensure the safety of my personnel on the highway, so if you knock down my personnel and you are running away, I will go after you."
Expectations
Thus, Boboye said drivers of such articulated vehicles, especially tanker drivers, are expected to mandatorily affix three number plates. He said: "In many instances drivers and operators swap one tanker head for another thereby making the vehicle carry double identity in the form of number plates. Thus, efforts at verifying ownership often leads to double identity making law enforcement and corrective measures difficult. Sometimes the vehicles do not bear Number Plates.
"The owners indulge in improper registration , vehicle data will not being captured on the National Identification portal/data bank. This practice can lead to non traceability of such vehicles when stolen. It also constitute national security risk as they could be used for subversion purposes."
Proposed Solutions
According to Boboye, there is an operator's mandatory compliance which includes standards of construction of tanker/trailer bodies put in place by the Standard Organisation of Nigeria (SON).
He noted that apart from the construction method and material specifications, vehicle inspection must be improved. He also addressed ageing trucks through fleet renewal facility.
He said: "There is need to engage the services of properly trained truck drivers from reputable specialist driving schools and ensure that their knowledge is constantly updated through re-training.
Also, standards should be fully enforced before loading, during loading, on transit and off-loading of cargoes. Fleet operators should also ensure the mandatory use of inflammable signs and retro-reflective tapes on all trucks to enhance visibility. Meanwhile, all trucks with flammable contents must comply with the Agreement for Dangerous Roads (ADR) standards and fix necessary signs on trucks for recognition.
"Other measures include the mandatory use of the specified
standard fire extinguishers, which is two nos. of 9Kg ABC fire extinguishers. They should also consider investing in on-board cameras and satellite tracking to monitor the behavior of drivers."
Private Sector Compliance
From all the solutions proffered, it was obvious that none of it would work without cooperation from the private sector. One of the speakers at the event, the Managing Director of A&A Global Leasing Services, Mrs. Oluwaseye Yomi-Soleye, appealed to government at all levels to rehabilitate roads, noting that the after effect of the bad roads cause elongated trips and cause untold hardships.
She said: "This is a major challenge for haulers. We will like the Federal Government to please look into this. On the issue of night driving she said: "We do not allow night driving in my company. As a matter of policy, all our drivers park once it's 7pm."
Addressing the issue of reckless driving she said: "I think the problem of lack of training is mostly with those unprofessional haulers on the streets. We train our drivers regularly and do recertification. They have to go through these trainings before they can be allowed to enter the premises of our clients."
Listing other measures taken by her company she said they have standard trackers, speed limiters on all their vehicles to ensure compliance from their drivers, adding that "they are not allowed to drive above 60km/ hour. Aside that, we have facilities to monitor their behaviours on the wheel".
Convener's Remark
In his remarks, the convener of the conference, Alfred Okugbeni praised the government for taking steps to emplace intermodal transportation, adding that it was a sure way to reduce road traffic disasters.
He said: "From what we see, the government is already talking about intermodal. In more developed environment, from the port, we use rail, and from the rail stations we use trucks, for distribution, so that is what we mean by intermodal transportation.
"The first thing is to look at the law, regarding the rail transportation in Nigeria. I think it is in the exclusive list, something is being done in the National Assembly to address that because in a place like America, we have private companies owning rail tracks, that also helps private companies to have wagon that can be on these rail tracks. So, instead of having a 100 trucks for example, we can have 10 wagons that pull the 100 coaches. They will do the same job. That is what is being proposed at the moment."