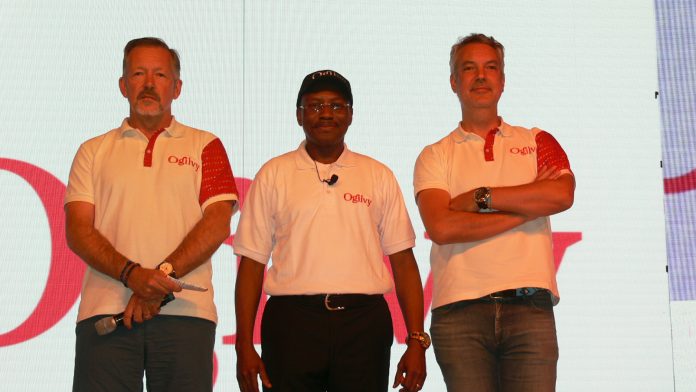 The new entrant into Nigeria's creative industry, Ogilvy Nigeria, has assured on driving change through innovation and creativity reports Kasie Abone
Array of seniour professionals from different walks of life who gathered at Landmark Event Centre, Lekki, Lagos, to formally unveil Ogilvy Nigeria, into Nigeria's integrated marketing communication industry were united that its entry would redefine the industry with innovation, creativity as it aims to embrace the future in a positive light. The unveiling which was a sequel to the media launch of the new entrant, a part of the global WPP Group, hosted industry leaders to a panel discussion on "The Impact of Digitalisation on Business Growth in Nigeria."
WPP Group listed on the (NASDAQ:WWPGY) operates on 83 countries with 131 offices offering six core capabilities including Brand Strategy, Advertising, Customer Engagement and Commerce, PR and Influence, Digital Transformation, and Partnerships.
Mr. Seni Adetu, a former Guinness Nigeria Director, who will drive the business to greater heights assured his guests that the company would provide systems and solutions to make brands do well in the market place.
Also speaking at the occasion, Mr. Paul Donnell, Chief Executive, EMEA, Executive Partner, the Ogilvy Group said, "This is a long-term undertaking. Now more than ever, companies are having conversations around exactly what it means to be a brand. And Nigeria companies are thinking more strategically about who they want to be on the global stage. We see a new generation of global companies emerging in Nigeria, and we hope that this new office can be a hub facilitating their access to our global Ogilvy and WPP network for their global branding efforts".
The Group Chief Executive, Ogilvy Nigeria, Seni Adetu said, "I am delighted to be partnering with an award-winning global brand. This is a great opportunity to further enhance the quality of strategic and creative development of advertising in Nigeria.  We can now offer world-class services to Nigerian companies as well as multinationals locally. We are positioned to provide our clients local expertise with global standards.  With my committed team, with years of proven experience and passion, we look forward to redefining the advertising industry in Nigeria."
According to Seni, the opening of Ogilvy Nigeria was made possible after WPP acquired a 24.9% stake in First Primus Group.  Ogilvy Nigeria will complement the other subsidiaries in the Group by offering strategic and creative Above –The- Line (ATL) and Below-The-Line (BTL) services.