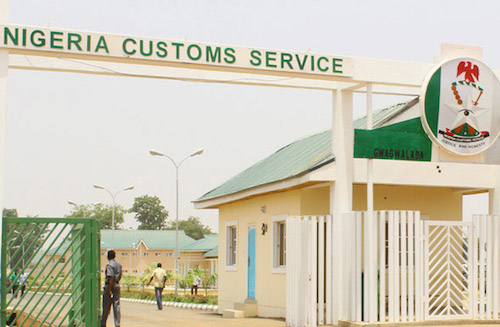 Eromosele Abiodun
Clearing agents in the country and importers yesterday took to some streets of Lagos to protest against an allegation of extortion by officers of the Nigerian Customs Service (NCS).
The protesters who operate in Clarion Bonded Terminal obstructed activities in the terminal and sent staff members and customers out of their offices.
The protesters blocked the street of Old Ojo road, Alakija, Lagos, amid fireworks, calling for the removal of the Customs Officer in Charge (OC), Peter Olaniyan, for allegedly collecting illegal fees from them.
This is just as seaport terminal operators have accused the NCS of denying them the 25 per cent statutory charge of the value of auctioned containers.
The operators, who condemned the impunity and lack of transparency by Customs in the auction exercise, lamented that for several years, Customs has failed to keep to the agreement, which mandated it to pay a 25 per cent charge from the value of all auctioned containers in the country.
Spokesman of the Seaport Terminal Operators Association of Nigeria (STOAN), Bolaji Akinola, said container terminals incur huge costs associated with the handling of overtime containers especially with the positioning of containers selected by Customs for auctioning without any commensurate benefit even after such containers are auctioned.
He said: "Usually, it is after they (Customs) sell auctioned containers that they are supposed to pay the statutory 25 per cent. But for years that they have been moving containers to Ikorodu, but have not paid us the statutory 25 per cent of the auction value.
"It costs about $10 to lift a container once. For example, we may have to move seven or more containers to get to the one requested by Customs for auction and this comes at a huge cost. So it is causing big operational cost for us."
Also, the protesters said the NCS introduced a controller's watch list, a list where containers are placed on blacklist, which they said was to extort money from them.
One of the protesters who do not want his name in print called on the Comptroller General of NCS, Col. Hameed Ali (rtd) to the remove Olaniyan from the port.
According to him, "Our demand is that OC Gate be removed from such a small terminal like this. Do you know that this officer, many times, will place our containers on what he called controller's watch list?
"Then demand we pay the sum of N100, 000 for each container to be removed from the list. That is extortion. There is nothing like this in other terminals."