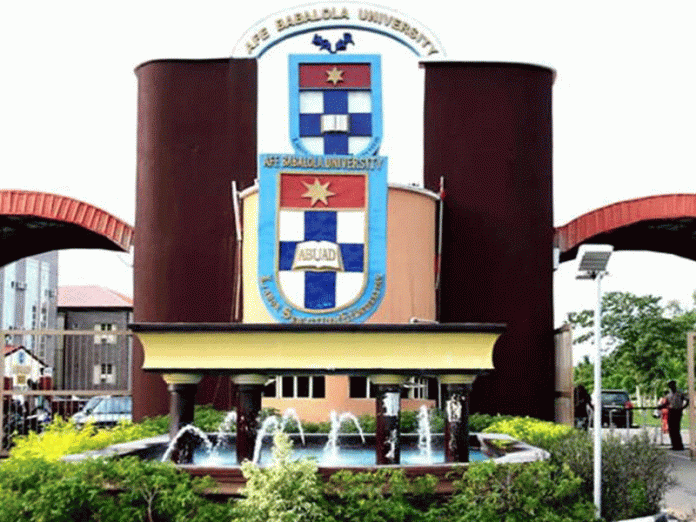 To honour AfDB President, Channels TV CEO
By Victor Ogunje in Ado Ekiti
The Afe Babalola University, Ado Ekiti (ABUAD) will graduate 72 first class among 1,042 students that will bag the university's degrees in the sixth convocation ceremonies slated for Saturday, October 20.
The university, founded by Chief Afe Babalola (SAN), has offered automatic jobs to the first class graduates, being part of the ways to boost their morale and commitments in academic pursuit.
The university will also confer Doctor of Letters (LLD) honorary degree on a former Minister of Agriculture and President, African Development Bank (AfDB), Dr Akinwumi Adesina, and the Chief Executive Officer of Channels Television, Mr. John Momoh, to appreciate their contributions to the nation.
At a pre-convocation press conference held in ABUAD Monday, the institution's Vice-Chancellor, Prof. Michael Ajisafe, hinged the high turnout of first class graduates on excellent, rigorous and qualitative academic prowess already attained by the institution.
To underscore how serious the management was in terms of the award of degrees, Ajisafe stated that the university has put in place stringent measures that would automatically eject lazy and unruly students from the system.
Ajisafe added: "We have disciplined students here and it has always been the culture of the founder, Aare Afe Babalola, to give automatic jobs to first class students and these 72 will benefit from the gesture.
"Today, ABUAD is the only university in Nigeria that makes its students go to classes between 8am and 3pm and later 7pm to 10pm. There is no room for indolence here. This will automatically frustrate lazy and indolent students.
"Apart from handsome prizes being given to brilliant graduates, which includes vehicles and cash gift, the founder gives all graduates in the Faculty of Agriculture a sum of N250,000 each to empower them to go into farming. Some are even given parcels of land for farming.
"Lazy students can't cope here in ABUAD. Our objective is to change the phase of university education in Nigeria and that we are pursuing with vigour and we are gradually achieving that because we are the first university to graduate 43 medical students barely eight years after we commenced operations."
The vice-chancellor added that the culture of self-esteem, self control and exposure to entrepreneurial training would stand their graduates in good stead to be able to operate under any economy across the globe.
Ajisafe stated that the 100 per cent performances scored by the 43 medical students that graduated in September further complemented the high global and continental rating the Law and Engineering Colleges have enjoyed from National Universities Commission (NUC) and Nigeria Society of Engineers (NSE).
"Even most of the new doctors acknowledged the fact that the standard we set here was high and that it will not be difficult for them to pass their professional examinations. This is the stuff we are made of here," he said.