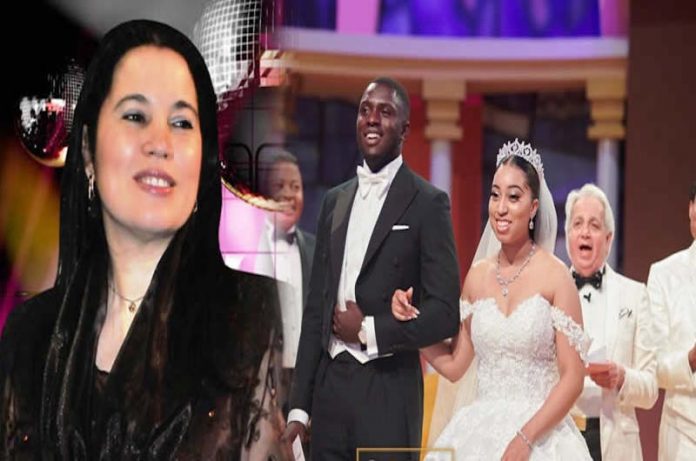 While tragedy booms at deafening decibels, cluttering Pastor Chris Oyakhilome's household with sniveling and sobs, joy blares a steady tune, drowning out the melody of pain. Finally, the flamboyant man of God is enjoying a reprieve of some sort from the grating agony of his failed marriage to Anita. As he endures the heartache of his calamitous marriage, glad tidings pervade his home as his daughter, Carrissa Sharon married her lover, Phillip Frimpong, the Netherlands-born Ghanaian, last weekend. It was a classy and well-attended party. But the bride's mother was conspicuously absent!
You couldn't have forgotten so soon how her marriage to Pastor Chris crashed and was well celebrated in the media. Few years ago, in 2014 to be precise, the traditional and new media portals ran amok with news of the celebrity couple and pastors marital crisis. Anita filed for divorce at Central Family Court, High Holborn, London, UK, citing her husband's "unreasonable behaviour" and inappropriate relationships with members of staff, an intonation of "adultery."
Miracles were unable to save her marriage from the ravages of betrayal and an unfair world. Like a sea-worn vessel crashing against the trunk of an iceberg, Pastor Anita's marriage to Oyakhilome, steadily disintegrated to her dismay and to the consternation of church members. But through her sadness, Anita has seen a rare opportunity, a second chance to make her personal and romantic life more worthwhile.
She understands that second chances are rarely given thus her eagerness to take it before time runs out. As you read, Anita has changed her name to Ebhodaghe-Schafer thus exciting speculations that she probably got married to a German. However, her absence at the wedding ceremony has generated a lot of snide remarks from family and friends. A Lagos-based pastor, Igwe Ogbonnaya said:
"My challenge here is not the dressing, for I respect people's decision so far as you are an adult. My concern is the absence of the wife or mother in this lifetime event. Charlie Boy the unbeliever is still living with his wife after so many years, but some pastors are separating from their wives. What are we teaching then? Odikwa egwoooo…….." he wrote.