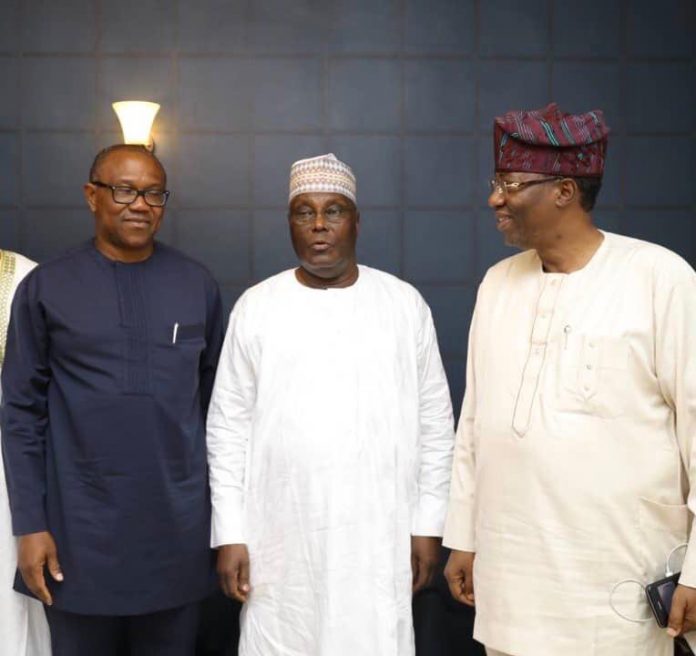 Jubilation in Anambra
Atiku: Obasanjo has promised to lead my campaign
Ahamefula Ogbu in Lagos, David-Chyddy Eleke in Awka, Benjamin Nworie in Abakaliki and Adedayo Akinwale in Abuja
The Director General, Atiku Presidential Campaign Organization (APCO), Otuba Gbenga Daniels yesterday confirmed that the former Governor of Anambra State, Peter Obi has been picked as the running mate to the presidential candidate of the Peoples Democratic Party (PDP), Atiku Abubakar ahead of the 2019 elections.
The choice of Obi immediately elicited wild jubilation across Anambra State, with Atku further hinting that former President Olusegun Obasanjo had promised to lead his Presidential campaign.
In a statement he personally signed, Daniel said that the choice of Obi was to steer the country to the path of progress, economic prosperity and unity.
The former governor of Ogun State revealed that Obi's choice was largely influenced by his youthfulness, vast knowledge of global and local economics as well as being a financial expert, all experience which Nigeria is in great need at this point in time.
He said Obi born on 19th July, 1961, attended the Christ the King College, Onitsha and later proceeded to the University of Nigeria, Nsukka where he graduated with a Bachelor of Arts in Philosophy.
He is also a graduate of several international and national institutions such as the Lagos Business School, Harvard Business School, London School of Economics, Columbia Business School, Institute of Management, Switzerland, Kellogg Graduate School, Oxford University and Cambridge University.
In public service, he has led various divisions some of which includes: Member, Presidential Economic Management Team; Vice-Chairman, Nigeria Governors' Forum; Chairman, South-East Governors' Forum, and the Governor of Anambra State.
He described  Obi as an astute professional who has laid his footprints across the corporate world.
He said Obi was the Chairman, Board of Security and Exchange Commission (SEC); former Chairman, Fidelity Bank PLC; former Chairman, Guardian Express Mortgage Bank; former Chairman, Future Views Securities; former Chairman, Paymaster Nigeria; former Chairman, Next International Nigeria; former Director, Guardian Express Bank PLC; former Director, Chams Nigeria PLC; former Director, Emerging Capital: former Director, Card Centre PLC.
He is a member of the British Institute of Directors (IOD), Nigerian Chartered Institute of Bankers and Nigerian Economic Summit Group (NESG).
THISDAY learnt that after series of meetings, the decision to pick Obi was reached at Atiku's residence in Abuja.
Insiders who had been following events hinted that nationalists who saw Atiku as capable of uniting different regions of the country had asked him to look towards the Eastern region to assuage frayed nerves being that they were yet to adequately be at the center of power in the country.
Names particularly mentioned as having a hand in rooting for a Vice Presidential candidate from the South East included former president Olusegun Obasanjo and former Head of State, Ibrahim Babangida.
It was gathered that the trio of Atiku, Obi and Director General of Atiku Campaign Organisation, Otunba Gbenga Daniel were at the meeting in Atiku's residence yesterday where necessary forms were said to have been handed to Obi to fill pending proper confirmation of the choice to be followed by the formal announcement.
Calls to Obi's mobile line indicated his phone was turned off; fueling speculations that he might have turned his phone off to avoid his line being jammed with calls.
After the information of Obi's choice hit the social media, there were positive comments most of which said it was a proof that the South East region had been recognised as part of Nigeria with the possibility of a president of the country coming from the arrangement.
Ebonyi State Governor, Mr. Dave Umahi was the first South East governor to congratulate Obi on the nomination.
Umahi in a statement signed by his Chief Press Secretary, Emmanuel Uzor, described the choice of Obi as a master stroke, a political calculation that has all the trappings of making Nigeria work again under the PDP.
He expressed optimism that with the Atiku /Obi ticket, Nigerians would work again, describing Obi as a consumate administrator, who showed class in leadership as a two term governor of Anambra State.
Umahi further congratulated Nigerians and members of PDP for electing Atiku their presidential candidate and maintained that the duo would bring their ingenuity and wealth of experience to bear when they become President and Vice President of Nigeria in next year's election.
In Anambra, almost every public place had people discussing it just as many hailed Atiku as having made a very good choice.
A legal practitioner, Mr. Okwuchuku Orji told our correspondent: "Just see the happiness on people's faces. Who in the south east and the south west would have been so acceptable? Nobody," he submitted.
Orji further said that he was happy for the choice of Obi,noting that his sterling performance while he was governor might have been the main reason for his selection.
"Obi set a standard in governance in the eight years he was here as governor. You may not like him, but you cannot exactly wish away the fact that he is good. Knowledge of the economy was one thing Atiku based his nomination on, and in that aspect, Obi is a guru. I think Nigerians will get it right this time," he pointed out.
According to some PDP stalwarts who did not want their names in print, "Obi is a great pick; he has been fighting for the poor and middle-class families his entire life.  Atiku, opting for an experienced governing partner will help him present the PDP ticket as a steady alternative to president Buhari.
"Together they portray themselves as bridge-builders who will champion government as a powerful and positive tool for Nigeria.  While their policy positions have not been identical, they are of like mind about battling to keep President Muhammadu Buhari out of the Aso Villa come 2019."
Atiku while narrating his meeting with Obasanjo before he announced his support for him revealed that his former boss before delivering his speech during the reconciliatory meeting in Abeokuta assured him that he would launch his campaign to presidency.
Atiku who said he could not tell if Obasanjo was still a member of the PDP or not, said that the former president was with the party both in body and spirit.
Obasanjo, had on Thursday during a reconciliatory meeting in Abeokuta, brokered by the Afenifere, said he had forgiven Atiku, stating that given his personal knowledge of him, he had better capacity to perform than the incumbent, President Muhammadu Buhari.
The meeting was witnessed by the Catholic Archbishop of Sokoto Dioceses, Bishop Matthew Kukah; Founder of Living Faith Church, Pastor David Oyedepo; a leading Moslem cleric, Sheik Ibrahim Gumi; and Afenifere leader, Chief Ayo Adebanjo, among others.
Speaking at a meeting with the leadership of the party on Thursday night in Abuja, the former Vice president promised to work with and reward all the presidential aspirants that contested against him at the Port Harcourt convention in a bid to achieve success in the 2019 elections.
The meeting had in attendance the National Chairman of the party, Prince Uche Secondus, Board of Trustees (BoT) members, Senate President Bukola Saraki, NWC members among others.
According to him, "I visited my former boss in Abeokuta where we exchanged confidences. I may not say whether he is a PDP member or not, but he is with us in body and spirit. Even before he delivered his statement, we retired to his private room where he gave me his statement to go through and possibly edit. He said he will launch my campaign to the presidency with the statement. That is vintage Olusegun Obasanjo for you."
Atiku said that many of the BoT members were the founding members of the PDP, urging them to get ready for the next phase, pointing out that the second phase is important.
The presidential candidate also urged the BoT members not to underrate their opponent, while also imploring them to make use of their qualities to ensure the party recorded phenomenal success in 2019.
Atiku stated: "I can assure you that I am prepared to work with and reward all of you if we unite together to achieve success. I must commend the sense of patriotism displayed by my fellow contestants. From the very day I delivered my acceptance speech, we have been working together. I believe it is our duty to provide that sense of unity and leadership to the rest of party members."
Also, the PDP National Chairman, Prince Uche Secondus, said that members must now come out of the convention mood and face the challenges ahead.
He added that it was time for fence mending and rebuilding of confidences and for everybody to work together.
Secondus noted that it is going to be different this time around, because they are facing a vicious government and must stand firmly.
He said: "Immediately after the convention, the presidential candidate and I visited the host governor and a few issues were resolved almost immediately because we had to carry the momentum from the venue.
"On Monday, I called a meeting of all the former aspirants and they all came and we discussed heartily. They have already started implementing what we discussed by visiting critical stakeholders, governors and dignitaries.
"The party was complacent in 2015, which led to our losing the election. Now, every BoT member must deliver his or her unit, ward or constituency. This was lacking in the last election. We must build a consensus and arrangement that you will be rewarded and be recognised when you deliver. We cannot play the type of Abuja politics that made us lose in 2015."
Secondus noted  that INEC would not rig when they see the faces of the nationalist BoT members at the polling units, neither would security operatives intimidate them, saying they should not leave the task to the younger ones, but to support and encourage them to get the desired result.
He stated: "Our task now is to focus and remain focused. Our target is to win all the polling units in the country and we will able to do that, with the strategies in place.
"A popular candidate has emerged. He is grounded in Nigeria. What is left for us to do is to take the message home. The current government is vicious. They are framing up and coming up with lies and propaganda, but we are happy that we are in complete control of the National Assembly.
"We must sustain that so that the international community will be aware that the PDP is ready to take over the government and do what we know how to do best: which is to provide good leadership for Nigerians.
"Of course, the APC know how to be in opposition and they will go back to their former position. However, we can't do it alone. We must have everyone on board. We must move fast immediately when INEC releases the timetable for campaigns."
Reacting to insults heaped on Obasanjo for endorsing Atiku by the Buhari Campaign Organisation, his campaign organisation described it as expected, saying that in trying to paint Obasanjo as a flip-flopper, the Buhari Campaign Organisation shot itself in the foot.