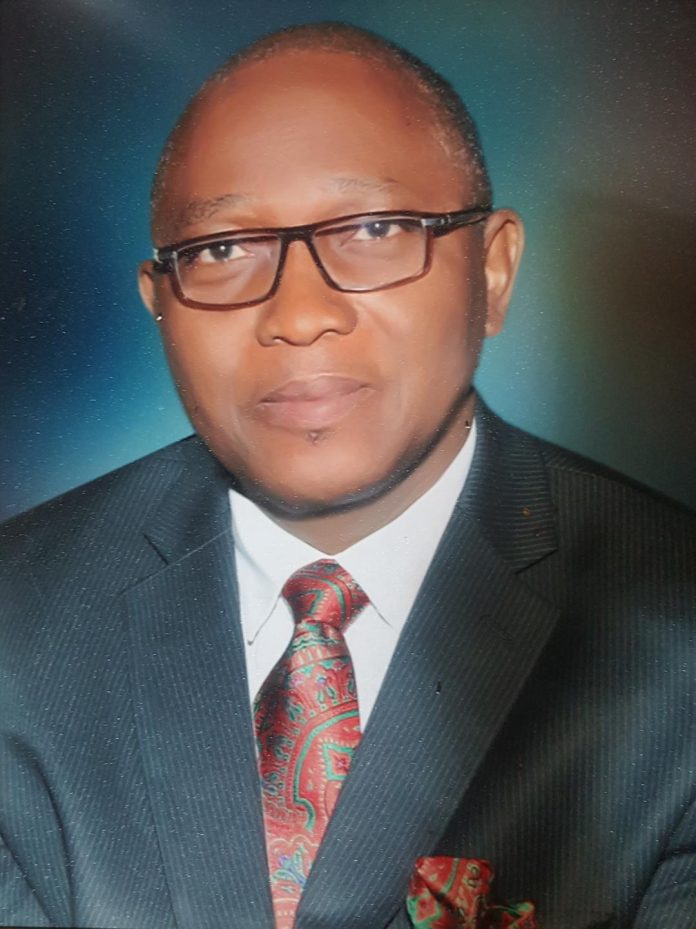 The Lagos University Teaching Hospital Idi Araba, Lagos, was established in 1962 to offer tertiary health services and engage in teaching and research. It attends to 2,000 outpatient cases, 120 new emergencies and admits about 50 new patients every day. LUTH's Chief Medical Director, Prof. Chris Bode, explains to Tobi Soniyi, how the nation's foremost tertiary health facility is coping with overstretched physical and human resources
Recently, a victim of hit-and-run driver reportedly died at the gate of this hospital. Can you put this story in its proper context?
Any death is an unfortunate situation but this particular case was also seemingly difficult to prevent. We encountered the victim who has been identified as Mr. Segun Ogunjobi, a 24-year old man. He did not die at our gate and no, he was not left unattended in LUTH. The true story was that he was seen, registered and promptly treated. Our records showed that he was brought into LUTH at 6:43pm on Sunday, 2nd September, in a public vehicle upon referral from Navy Hospital, Ojo. Information at our disposal indicated that he was hit by a commercial vehicle. He was brought to LUTH from LASUTH where he was initially referred from Navy Hospital, Ojo. Our findings at LUTH indicated that the victim did not receive any form of initial resuscitation at the hospitals of first and second call after the accident. Other medical findings were:
An assessment of moderate traumatic brain injury was made by the attending Triage Doctor who saw him within five minutes of arrival. Staff on duty said resuscitation was immediately commenced even while he was in the vehicle with intravenous fluids administered through two venous accesses sited on arrival in LUTH.
The Emergency Unit of LUTH, in line with our protocol for such cases, provided all initial materials for resuscitation. His relatives were informed that the materials would be replaced later by them.
It is true that the victim could not be provided a bed immediately as the emergency center was at full bed capacity. This was explained in detail to the relatives. Also the neurosurgical team was informed about his case and a Computerised Axial Tomography (CAT-scan) was requested to determine the extent of his brain injury following review by the consultant in the Triage Unit. His family however could not provide funds for the CT-scan.
Meanwhile, the A&E Unit continued to make arrangements to provide a bed space in the Center while resuscitative effort was on-going. Reports indicated that the family continued to delay in ensuring a CT scan. Our team continued to monitor his level of consciousness. Eventually, a bed was provided following the transfer of another patient to the theatre for emergency surgery. Some 90 minutes after arrival, his level of consciousness depreciated and attempts at cardiopulmonary resuscitation was not successful.
Let me emphasise that, unlike at the other centers where he had been taken to following the accident, LUTH did all that was possible within the constraints of our environment. We didn't abandon him on account of lack of bed space. He was admitted and was being actively resuscitated by our teams of emergency doctors and neurosurgeons till he passed on. I also need to state here that we continue daily to stretch our manpower and material resources to ensure that as many citizens of this country that require emergency care are provided with compassionate care. This particular case was a bad one before he got to our hospital for intervention. His care, which should have commenced several hours since injury, was delayed till he got to LUTH very late.
With just 500 beds and in a city harbouring millions of people, majority depending on government healthcare services, how are you coping with the pressure?
With population growth, pressure and time, the attrition of 'wear and tear' on facilities in use will overstretch their capacities, especially in view of decades of usage in attending to Nigerians who daily throng LUTH for minor and tertiary medical cases. No doubt, it has been a herculean experience for us.  In spite of this, we are responding to mitigate the consequences of huge hospital attendance and we will keep improving as our funding improves. For instance, the institution has commenced a hospital-wide renewal of its 56-year old ward blocks, starting with the B-Block. Expectedly, withdrawing a block of 120 beds from service has created some bed constraints, but we have continued to do our best in the circumstance by ensuring that nobody is sent away; and on rare occasions we arrange with the Lagos State University Teaching Hospital to accommodate such patients in line with world's best standard practice.
Will you rightly ascribe the situation to inadequate funding by government or manpower shortage or both?
Truly, the government cannot solely be responsible for funding the health sector, even when huge resources are being massively invested in the sector. This informed the ingenuity of the management at LUTH to embrace the Public Private Partnership – PPP – arrangement to provide some projects with direct impact on services and the patients, in line with what government encourages us to do now. For instance, out of the N60.9 million appropriated for LUTH in 2015, only N30 million was released for the year; in 2016, we got N83.9 million out of the N130.3 million budgeted and in 2017, the total release was N161.3 million of the N322.7million appropriated. So it is understandable why alternative sources must be explored to keep providing services.
As a result, with the 3.48-MW PPP-financed LUTH Independent Power Project, we are enjoying uninterrupted electric power supply. This informed the priority accorded each of the critical areas. We now provide uninterrupted electricity to operation theaters, Neonatal Unit, Intensive Care Unit, Labour Wards and each has a backup generator that is seldom used now due to constant power supply. Most of these facilities also have inverter backups as a third line of defense. We also have the private Synlab, another PPP-funded project that has been on for several years which is an ISO-Certified Laboratory with an international reputation for efficient and prompt services.
Of course, we are aware of the mobility of our personnel that have been attracted to seek greener pasture abroad. In order to prioritise staff welfare, a lot of initiatives have been embarked upon to cater for our staff.  A recent one is the Staff Emotional Care which provides emotional support in cases that may impact on their mental health and well-being.  In addition, we have compulsory Annual Staff Medical Examination for each staff on their birthday.
The LUTH Staff Housing Project at Pakoto, Ifo, Ogun State, where 50 beneficiaries of the first batch of 300 houses would be home owners is under construction. This scheme is supported by the Federal Mortgage Bank. The first set of houses will be ready next month. 
In addition, Job Description handbook for Consultants has been produced while efforts are in progress to do the same for all cadres of LUTH workers. The Hospital Information Management System is also awaiting funds for its execution.
All the eight Endoscopes that became dysfunctional from overuse have been fully repaired in Germany and returned to LUTH for use.  
However, efforts are ongoing to further improve efficiency of service delivery in the hospital: among them are the sixty Outpatient Consultation Rooms; the expansion of the Accidents and Emergency Department; new wards for services now in high demand, including Stroke, Burns, Child Psychiatry; more Operation Theatre Suites, modernisation of the Anatomic & Molecular Pathology Department; equipment and facilities, especially, new dental chairs, new CSSD equipment and new Lifts which are direly needed. We are hopeful that some of these facilities will be made available, subject to budgetary allocation.
Some years back, there was a deliberate policy to strengthen primary health care to ease the pressure on tertiary health institutions. Why have we abandoned that policy?
I will not agree that the policy on Primary Health Care had been abandoned. Rather, we have to take cognisance of Nigeria's rising population and the fact that migration from the rural areas to the city has continued unabated. The policy on PHC is on course. I'm sure you are aware that the National Primary Health Care Development Agency is doing a lot in this regard. Government also has a deliberate policy to train more care givers including nurses, midwives and traditional birth attendants to strengthen the system and reach all remote corners of the country. It is however worrisome that many Nigerians will rather come to a tertiary facility as LUTH rather than go to the General Hospital for minor ailments like malaria.
What strategies have you put in place to cope with the rising demand for services here?
A lot has been done within our resources and abilities to scale up our services. Remember we are talking of human life and wellbeing of the Nigerian people here, so we cannot but adopt whatever measures are desirable to add value to how patients are given attention, within reasonable time and of course, with charges too.
Part of what we have done is the addition of the new Blood Bank, a new Accidents & Emergency Laboratory, Optical Workshop & Laboratory, Acute Stroke Care Centre, Endo-laser Surgical Suite which were built from scratch. Each of these was the first of its kind in Nigeria and these projects have attracted favorable comments from clients, other federal institutions, government and staff.
In the last three and a half years, we have successfully rehabilitated the Modular Theatre, Accident and Emergency Department, Psychiatry and the Dental Outpatient departments. Water is very important to the hygiene and our operations, therefore our 44,000 gallons per hour Water Treatment Plant is very functional now alongside the Industrial Incinerator and the Administrative Block which were previously in disrepair. All have been rehabilitated and are now fully in use. All eight endoscopes that became dysfunctional from overuse have been fully repaired in Germany and returned to LUTH for use.  
At present, we stock more than 80 per cent of prescribed drugs and we have enough stock of medical consumables at all times. Those we could not stock are the rarely prescribed items, implants and other expensive individualised needs.
Within this same period, the School of Biomedical Engineering, the Advanced Fertility Centre, the Interns' Hostel Accommodation, Olikoye Ransome Kuti Children's Emergency Building, Infectious Disease Isolation Unit, have all been completed and put to use.
To cater for the personnel, the long-abandoned Road 6 was reconstructed with gutters on both sides and has been graded and in use, now ready for asphalting.  Similarly, the student nurses' Hostels & Nurses' Seminar Rooms have all been repaired and currently functional.
We are aware of the importance of water to operations and hygiene to patients and health workers. Now every ward and building at LUTH enjoy adequate water supply due to the rehabilitation of the water treatment plant where 40,000 gallons of water is produced every hour in addition to being connected to the Lagos State Water Corporation pipeline. We also have boreholes in a few locations within the hospital.
Truly, the old MRI machine is dysfunctional due to years of use, but a new one has been ordered and should be in place before the end of December this year.
Recently, the Nigeria Sovereign Investment Authority partnered with LUTH to upgrade the Radiotherapy Unit and build an Advanced Cancer Treatment Centre. With an investment of $10 million, LUTH is being re-equipped with three new Linear Accelerators, a Brachytherapy Machine, Treatment Planning System and many other facilities to make us a pride of place for patients with cancer.
The Eyeware Laboratory is now equipped to get tested and be issued with a new pair of eye-glasses under an hour at the Crystal Optics Eyeware Laboratory. Our Advanced Fertility Centre charges only a modest fee for IVF services and we are already recording success. Just recently, seven of nine infertile women became pregnant in one cycle of infertility treatment.
Through the Suicide Research & Prevention Initiative, (SURPIN) LUTH has been able to save over 100 lives nationally, using our SURPIN Hotline Service where calls were received that prevented suicide in 16 states of the federation in past 18 months. In the same way, drug abuse problems are combated by linking callers to Appropriate Mental Health Services at different locations. This novel initiative prompted the West African Health Organisation to visit LUTH and understudy its model for replication in other West African countries.  In fact, a number of other institutions have come to understudy these new models of service delivery.
The Blood Bank which was long a place of blood scarcity and agony has been transformed into yet another sphere of excellence. It is one of the best in Nigeria. With well-stocked fridges and a fully-equipped floor, surgeons, pediatricians, physicians and obstetricians are happy with the blood bank as availability of blood and blood products is now guaranteed.
Although majority of nurses employed were young and highly mobile female workers who constantly marry and are much sought-after abroad, LUTH recruits up to 100 new nurses every year. Many also leave the system for greener pastures. As such, locum workers are also recruited in areas where such are direly needed, as is common practice the world over. Currently, LUTH has close to 700 nurses even as its peak bed capacity is about 500.
These and many more should be the feats to celebrate in appreciating the great strides and efforts of the federal government and the management of a reputable health institution like LUTH. This will further encourage the sacrifice and service of the personnel towards combating the health needs of our nation and motivating those practicing at home to remain committed to the task of saving life.
In our desire for excellence, many projects are ongoing. The LUTH/NSIA Advanced Cancer treatment Centre, a PPP Project worth $10 million, is at an advanced stage ready for commissioning in January 2019. On completion, the Centre will feature 3 new Linear Accelerators, 1 Brachytherapy Machine, a Treatment Planning System, Seminar Rooms and teaching facilities.
Another is the Radiology Department which is also being re-equipped through a PPP initiative with Messrs JNCI to provide three new digital X-Ray machines, Fluoroscopy, Mammography, MRI machine, Mobile X-Ray machines, ultra-scan Machines, Picture Archiving Machine and many more. The whole facility is being upgraded to make it a one-stop Imaging Centre. This project will also be ready for inauguration by January 2019.
LUTH is building a Treatment Center for over 8000 HIV-AIDS patients. The project is now at the roofing stage now and will also be ready for commissioning next January.
Are you optimistic that these measures can stand the test of time amidst increasing population of Lagos?
Despite the pressure, we must continue to do our best for the welfare and wellbeing of our citizens. There is no other option. As we are all aware, government resources are not limitless in the face of competing demands. As you know, citizens are also yearning for quality education, good roads and potable water in all our towns and villages. All these are competing for scarce resources. It is therefore critical that the health care sector must continue to be managed by competent, committed and selfless managers; policy makers and managers who can think out of the box and make the greatest impact with limited available resources and manpower.
At LUTH efforts are ongoing to further improve efficiency of service delivery in the hospital. Going round, you have seen the renovated Triage Area of our Accidents and Emergency Department. New wards for services are now in high demand and we need a Stroke Rehabilitation Unit, Burns Ward, and a Ward for Child Psychiatry. We have plans to build and equip more Operation Theatre Suites, modernise the Anatomy and Molecular Pathology section, get new equipment and facilities including new dental chairs, new CSSD equipment and new elevators. All these plans are subject to availability of funds.