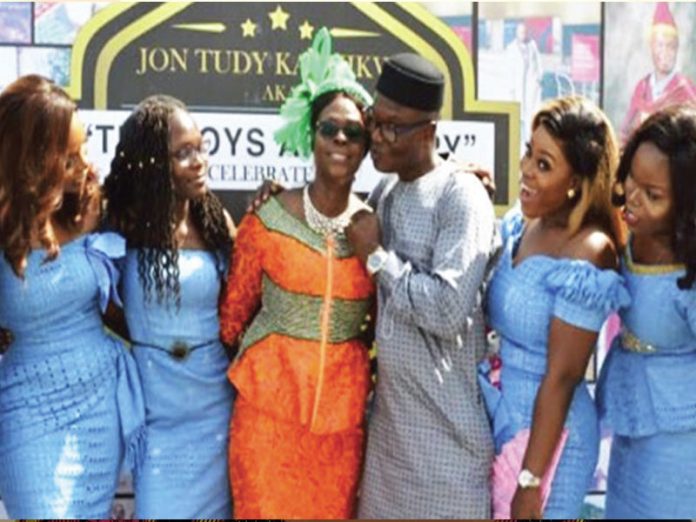 Rebecca Ejifoma writes on vintage export mogul, Jon Tudy Kachikwu, who recently marked his 60th birthday in grand style
For vintage export consultant, Jon Tudy Kachikwu, every September 27 is one to look forward to. The reason being no other than it's his birthday. This year was not an exception as his birthday was marked in a grand style at Lekki Event Centre, Lagos. As expected, the birthday was marked with pomp and pageantry as big wigs in the export sector and his kinsmen from Onicha-Ugbo, Delta State attended.
Meanwhile, this was after a thanksgiving service was held at the Transfiguration Catholic Church, Victoria Garden City, to appreciate God for His grace. Kachikwu was born on September 27, 1958 in Onitsha, Anambra State, during one of his mother's frequent visit to Onitsha to trade. The third child of his parents, Kachikwu grew up in Onicha-Ugbo, together with his siblings, where he started school early.
His father's untimely death when he was only five- years-old caused the family hardship that he had to drop out of school. He was thereafter sent off to serve a relative at the age of six and he spent most of his youthful years serving one relative or the other and thus forced to be responsible at a very early age. He returned to Onicha-Ugbo in 1971 at the age of 13 to help his mother in her petty trade and also complete his primary school education.
He also got engaged in farm contracts, where he was paid to weed farms for big time farmers. While working on the farms, he proved himself to be hardworking and resourceful and this accounted for his popularity amongst the farmers in the village.
Upon completion of his primary education, an uncle invited him to Lagos for further studies, however his schooling was stalled. The years went by, he was not in school, and so he decided to join his mother, who had moved to Lagos, in her palmwine business.
After saving up enough money, he enrolled in an evening secondary school, and after a year got admitted into Yaba Trade Centre (now Federal Technical College), to study Building Technology at its evening school. Whilst he was in school, he still assisted his mother in her business and engaged in other jobs in order to make ends meet. He completed his schooling and secured a job with Waterproof Construction Company, Yaba and later, a Tourism Company as a clerk. During the Christmas holidays, the tourism company permitted him to use its bus to carry travellers from Lagos to Asaba.
In doing this, he raised the sum of N120, gave his mum N40 to invest in her palmwine business and used the remaining money to travel to Togo, with a friend, in order to source for second hand clothes to sell in the popular Key (Quay) Side Market in Lagos.
For years, he travelled back and forth between Togo and Aba to source for clothes and sold same at the market. In the course of doing this, he made significant profit but was eager to earn more. He therefore conducted a research on a lucrative business centered on buying and selling.
Consequently, he approached the Late Chief John Iwelumo, an accountant at the time with Foreign Affairs and intimated him about his plans to travel to Europe, more specifically, to start the importation of leather belts and clothes from Italy. Iwelumo graciously assisted him with the necessary referrals; thereafter Kachikwu made the necessary arrangements and bookings, and was on his way to Italy.
He trod this path for four years, till the Federal Government placed a ban on leather belts, which necessitated his diversification to importation of printing papers, ink and other related materials. All the while, he never neglected his mother and siblings and was/is always there for them.
Over the years, he established himself as an importer of printing materials, which however was short lived, as he was ousted from the market by a bigger force, the Commercial Merchant Banks and Mortgage Banks which delved into the importation of printing materials on a larger scale. Ever resilient and undeterred by this setback, he was determined more than ever to continue in the trading business and in 1983, decided to explore the export business and travelled to the United Kingdom with samples of Nigerian food items and Guinness Stout. He approached the owner of Finsbury Park Business Centre and restaurant in London and marketed his sample products to him who immediately placed an order for a 20ft container of Guinness Stout and Nigerian food items. This was the turning point in the life of Jon Tudy and the beginning of a fruitful export business.
He was consistently exporting Nigerian Guinness Stout, Jon Tudy Palm juice and other Nigerian food items to the United Kingdom. In 1984, he travelled to the United States and fate brought him to his destiny helpers, Tola Lawal, Mrs. Ekwueme and Baba Odua, all of blessed memory. At different times, they accommodated him free of charge and helped him navigate the highly competitive US market. His business in the US thrived and soared to great heights, he got a lot of referrals from his customers and bulk orders inter-state till the US embassy refused his visa for five years and this caused his export business to suffer a great deal. This was the lowest ebb of his life. This however, turned out to be a blessing in disguise.
During this period, he had to focus on expanding his business in Nigeria, and this he did with the help and encouragement of his wife, Nkechi. I
Although he was trying to expand his business in Nigeria, he knew there was something missing in is life, and this was proper education. Education was key for him. He decided to go back to school, took the necessary exams and applied to the University of Lagos to study Law or Philosophy. Eventually, he was admitted to study Philosophy on a part-time basis.
Whilst he was in school, his business was adversely affected, however his wife held the fort whenever he had to study or write exams. He also had the financial support of a few good people and extended relatives. He was determined to succeed in school; he was a firm believer of practicing what one preaches. He had always admonished his children to study hard in school, so he had to lead by example. He literally burnt the midnight oil; and on some occasions, he and his daughters had to read at night for their different exams. The years passed by, and he graduated, still determined to conquer the world.
He focused his energy on building his business in Nigeria and the US, and favour eventually smiled upon him and his business started growing rapidly. As a result of his hard work and dedication in the export industry, he was appointed a consultant to Nigerian Export Promotion Council and a consultant to the Nigeria Army Farms, Lagos.
His export business stabilised and he started traveling to the US, exporting African food items to different states in the US. He also diversified into farming and acquired a farm in Ejeme-Unor, Delta State. However, this was short lived. He still made contributions to the farming sector in Delta State and Cassava Commercialisation Committee under the State Ministry of Agriculture, Asaba.
In December 2015, he was elected to serve a two-year tenure as Chairman of the Small and Medium Enterprises and Distribution Group of the Lagos Chamber of Commerce and Industry. He is presently the elected President of the Virgin's Fitness and Wellness Club and the Chairman Police Community Relations Committee.
Kachikwu is a philanthropist and a father to not only his biological children but to everyone including relatives that have lived under his roof. He has trained a number of people in school. He is a firm believer of God and brought up his children in His ways. He is happily married and is blessed with six beautiful daughters.