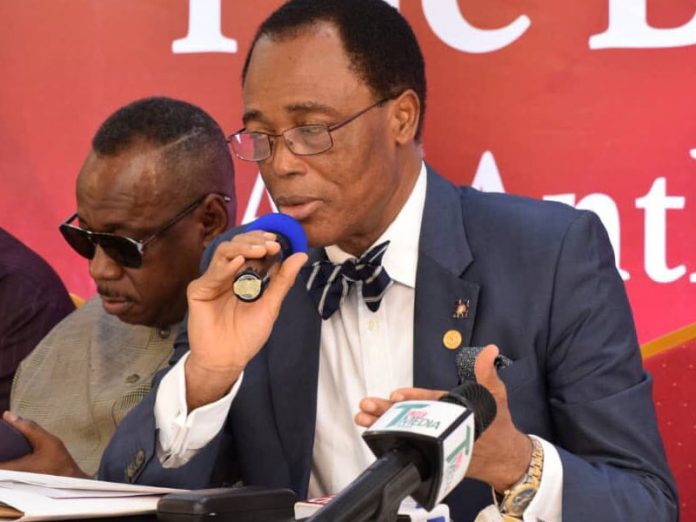 Yinka Olatunbosun reports on a recent visit to the palace of the Oba of Benin in anticipation of the Benin Red Book launch
The palace of His Royal Majesty, Omo N'Oba N'Edo, Ewuare II was a beehive of activities last Monday as preparations for the launch of the book, The Benin Monarchy: An Anthology of Benin History were already in top gear.
The entrance was covered in scaffold as the members of the Global Book Presentation Committee (GBPC) arrived at the palace, which radiated red themes from the chairs to the backdrop.
"With the authority vested in me by Almighty God and our ancestors, I granted approval to the publishers to convene historians, anthropologists and essayists to put the history of our kingdom in perspective as we, the most intimately concerned in this epic, can tell it, in its truest details,'' were the golden words of the Oba that made the dream of this book a reality.
Published by Wells-Crimson Limited under the auspices of the Oba Ewuare Foundation in collaboration with the Benin Traditional Council, the 599-page book is described by Ambassador Martin Uhomoibhi as "the most iconic in recent times on the revered monarchy and the people of Benin Kingdom''.
The Benin Kingdom had been a subject of curiosity for researchers, historians and even recently, western film makers. For instance, the stolen art and artefacts of the Benin heritage was subject in a museum scene in the Hollywood box office hit movie, "Black Panther''.
A creation of 18 scholars, The Benin Monarchy, furnished with 441 iconic images, will be launched on October 20 as part of the Oba's unwavering effort to uphold Benin heritage and regenerate the essence of the Benin Kingdom in the world's consciousness.
The commissioner for Arts, Culture and Tourism, Edo State, Osaze Osemwegie-Ero expressed his delight at the fruition of the book project, having served as a member of the GBPC.
"I have learnt a lot as well. It is something I will recommend for everyone. I will make sure I spread this to our brothers and sisters in diaspora. I am glad that the Royal Majesty is going to make it affordable for everybody. I want to thank the Governor Godwin Obaseki as well,'' he said.
Other members of the GBPC are Matt Aikhiobare, Daniel Inneh, Osaretin Osunde, Prince OmoregbeErediauwa, John Omoregbe, Olumide Akpata and Frank Irabor. The up-coming book launch is a high-profile event which has as guests, members of the diplomatic corps, notable curators and archivists and the literati.