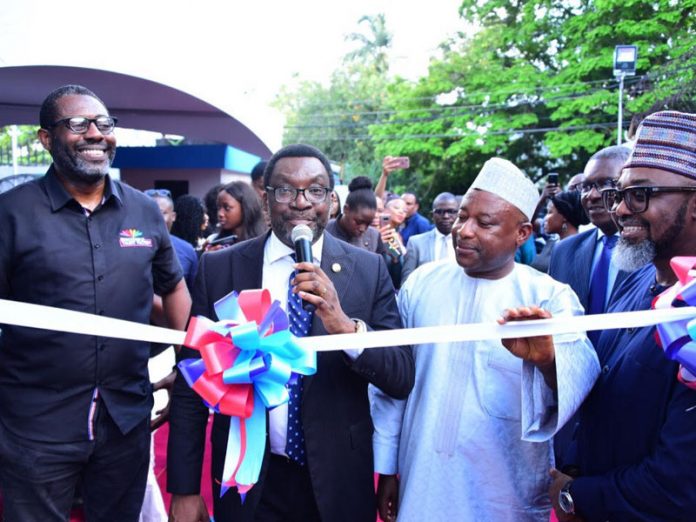 Rebecca Ejifoma writes on 20 young talents drawn across West Africa, who were recently admitted into the MultiChoice Talent Factory Academy to ignite their passion to tell African stories
From all indications, the MultiChoice Talent Factory Academy (MTFA) has come to stay. The academy was borne out of the need to train beneficiaries on theoretical knowledge and hands-on experience in cinematography, editing and audio production to aid telling African stories.
Fanning the embers of the creative juices of the chosen, the MTFA kicked off with 20 candidates from Nigeria and Ghana, who will begin their 12-month training programme at the academy this month. They will be provided with the skillset to ignite their passion, connect with industry professionals and tell authentic African stories through a comprehensive curriculum comprising theoretical knowledge and hands-on experience in cinematography, editing, audio production and storytelling.
Prior to the recent launch, a press brunch was held by MultiChoice on the eve of the sixth Africa Magic Viewers' Choice Awards (AMVCA), to engage with Pan-African media and stakeholders on their role in creating shared value for the industry, the company said they were investing in local content while igniting the future of Africa's creative industry through MTF. The session was led by a panel, which included members of the MultiChoiceleadership, including Yolisa Phahle, Video Entertainment CEO, MultiChoice General Entertainment; John Ugbe, Managing Director, MultiChoice Nigeria, and NkatekoMabaso, Acting CEO, M-Net SSA.Other MultiChoice top shots and experts in attendance at the session included Wangi Mba-Uzuokwu, Channel Director, Africa Magic; Njoki Muhoho, Academy Director East Africa and Femi Odugbemi, Academy Director West Africa.
Also prior to the launch, James Omokwe, in a recent press release made available had stressed that the talent factor will boost the movie industry. Omokwe, who is the director of Ajoche, a drama series currently airing on Africa Magic, said the talent project would help the African movie industry attain a world-class status.
Speaking in an interview in Lagos, Omokwe said the MTFA, a fully funded year-long training programme for young people desirous of making careers in the film and television industry, will create a new generation of professionals with top-tier skills and boost local content production. The director said MultiChoice should be commended for conceiving the MTF initiative.
"I believe strongly in capacity building and for MultiChoice to take on the Talent Factory Academy initiative to educate and train professionals, that will bring value to the industry, it is a great step in the right direction and I must commend MultiChoice for it," he said.
He added that the MTF is a major intervention in the African creative industry and is a continuation of MultiChoice's efforts to ensure that African movie makers and television professionals are highly skilled and able to create jobs. For the African creative industry to take a giant leap, Omokwe said what is required is the sort of investment MultiChoice is making.
"I believe the industry needs to invest in infrastructure and systems that will allow it grow organically and authentically. For African film, a major challenge is a structured and systematic distribution channel that appeals to the African market. For example, we need affordable cinema chains that cater to everyday Nigerians and other African countries.
"For TV, there is already an existing and working structure but TV stations across board need to improve on their production value to stand a sustainable chance in the current content market," Omokwe said.
Budding Talents
The 20 future filmmakers were selected based on their industry-related qualifications and skills, as well as their passion to narrate Africa's unique stories. Those selected include Idongesit Amba, Allen Onyige, Gilbert Bassey, Precious, Nanret Paul Kumbet, Akpera Mnena, Umm'salma Saliu, Ugwu Uchenna Eileen and Sonia Nwosu.
Others were Moses Akerele, Metong Minwon, Bolaji Adelakun, Joseph Adeniyi, Kemi Tamara Adeyemi, Tochukwu Nwaiwu, Blessing Bulus, all from Nigeria. The Ghanaians that made the cut include Edmund Kobby Asamoah, Henry Konadu Denkyira, Irene Dumevi Yaamoakoa and Patience Esiawonam Adisenu.
They are all expected to represent the West African region at the Nigeria-based MTF Academy, during which MultiChoice will sponsor the students' tuition, accommodation and stipend for the duration of their training in each academy.
The Launch
After much ado, the academy in West Africa was officially opened on Monday at a highly-anticipated launch ceremony in Lagos. The launch of the academy came after months of intensive pre-selection, downscaling and final selection that saw 20 budding stars picked from across Africa. They are expected to provide Africa's next generation of film and television storytellers with a 12-month training programme.
In attendance at the launch were members of the academia and industry creatives, as well as the media, who joined the ribbon cutting ceremony, which was followed a tour of the Lagos-based academy facilities situated in Victoria Island, Lagos.
The academy also attracted commendation for MultiChoice from the Lagos State Government. Speaking at the launch, the Lagos State Commissioner of Tourism, Arts and Culture, Mr. Steve Ayorinde, commended MultiChoice Nigeria for giving young Nigerians selected from across the country an opportunity to understand the business of film production.
He said: "What MultiChoice did deserves huge commendation and these 20 students should consider themselves lucky. They need to acknowledge the fact that stakeholders in the entertainment industry in Nigeria and across the continent expect a lot from them and the students on their part should make good use of this opportunity given to them.
"MultiChoice Africa has identified an opportunity in this fast- changing environment – one that will have a lasting impact on the industry as a whole. They had over 3,000 applicants and went through a very challenging process to select the candidates from Nigeria and Ghana.
Be the story and change the world of film making."
While expressing his appreciation to MultiChoice for organising this laudable initiative in Nigeria, Ghanaian Deputy Minister of Tourism, Arts and Culture, Dr. Ziblim Iddi, congratulated the 20 students selected for the inaugural edition of the MTFA and charged them to be committed to learning as this is a life changing opportunity.
Managing Director, MultiChoice Nigeria, John Ugbe said: "The film and television industry is the pioneer of creative industries in Africa and is particularly relevant as a tool for shaping the African narrative. We have been telling authentic and well-produced stories that only Africans themselves can tell.
"Nevertheless, there is a lot of raw talent that need to be nurtured and polished. The academy will give such talent the opportunity to hone their skills, thereby increasing the pool of world-class talent within the industry. It's also about teaching the selected candidates the business of film and television."
Ugbe who further praised the support of critical partners said: "We are incredibly fortunate to have the calibre of broadcast partners that we do in M-Net and Africa Magic who believe in this project and have been on this journey with us from the very beginning."
On this the West Africa Academy Director, Femi Odugbemi said: "The talented creatives that will go through the MultiChoice Talent Factory Academy will be primed as key players in the growth and sustainability of Africa's creative film and television industry.
"As Academy Director, I will be preparing these candidates as future business owners who will in turn, play their own part in building the economy around the industry. It's time that we not only reap the rewards of high-end quality TV and film products, but we also equally benefit from the investments behind the lens."