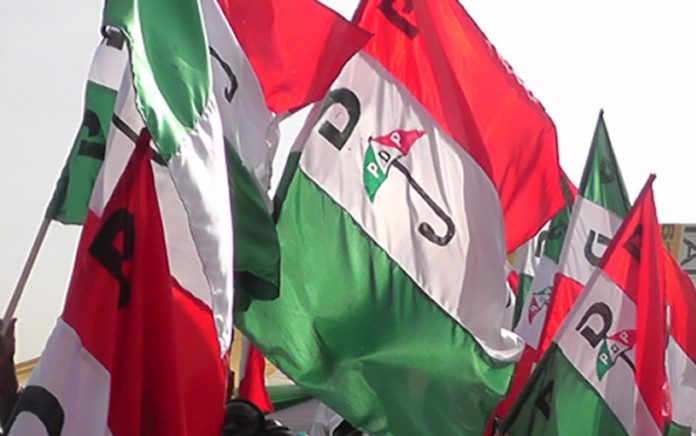 By James Sowole in Akure
Protests rocked the secretariat of the Peoples Democratic Party (PDP), Ondo State yesterday, as supporters of an aspirant for the Owo/ Ose Federal Constituency, Mr. Sadiq Obanoyen stormed the office with placards protesting alleged move to remove his name for another person.
The protesters with carrying placards with various inscriptions, condemning the move to drop Obanoyen for the incumbent, Hon Bode Ayorinde vowed to work against the PDP if the party leadership go ahead with the plan.
The aggrieved supporters of Obanoyen said it was dissapointing that the party could moot the idea when Obanoyen was the one that won the primary election that was free and fair.
Some of the inscriptions on the placards read: Respect Our Right and Choice, Obanoyen Is our Candidate; No Impunity No Imposition; Obanoyen Was Elected Not Selected; It Is Either Obanoyen Or Nobody For Owo/Ose Federal Constituency.
Other inscriptions include 'Allow Democracy To Thrive," 'No To Impunity; Owo/ Ose Had Spoken, Obanoyen Is Our Candidate,' among others.
Speaking on behalf of the protesters, the first Chairman of the PDP in Ondo State, Col Samuel Awodeyi, retired; said all the party members in the constituency stand by the results of the primary election into Owo/Ose Federal Constituency won by Obanoyen.
"As the first Chairman of the PDP in Ondo State and a  former member of National Executive Committee (NEC), the result of the primary election should stand. The National Chairman of the party has said that the era of impunity has gone and ended let it be so.
"The primary election in my constituency was conducted by approved officials and the result declared in which Obanoyen was declared the winner. This must stay" he declared.
Other speakers warned that if the party tampered with the result of that primary election in which Ayorunde also contested and lost, they would work against the party during election.
Reacting on the matter, the PDP chairman in the state, Mr Clement Faboyede, allayed the fears of the protesters.
Faboyede said as far as he knew the list has not been changed.
He commended the party members and supporters in the constituency to be committed and ensure that the PDP win in the forthcoming election.