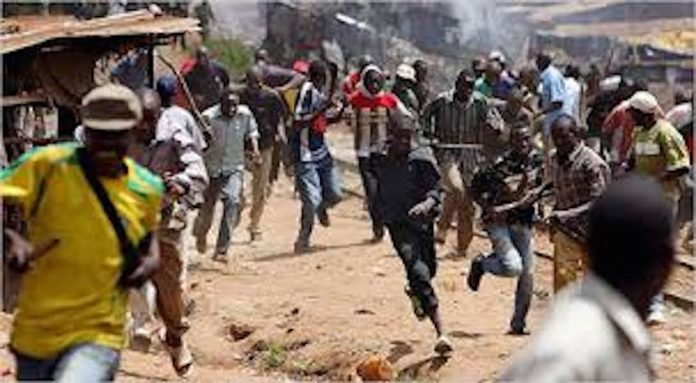 Yekini Jimoh in Lokoja

No fewer than 17 persons were feared dead in a renewed communal clash  between Ebira Mozum and Bassa –Komo-speaking people of Kogi State.
THISDAY gathered that suspected mercenaries hired from Agatu,  Tiv and Buzu tribes from the neighbouring states by one of the aggrieved communities and stationed in Ketechi village,  five kilometres south east of Mozum, were believed to have launched  the first attack in the early morning hours of yesterday.
A source privy to the crisis told THISDAY that since the destruction of Biroko, an Ebira village few months ago,  the Mozum Youths Vanguards decided to keep vigil on their community, running shift in expectation of any attack on the town.
It was gathered that the movement of the mercenaries to the  town was halted abruptly as they ran into the ambush of the Mozum youths vanguards  and suffered heavy casualties.
The rampaging mercenaries were said to have later beat a retreat to their base in Ketechi, as their attack was effectively repelled.
THISDAY gathered that the angry Mozum youths vanguards chased the retreating attackers to their base at Ketechi and in the ensuing battle,  the entire town was burnt down, with many people killed in the process.
Another eye-witness account also disclosed to our correspondent that he counted about 17 dead bodies in the areas,  saying that the casualty figure could be higher,  especially as the Ketechi town was razed down when the second reinforcement against Mozum failed.
However, the undaunted sponsors of the tribal war allegedly hired youths from Echukwu,  Odenyi, Obubili and other adjourning villages in their attempt to reinforce the remnants of the mercenaries.
According to the source, the second attempt by the reinforced team to attack Mozum via Odugbo-Obaje,  one kilometer away from Mozum, was also met with stiff resistance as the said Mozum youths vanguards inflicted heavy casualties on the invading team.
According to an eye-witness, many of the youths that took part in the attacks were said to be missing in action.
A community leader from Ugboloko town, few kilometers to Mozum, who refused to disclose his name, told THISDAY that one Prince Shaibu Abubakar from Mozum was killed by the aggrieved group in what look like a reprisal attack.
Also confirming the incident, a member representing Bassa constituency in the state House of Assembly, Hon. Sunday Shigaba, said killings were still going on in the community.
He however, added that the leaders of the warring tribes were putting heads together to bring the carnage to a stop.
He added that there was no adequate mobilisation of security operatives to the enclave, saying, however the leaders were pacifying aggrieved youths to sheath their swords and give peace a chance.
But the Kogi State Police Commissioner, Ali Janga while speaking with journalists denied any communal clash saying that as far he was concerned nobody died was killed.