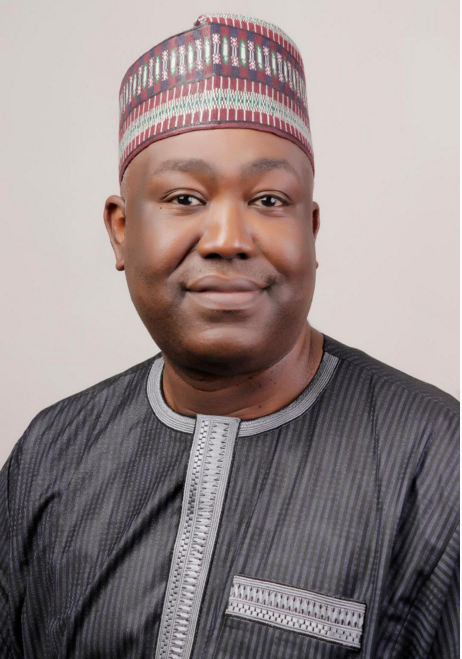 By Nseobong Okon-Ekong
The National Intervention Movement (NIM), the People's Trust (PT), and the Alliance for New Nigeria (ANN) have jointly settled for Mr. Gbenga Olawepo-Hashim as their presidential candidate.
The parties had at the Lagos Convention of the PT agreed to jointly back Olawepo-Hashim after a scion of the Awolowo dynasty and PT presidential aspirant, Lady Olufunke Awolowo stepped down for Olawepo-Hashim.
Explaining why the groups adopted Olawepo-Hashim, National Secretary of People's Trust and Deputy Director General of the National Intervention Movement (NIM), Mallam Nasir Kura said Olawepo-Hashim's integrity, history of struggle for democracy, a combination of business and political experience put him ahead. "And more importantly for us from the civil society, Olawepo-Hashim is our own man", the party leader added.
Regarded as a "political general" by some of his colleagues, Kura stressed that Olawepo-Hashim has a good record of political struggle. "He was one of the prominent leaders of the two weeks anti-SAP uprising against the military government in 1989. He has also led an international campaign against the military government from his base in Ghana in May 1989, from where he moved to Europe and Asia"
Besides, "he was guest at the 13th festival of youth and students in Pyongyang, North Korea in 1989, where he accompanied the South Korean student leader Rim Su Young in a solidarity march at the Demilitarized Military Zone between the borders of North and South Korea"
Olawepo-Hashim rejected the asylum offer to stay in Europe. He returned to Nigeria in 1989 to continue the struggle. He was detained under the Detention of Person's Decree 2 of 1989 under solitary confinement. He was Amnesty International Prisoner of Conscience for Nigeria same year.
A businessman with interest in the energy sector, he was one of the first generation of activists that went into mega business and partisan politics. He was the first elected deputy national publicity secretary of the People's Democratic Party (PDP) in 1999. He resigned from the PDP in 2006 citing ideological disagreements.
Olawepo-Hashim is seen as a bridge builder and as a complete Nigerian that will help in building consensus at a time of great division. Born of a Yoruba mother and a Hausa father from Kebbi State, he is a Christian, raised in Niger and Kwara States. Olawepo-Hashim, 49, is seen as bridge between the older and the younger generation in Nigeria
And following the steps of veteran politician Alhaji Eyitayo Dan Musa who had earlier stepped down for Mr. Olawepo-Hashim, Lady Awolowo, shelved her presidential ambition on the PT platform in deference to Olawepo-Hashim.
The weekend horsetrading took place at the Lagos Airport Hotel venue of the PT National Convention, where the party had met to elect its presidential candidate, and where the party resolved to merge with the ANN to become Alliance for People's Trust (APT) what is seen as a strategic alliance towards victory. The parties are however to retain their independence until after elections, when the merger will be effectively consummated.
The PT party had converged as part of the Third Force Movement under the theme 'Birthing a New Democratic Nigeria' at the event witnessed by the Independent National Electoral Commission (INEC).
In stepping down, Lady Awolowo said she was taking the action after examining the programmes of Olawepo-Hashim and seeing there was no need to duplicate energy having been satisfied that her plans will be actualised through Olawepo-Hashim's agenda.
"I am therefore saying straightaway that I am specifically stepping down for Mr. Gbenga Olawepo-Hashim so that we can work as a team to ensure that we become victorious in next year's general election," Lady Awolowo said.
She promised to work with the new alliance to satisfy the yearnings and aspirations of the people and in accordance with the famous passion of her progenitors. "We will never ever take the people for granted and it is time we join hands together, redouble our efforts and improve their lots"
In his response, Mr. Olawepo-Hashim thanked Awolowo for her gesture, support and love for the people noting that it is all "typical of what her famous parentage stood for."
The presidential candidate also praised the good efforts of Mr. Agbakoba for his long years of pro-democracy activism, his love for nationhood and his continued determination to see to the development of the nation, just as he thanked ANN Chairman, Mr. Jay Osi-Samuels for his steadfastness.
Olawepo-Hashim continued: "The consolidation of the alliance with People's Trust (PT) is a great one and it shows how well-meaning we all are as a political party". He added that is an anomaly for people who did not know how this democracy came about to be reaping from it, while those who toiled and suffered for it are left in the lurch.
"They do not know where we are coming from as a people, I mean the years of struggle, years of arrests, detentions without trials and harassments. They do not know! Many of our comrades have died in the struggle".
The presidential candidate stressed that: "I can name them: Olaitan Oyerinde, Emmanuel Ezeazu, Chima Ubani and many others. We have a duty to ensure that these ones do not die in vain. We must return Nigeria to progress. We must bring back a progressive Nigeria"
Also a notable prodemocracy activist in the years of military rule, he promised the party faithfuls "we will work together and ensure Nigeria work. Our government is not going to be about ethnicity, or religion, but about jobs, progress, prosperity, freedom and happiness for our people. I promise to be a president who will defend all. I promise to be a true Nigeria president"
The new alliance, which is said to begin about a dozen more expected endorsement by other political parties for Olawepo-Hashim also signposts a deft move to steer away from the lingering crisis of confidence in the smaller ANN.
Olawepo-Hashim, who is believed to be amongst the most determined of the relatively young presidential aspirants preparing for the 2019 elections, had earlier been shortlisted as one of the four competent hopefuls amongst over fourteen aspirants that were screened for the position by the Middle-Belt elder's forum.
The former activist described his widening endorsement as a sign of good things to come, stressing that: "our spirit is unstoppable and I am determined to go all the length to propel this country to a new greatness, where the average citizen will be happy, free and prosperous"
Olawepo-Hashim has been adjudged as one purposeful candidate that is strong enough to deal with the multiple threats the nation's democracy is presently facing. "I take this confidence in me as a call to duty to make our democracy prosper", he said with a sense of elation, adding "and I am gratified by it and will do everything possible not to disappoint the endorsing groups"
In addition, "his growing up experiences in the Middle Belt makes him sellable as a bridge builder that will give comfort to everyone, whether from the North or the South, in what will also foster national unity, cohesion and peace," Barrister Femi Williams, a prominent Lagos politician noted at the event.