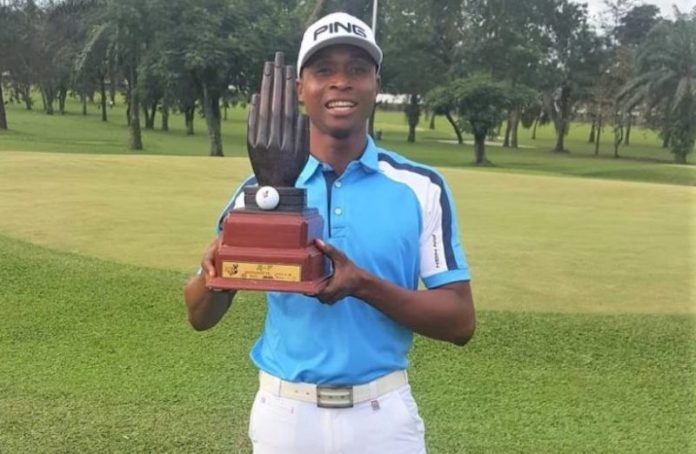 Olawale Ajimotokan in Abuja
Sunday Olapade secured his third West Africa Golf Tour wins following victory at Nigeria@ 58 Golf Tournament in Lakowe Lakes Golf & Country Estate, Lagos over the weekend.
The Nigerian Tour professional golfer dunked a clutch birdie on hole 17 to overcome Vincent Torgah of Ghana, Visitor Mapwanya of Zimbabwe and Michael Ubi of Nigeria by one shot.
Olapade, who led the tournament in the first 36 holes, made four birdies over the last seven holes for a final round of two over par 74.
The victory gave him the winning purse of
$4,000.
Defending champion, Torgah, led the contest on the front nine at 2 under par, but surrendered the momentum on the backnine with one over ti finish at 2 over par 74.
"It was not an easy win given that I tied with Ubi for the lead going into the final round. The birdies after the turn made a lot difference, particularly the effort on the 17th. I thank the West Africa Golf Tour President Emeka Okatta for organising this tournament," remarked Olapade, who closed at one over par 289 for the tournament.
His win narrows the gap for the West Africa Golf Tour Order of Merit lead, held by Torgah to 353 points with two tournaments remaining in the 2018 season.
Olapade had won the the Port Harcourt Classic and B& E Matchplay in Abuja.
Zimbabwean Biggie Chibvuri and Nigerian Andrew Odoh finished in a tied for fifth position.
The Masters, the final event on the West Africa Golf Tour, holds at IBB International Golf and Country Club, Abuja, from November 29-December 2.