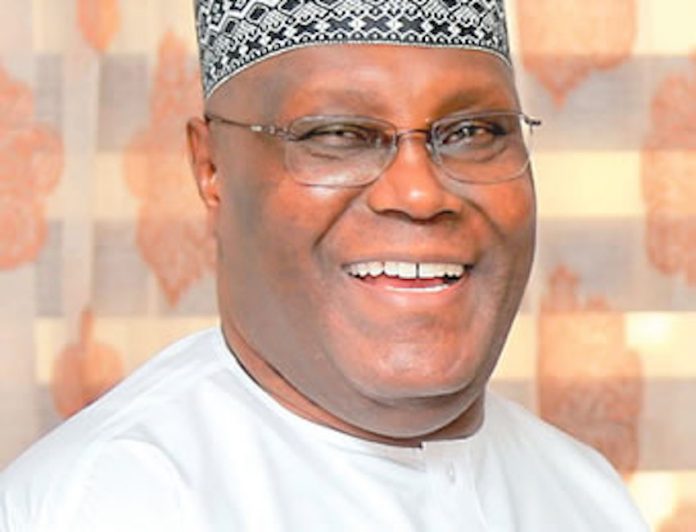 Gives perspectives on how Nigeria will be restructured in first post-nomination interview with ARISE NEWS Channel
The party's primary held in Port Harcourt on Saturday, the capital of Rivers State, was Atiku's third attempt, having lost out in 2006 to late President Umaru Yar'Adua and 2010 to former President Goodluck Jonathan. It was an emphatic win for him obtaining 1, 532 of the 3, 221 votes at the colourful national convention that was brought to a close yesterday afternoon.
Moment after his victory, Atiku told ARISE NEWS, a sister broadcast station of THISDAY, that he would work to keep his electioneering pledge of restructuring Nigeria, saying it was a worthy legacy he intended to attain and leave for posterity.
According to results announced by the Chairman of the PDP National Convention Planning Committee, Senator Ifeanyi Okowa, the governor of Delta State, Atiku's closest rival and Sokoto State Governor, Alhaji Aminu Waziri Tambuwal, polled 693 votes.
He stated that Senate President Bukola Saraki polled 317 votes while the former Kano State Governor, Senator Rabiu Musa Kwankwaso, scored 158 votes.
Okowa further announced that Gombe State Governor, Alhaji Ibrahim Dankwambo, got 111 votes; former Jigawa State Governor, Alhaji Sule Lamido, got 96 votes and former Kaduna State Governor, Senator Ahmed Makarfi picked 74 votes.
He also announced that a former Minister of Special Duties, Alhaji Kabiru Turaki, SAN, got 65 votes; former Sokoto State Governor, Alhaji Attahiru Bafarawa, polled 48 votes while former Senate President, Senator David Mark, got 35 votes.
Also, former Plateau State Governor, Senator Jonah Jang, and founder of Baze University, Abuja, Dr. Datti Baba-Ahmed, got 19 and five votes respectively. The voided votes were 68.
I have Blueprint for Restructuring, Says Atiku
Speaking shortly after his nomination, Atiku told ARISE NEWS that he had the blueprint for the restructuring of the country if elected president of the country.
He stated that his administration would devolve power from the centre to the states and the local government councils, to give them more responsibilities.
He said it would not be necessary to set up another constitutional conference, adding that his administration would look at the constitution, as well as the concurrent and the exclusive lists and revert some of the responsibilities to the states and the local governments.
He explained, "I don't think it will be necessary to set up another constitutional conference. I have said this in many of the presentations. First of all, let us look at our legislative list in the Constitution, the concurrent and exclusive lists. I believe that it would be much easier to sit down with the states and the National Assembly and say, look at all the items on concurrent list and how they could be reverted to the states and local governments together with the resources budgeted for them so that you have less at the federal level.
"Then you also have to look at the list of items that are in the exclusive list and know which ones you will have to devolve to the states and local governments."
Atiku said his administration would actualise restructuring in four years because what he needed was to have understanding with his predecessors and move on with the process.
"On whether one could achieve this in one term of four years; once you have understanding with your predecessors you move on with it. I have the blue print for the restructuring and I will work with my predecessors to actualise it. I will be able to let you know the details in due course," he said.
He also said past leaders of the nation who evolved the current political structure for the country were military leaders who devised a governance system that made it easy for them to govern Nigeria under military rule, but noted that for the country to move forward it had to be restructured.
Atiku told ARISE NEWS, "You mentioned previous leaders; I want you to know that those previous leaders were all military heads of state. The current structure was brought about by the military because they believe in the unified system and centralized system of governance. This is quite understandable during the time they did it.
"It is our responsibility to leave Nigeria better than we found it for the younger generation of Nigerians coming up. This is very important to me. I will like to see them better than they are today. That is the driving force behind these struggles."
He acknowledged that the country has challenges ranging from unemployment, instability and economic downturn, which have weighed it down.
 To resolve these challenges, according to him, a new leadership with capacity and know-how is needed to resolve these issues and move the country forward.
"Of course we have challenges; there is no doubt about that; so we would like to have a leadership that has the capacity that has the experience and the know-how to tackle the challenges that are so obvious now. We know them, the high rate of unemployment, economic downturn, recession, insecurity in the country. Cumulatively these have really affected peace and stability in the country and development. So you cannot close your eyes to all these challenges because you are self fulfilled," he added.
In his acceptance speech, he had thanked his fellow contestants for displaying a sense of unity, purpose and commitment and called for their support in the contest ahead, saying he could not press ahead alone.
"I am ever ready to work with each and every one of them for the realisation of the victory of our party in the forthcoming elections. I cannot do it alone," he said.
Atiku paid tribute to former President Olusegun Obasanjo, Rivers State Governor Nyesom Wike and other PDP leaders, describing the convention as a landmark event.
According to him, "I would not have succeeded as a presidential candidate if President Olusegun Obasanjo had not made me his vice president. Under his tutelage, I learnt quite a lot. I wish to pay my personal tribute to him."
He said that he and PDP leaders cannot afford to fail Nigerians at this very moment, saying the party chairman and members of his party would not find him wanting.
Jonathan, Saraki, Wike, Dickson, Clark, Congratulate Atiku
Torrents of congratulatory messages poured in for Atiku yesterday.
Former president, Dr. Goodluck Jonathan, who defeated Atiku in the 2010 primary, congratulated him, describing him as a man who had the capacity to take the country to greater heights.
Jonathan said, "I congratulate His Excellency, Atiku Abubakar, Waziri Adamawa, and by the grace of God and the votes of Nigerians, the next President of the Federal Republic of Nigeria. Our party members have spoken and have nominated you as the candidate for the forthcoming presidential elections. I am convinced that you have all it takes to take Nigeria to greater heights and transform her into a hub for prosperity and happiness."
Saraki in a statement by his Special Adviser (Media and Publicity), Alhaji Yusuph Olaniyonu, also congratulated Atiku and commended the delegates to the convention as well as members of the organizing committee, led by Okowa, for holding a convention in which a candidate was elected in a free, fair, transparent and rancour-free atmosphere.
He said, "Our just concluded convention was a partisan event, which the country can show-case as an example that democracy has a future in Nigeria and that when we are determined we can elect our leaders without any manipulation, intimidation and violation of the law and democratic norms.
"More importantly, let me congratulate the winner and new flag bearer of our party and all the fellow aspirants for running credible and mature campaigns and working all along to reassure millions of our fellow party members and other Nigerians that PDP will leave the convention venue more united and ready to work together to form the next government at the federal and other levels in a manner that we will unite the country, grow the economy, carry along all stakeholders, empower the youths and make government serve the people better."
Wike congratulated Atiku and in company with Akwa Ibom State counterpart, Mr. Udom Emmanuel, assured the candidate that he would continue to work for the success of the PDP.
Bayelsa State Governor, Mr. Seriake Dickson, described Atiku as a leader with requisite experience and knowledge to tackle the challenges bedeviling the country.
A statement by his Special Adviser on Media Relations, Mr. Fidelis Soriwei, quoted him as commending the other aspirants for demonstrating the spirit of sportsmanship by accepting the verdict of the delegates.
He said: "Let me congratulate the former Vice President and now the Presidential Candidate of our great party, (PDP), Alhaji Atiku Abubakar, for his resounding victory in a free, fair, transparent and credible primary election.
"Let me also congratulate the National Chairman and all members of the National Working Committee of our party, and Dr Ifeanyi Okowa and his team for their hard work and the good job they have done.
"We look forward to working, collaborating and supporting him in that onerous responsibility. As he rightly said, it's not a job left for him alone"
Elder statesman and leader of the Niger Delta, Chief Edwin Clark, described Atiku as the change that Nigerians had been yearning for.
Clark said he was happy at the election process that saw emergence of Atiku, which he described as "transparent and honest," adding that it is the best primary ever conducted by any political party in the country.
"I use this opportunity to congratulate Atiku who has been tipped to win the contest. I am appealing to other contestants to come together and work with him. Atiku has the ability and capacity to move Nigeria forward. He is the change that the people have been yearning for. I hope and pray the members of the PDP will unite and work together to take over the government," he said.
The Southern and Middle Belt Leaders Forum (SMBLF) also congratulated Atiku.
The forum said his election came from a keenly contested primary in what was generally seen as a free and fair process "is a breath of fresh air to the democratic project in Nigeria.
The forum in a statement by Mr. Yinka Odumakin, South-west; Senator Bassey Henshaw, South-south; Prof. Chigozie Ogbu, South-east and Dr. Isuzu Dogo, Middle Belt, said, "It is never too early to remind the presidential candidate of the clear commitment to the fundamental issue of restructuring he has made overtime and which the former Chairman of the Caretaker Committee of the party, Senator Makarfi adumbrated as a party agenda.
"It is clear today that no amount of good governance programs can get Nigeria out of the woods without a proper structure that can restore Nigeria to productivity under federalism."
Saraki, Kwankwaso, Dankwambo for Senate
Meanwhile, THISDAY was reliably informed last night that Saraki, Kwankwaso and Dankwambo have been handed the Senate tickets of their districts by the party leadership as part of post convention peace building.
Tambuwal too is being offered a return ticket to the Sokoto State Government House, a party source told THISDAY.