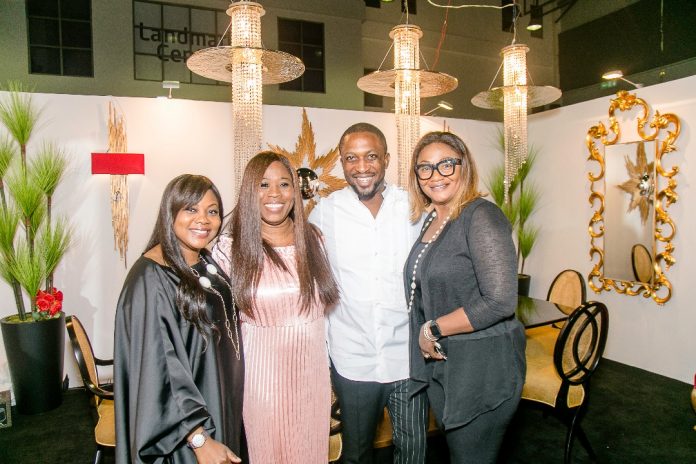 By Mary Nnah
One of the high points of the ongoing home and hospitality exhibition at the Landmark Event Centre, Victoria Island Lagos,  is the presence of the Italian Lighting Design Expert Sergio Padula, who spoke on a very specialised area of interior décor, lighting. Sergio Padula was born in Venosa (PZ), Italy, in 1977. A love affair with light started during his time at Politecnico di Milano where Padula was mentored by Piero Castiglioni. After spending a final year studying at UQAM in Montreal, Padula graduated in Industrial design and immediately focussed on his passion for light.
Travelling around the World has enabled him to work on scores of varied projects and his professional knowledge is only complemented by his charismatic approach to teaching, which has seen him as part of thedesign syllabus at the University of Rome La Sapienza, the University of Architecture of Florence, the China Central Art Academy Architecture School in Beijing and both Manipal and American Universities in Dubai and Sharjah.
Sergio has also spoken at various conferences and participated in several initiatives throughout the region, such as Light Insight Arabia at the Light Middle East, INDEX and the Architectural Lighting Conference in Qatar.
Padula has been a member of APIL, The Italian Lighting Professional Association and a fully trained Relux trainer with over 10 years experience working as a visual designer and product manager, in 2008 he joined iGuzzini in their Middle East office where he is currently working as Technical Director and Lighting Design Expert. He is also the Training Supervisor, leading numerous workshops across the region.
As a designer, his practice is promoting an eco-sustainable approach and is essentially led by simplicity and functionality, being mainly inspired by the work of Caravaggio, Castiglioni Brothers, and Isao Hosoe. So Padula presence ath this year's event has been very imparting generally.
Made by Design is an annual exhibition that brings the key players in Interior Design, home and hospitality industry together under one roof to showcase their products and design brands.
It is purported Nigeria's largest exhibition event for Interior Designers, is holding in Lagos for the 3rd time this year.  The show, whi8hc opened on Friday, October 5 and will run till Sunday, October 7 at Landmark Events Centre, Victoria Island, Lagos , opens its doors to hundreds of exhibitors and thousands of visitors every year over a three day period bringing the best manufacturers and interior designers together.
Each year, Made by Design adopts a theme, which reflects across different aspects of interior design. This year's edition is themed 'Design Expression'.
Established brand names returning this year include Villeroy & Boch, Bang and Olufsen, Alancaray, CC Interiors, AFP by Julius Berger, Interstyle Ceramics, Woodstyles, Visionnaire, Svengali Designs and Agatha Interiors. Some of the first time exhibitors are; Il Bagno bathrooms, Be real properties, Rebelle Flower, Alara, Universal Furniture and Pro Blinds.
Made by Design is proudly powered by Essential Interiors Magazine and is aimed at bringing together the nation's most prized and unique collection of products, services, and experiences for the world's most discerning clientele. Made by Design is dedicated to Interior Design and its supporting services in Nigeria.