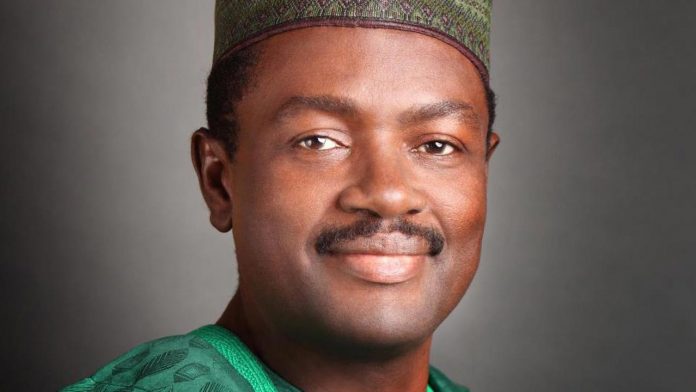 Emmanuel Ukumba in Lafia
The All Progressive Grand Alliance (APGA), Nasarawa State, yesterday affirmed former Minister for Information, Mr. Labaran Maku as the party's sole candidate for the 2019 governorship ticket in the state.
Maku's affirmation by 513 delegates from the 177 wards of the 13 Local Government Area in the state took place in Uke area of Karu council area of the state.
Responding to the affirmation, Maku thanked the delegates and the party for giving him another opportunity to run as governorship candidate of the party in the state.
He, therefore, acknowledged that he was not the best among all the party
members, though described his affirmation as an act of God to bring respite to the ravaged and suffering people of Nasarawa state.
The former minister said, "I grew up in a hamlet from a poor and illiterate family. And by circumstance, I was given a privilege to attend a small village school where I trekked fourteen kilometres without foot wear for seven years.
He noted that the state under the current administration of the All Progressives Congress (APC) was characterized by insecurity, injustice, poverty and requires a dogged and visionary leader who will rescue the state from its ravaging state.
He also observed that the killings that ravaged the state where farmers could no longer go to their farms for fear of imminent attacks carried out by not domestic Fulanis but imported mercenaries by some desperate political leaders.
He, therefore, called on people of the state to be wary of religious and ethnic rivalry and vote the APGA to enjoy peaceful coexistence, economic
emancipation and youths employment which top his agenda for the state.
Meanwhile, APGA in the state has concluded its primary elections and
three senatorial and six House of Representatives candidates have
emerged.
The senatorial candidates comprise Alhaji Mohammed Kabiru for Nasarawa West, Mr. Samuel Alu for Nasarawa North and Alhaji Musa Saidu for Nasarawa South.
House of Representatives winners are Makpa Mala for Nasarawa
Eggon/Akwanga/Wamba, Elisha Agwadu for Lafia/Obi, Daniel Marcus,
kokona/Keffi/Karu, Adams Anyisana Nasarawa/Toto and Isaac Omaku for
Awe/Keana/Doma federal constituencies respectively.