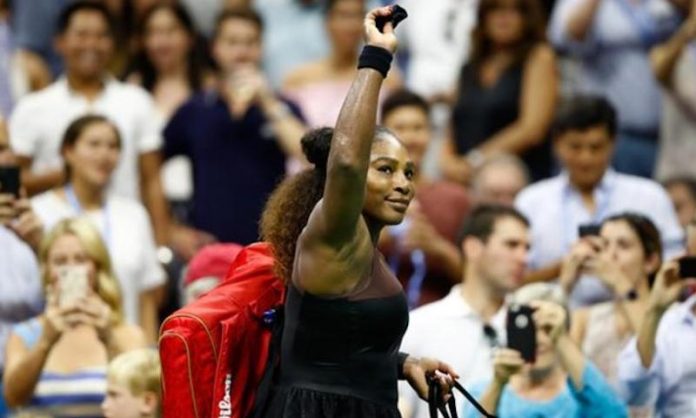 SUPERSATURDAY 
From tennis court to gender course, Serena Williams is remarkably a champion, writes Ferdinand Ekechukwu
Just last month, The Herald Sun published an article against Serena Williams. The Australian newspaper had attempted to discredit her character for "unsportsmanlike behaviour" following her loss to Naomi Osaka during the US Open Women's final. According to the headline of an Andrew Bolt column in the paper, Williams "is no feminist hero", the paper wrote.
However, in a move that boldly tells otherwise and sparks breast cancer stir, the tennis superstar has gone topless in a video posted on Instagram on Saturday to raise awareness for the disease. The mother of one covers her breasts with her hands while singing a version of Australian band The Divinyls' 1991 hit, I Touch Myself, in support of Breast Cancer Network Australia.
"This Breast Cancer Awareness Month I've recorded a version of The Divinyls global hit 'I Touch Myself' to remind women to self-check regularly," wrote Williams on the post. "Yes, this put me out of my comfort zone, but I wanted to do it because it's an issue that affects all women of all colours, all around the world. Early detection is key — it saves so many lives." The sports celebrity hopes it helps remind women of the course.
The song was co-written by Divinyls Australian vocalist Chrissy Amphlett who died of breast cancer five years ago aged 53. "The music video is part of the I Touch Myself Project which was created in honour of celebrated diva, Chrissy Amphlett, who passed away from breast cancer, and who gave us her hit song to remind women to put their health first," said the 23-time Grand Slam champion.
In the video, the tennis legend was seen singing and touching her breast emotionally as a means of creating awareness of breast cancer. Serena surprised many with her singing talent and who knows, as observers noted, she might decide to pick singing up as another career after tennis.
Ranked number 16 as at September 10, Serena is known to be close to Beyoncé and made a cameo appearance dancing in Beyoncé's music video for the song Sorry in the hit album Lemonade. She said the director told her, "We would love you to be in this particular song. It's about strength and it's about courage and that's what we see you as.
Breast cancer is reported to have killed many women than men and women have always been advised on how to detect early symptoms of the ravaging terminal ailment. Serena has dominated tennis in a way few have dominated any sport, and she comes equipped with clear messages. The black and beautifully talented athlete is now more mainstream seen as several people who are not sports enthusiasts know who she is.
She confessed that she was "uncomfortable" doing the video but believed in the cause that much that she cannot reject the role. The video was reported to have been viewed more than 1.3 million times in the first 10 hours after it was posted early Sunday with fans lauding the tennis superstar for her bravery in performing the song.
Serena, who celebrated her 37th birthday on Wednesday, September 26, pulled out of the China Open in Beijing to bring a premature end to her 2018 season, her first back on tour since giving birth to a daughter a year ago. But her prowess perhaps transcends her sport. Williams has a passion for helping children have access to education, and her Serena Williams Foundation was crucial in the construction of two schools in Kenya.
She also built a school in Uganda and another in Jamaica. Serena's school in Jamaica imposes "strict guidelines and rules to support gender equality in access to education." Her Reddit-cofounder husband, Alexis Ohanian, even installed four giant billboards in California that say "Greatest Mother of All Time" to welcome Serena back to tennis after she gave birth.
Serena previously opened up about her personal health struggles after giving birth to her daughter Alexis Ohanian Jr. The athlete told Vogue magazine in February that she had dangerous blood clots in her lungs that led to a burst C-section wound due to intense coughing days after childbirth.
She was bedridden for six weeks after coming home from the hospital. There is little question that she is the best women's tennis player of her generation and, very likely, of all time, who uses her profile to raise awareness for key causes.
She has played in only eight tournaments this year but managed to reach the Wimbledon final in July and the US Open final in September.
PICS: Serena.jpg