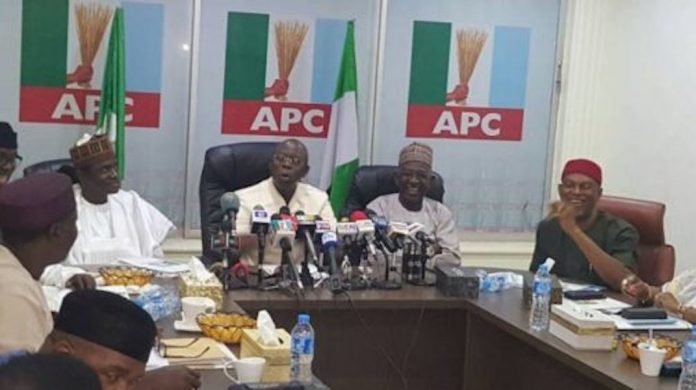 By Adibe Emenyonu in Benin City

Some aspirants of the All Progressives Congress have kicked against the conduct of the primaries held across the 192 wards in the state.
The aspirants urged National Chairman of the APC, Comrade Adams Oshiomhole to cancel the primaries and conduct a fresh one.
They alleged that no results sheets were available and that the candidates that emerged were known as 'Establishment candidates'.
A former member of the House of Representatives and an aspirant for the Edo Central Senatorial seat, Hon Patrick Ikhariale, described the primaries as sham and a negation of the values of the APC.
Ikhariale said he would seek redress through the party's machinery and warned that the APC risked losing at the general elections.
His words, "What happened today leaves a negative impression and it is unfortunate for the party. It was a total charade and a jamboree.
"The primaries do not represent the ethos and political values of the APC. It was done in a brutal manner because some people do not belong to the establishment group."
 A House of Assembly aspirant for Esan Central, Prince Kingsley Shaka Momodu, called for the sacking of the APC State executives for allowing an aspirant whose name was not in the register to participate in the election.
The lawmaker representing Akoko-Edo constituency in the House of Representatives said primaries only took place in Ward nine and Ward four.
Akpatason condemned the exercise saying it was marred by thuggery orchestrated by his opponent.
"In Ward three where I was leading, my opponent relocated to a beer parlour where the results were written," he alleged.
A former Commissioner for Energy and Water Resources, Chris Ebare, alleged that party chieftains were given bribes to vote for selected aspirants.
Based on the public outcry and condemnation, the APC National Working Committee (NWC), headed by former Governor Adams Oshiomhole, has cancelled  exercise in Edo.
In a statement signed APC Acting Publicity Secretary, Yekini Nabena, said the Edo Primaries was conducted by unauthorized persons which therefore rendered the exercise null and void.
According to the statement, "A primary election committee under the chairmanship of Hajia Farida Odangi Suleiman will be in Edo state later today (Thursday) to conduct the primaries into the Senate, House of Representatives and House of Assembly.
,"The committee will make available the list of aspirants screened for the exercise and will conduct a transparent primary election in accordance with the guidelines and constitution of the APC.
"We admonish all Party members in Edo state to cooperate with the Committee to ensure an orderly, peaceful, transparent and credible exercise.
However, as at press time, the committee arrived Benin City, yesterday (Friday) afternoon and were yet to carry out their duties.
Moreover, a source close to the party told THISDAY that the SWC was not disposed to conducting fresh primaries, adding that the earlier exercise was a done deal and cannot be reversed