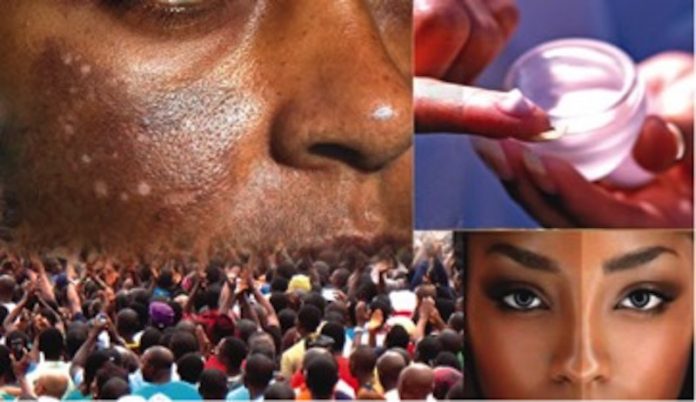 Oluchi Chibuzor
Experts in integrative cosmetology and public health have adviced Nigerians on the dangers of applying cosmetic materials that are capable of changing their natural colour and predisposing them to medical complications like skin diseases and kidney cancers, among others.
Speaking at a medical outreach programme held over the weekend in Lagos, the Founder, Black is Beauty Foundation, Dr. Chidinma Gab-Okafor, said the danger of bleaching far outweighs its temporary gain of enhancing self image and branding, as it is among the leading cause of deaths among bleaching consumers.
Gab-Okafor, said there was need to control the movement of pharmaceutical and cosmetics products as demand for skin lightening cosmetics is on the increase in Nigeria irrespective of age, sex, marital, socio- economic status.
She also said manufacturers and importers hardly seek to cut corners in regulations and standardisation of the formulas for the various products, which has encouraged toxic chemicals in our everyday products in the market.
She further revealed that bleaching agents were capable of causing other medical complications in the body like skin diseases, renal failures and others.
According to her: "an average Nigerian woman uses about 12 cosmetic products accounting for about 158 toxic chemicals, while men use about six products accounting for about 85 toxic chemicals on a daily bases.
"Adolescents use about 17 chemical products, with children on an average of six chemical products on daily bases. All these finds their way into our body systems and causes one danger or the other."
She therefore called for stringent policies from government to regulate the cosmetic industry, especially importation of this toxic chemicals that are already causing havoc among Nigerian women as obtained in United Kingdom and United States of America.
Earlier, Reverend Monsignor, John Aniagwu, urged Nigerian youths "to take up vocational skills in various cottage industries, rather than engaging in unproductive ventures that are not financially rewarding".
Also speaking, a Public Health Physician, Dr. Chidumga Ohazuruike, reiterated the fact that what one rubs on the body can get into the body system especially in the kidney and cause renal failure.
She added that the skin as a living organ can be enhanced with proper nutrition, not necessarily on what is put on it.
Participants at the medical outreach were trained on how to use organic raw materials to produce natural cosmetic products that are friendly to the body.