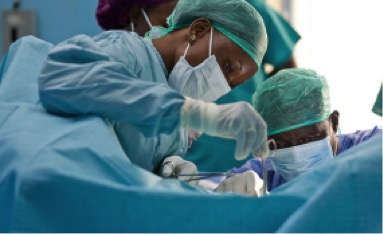 On October 1, Nigeria commemorated 58 years of independence and it was received with fanfare and pageantry. Martins Ifijeh who examined the health sector, as well as sampled opinion of healthcare professionals, writes that more effort needs to be put in bettering the lot of citizens
When Flora Shaw, a British journalist and novelist, gave the most populous black nation its name, Nigeria, it stuck. This was in preparation to becoming an independent state, having been under British control until October 1, 1960.
Given its enormous natural and human resources, one would think that almost six decades later, the nation would be better for it. But at 58, various institutions in the country, including the health and educational sector, as well as our economic institutions are still grappling to be at par with other nations that got their independence at about the same time Nigeria did.
Singapore, Malaysia, Cyprus, among others, according to some school of thoughts, have long passed Nigeria in terms of healthcare, economy, poverty alleviation, human capital development and other several parameters that determines the strength and progress of a nation.
THISDAY investigations as Nigeria turned 58 earlier in the week revealed that one of the chief sectors where the citizens feel the country has not fared well considering the resources at its disposal and the poor global ranking is the health sector. While some say there is still hope if the country retraces its step and remodel the health sector for the better, others say they have lost some levels of confidence in the country's healthcare system, especially its primary healthcare, disease prevention model, among other areas.
They are also calling on the government to look inwards and reflect on what must be done to prevent the abysmally high health indices and the recent poor ranking by the global health index.
Disease Prevention
For instance, the Chief Executive Officer, EpidAlert, Dr Bakare Lawal believes as the country clocks 58 years, it needs to take few steps backward and redesign the health sector if it must address disease prevention and tackle the myriads of healthcare challenges facing the country.
He said for a country to be seen to be preventing diseases, it must first have a data base of all its citizens irrespective of where they are, and that such database should include allergy profiles, biology profile, electrolyte profile, blood profile, and other profiles of every single Nigerian.
He said: "How can we say we are making progress in disease prevention when Nigeria as a country does not know whether its citizens exist not to mention knowing the health profile of such citizens. Each citizen is unique and that uniqueness must be captured in a database. For example, someone's profile can tell whether the person can heal fast if knocked on the head. That database will then provide information to the person on what should be avoided or embraced."
He said no doubt Nigeria has built few health facilities, but that the basis should first be addressed, adding that disease prevention is a house and individual thing rather than a health facility thing. He opined, "our health system is largely waiting for those who fall ill to come in and receive care, where as if we do the basics, many Nigerians would not need to access health facilities as often as they do now."
He said countries that have excelled in their healthcare took disease prevention seriously, and made deliberate steps to provide information to their citizens, adding that it is only when a country knows the profile of its individual citizens that it can provide information to them on risks, hazards and how to prevent diseases.
"As we clock 58, I will advise we take a little step backward and redesign our health system as well as the education system. We should integrate disease prevention into the learning system, so that every Nigerian will be knowledgeable about their health," he said.
Maternal, Child Mortality
On how the nation has fared on maternal and child mortality, a Radiologist with The Graceville Hospital, Lagos, Mr. Kingsley Oragwa, said it was an anomaly that is still very high in the country due to lack of quality healthcare system. He said Nigeria cannot confidently say it is celebrating 58 years when the lifespan of the average Nigerian male is 50 years, while that of the female is 53 years. This, according to him means any Nigerian male living above 50 years of age is living on a borrowed time; same with the women.
He said: "Comparing these indices with that of other countries, especially many African countries poorer and weaker than ours shows that we shouldn't be happy with the state we are. These are indices we should be ashamed of because it depicts how much our healthcare system has fared."
Oragwa said most countries that got independence alongside Nigeria met the last Millennium Development Goal on maternal and child mortality. "Our women are still dying in high number daily due to pregnancy and childbearing related complications. We must reduce all these indices to the barest minimum before we can say our healthcare system has grown", he lamented.
According to him, most Nigerians living in rural and hard to reach areas of the country were still grappling with having to survive without basic healthcare, which are the rights every country must provide for its citizens, adding that, until the country give priority to primary healthcare, the issues would continue to halt the country's progress.
"For a country to have a healthcare system that directly affects its citizens, priority must be given to primary healthcare, rather than what Nigeria is currently concentrating on – secondary and tertiary healthcare. We must tackle the basics first, otherwise, in the next 20 years, we'll still be where we are," he noted.
He called on the federal government to motivate doctors and other health workers so that they can put in their best, adding that would in turn encourage other Nigerian doctors and health workers practicing outside the country to come back and contribute to the health sector. "If we must pride ourselves as the giant of Africa that we are, these are things that must be put in place," he stated.
Also, a security consultant in Lagos, Mr. Azeke Usigozu, told THISDAY that the health sector needs to do more in the area of child mortality reduction. "A country's infant mortality rate is a reflection of the quality of health delivery available to its citizens, and to a large extent, a reflection of the quality of life enjoyed by the citizens of that country. The government should pay more attention to our local clinics where the low class go to anytime they have health challenges – this is where majority of our women go to during pregnancy as well as child birth.
"If Nigeria at 58 is channeled to improving the healthcare system, I can assure you that it will be noticed by all and sundry, from the tiniest treatments like relieving headache, up to the big treatments like bone marrow transplants and the cure of other diseases", he said.
Medical Tourism
On medical tourism, Public Health expert, Dr. Jude Areogbu, also wants more from the government. He expressed belief that the health sector can be said to have improved if government officials, politicians and wealthy Nigerians do not have to travel abroad for medical treatments.
"For Nigeria at 58, I want a working health sector such that even our government officials and rich Nigerians would treat themselves here rather than travel abroad for medical purposes. There should be adequate training for our medical students and the sector should be well funded," he added.
Areogbu is one of the optimistic Nigerians who believe that the change agenda of All Progressives Congress (APC) and its leader, President Muhammadu Buhari, still have the capacity to transform the sector. "If things are done accordingly, we will achieve our goal as a country," he noted.
But for another medical doctor, Adebayo Tunde-Vincent, the exodus of doctors and other health workers to other countries where they are appreciated was an evidence of how degraded the country's health sector has reached.
He explained: "If we continue to undermine medical doctors in this country, I can tell you authoritatively that in the next 10 years, we won't have up to 10,000 doctors around because there will be brain drain, while the younger ones who intend to study medicine would rather not bother themselves over it.
"Do you know that Nigeria presently has 21,000 doctors practicing in the country, while over 31,000 are currently practicing in the United Kingdom, with 12 doctors getting employment in the UK weekly. This statistics shows that we have more Nigerian doctors in the UK than even in our own country," he stressed.
He added that majority of those he graduated with several years ago have travelled to other developed countries where they are better appreciated. He said an average Nigerian doctor wants to practice in countries like, United States, UK, Saudi Arabia, Canada, among others.
"Are you aware that an average Nigerian doctor working for the government earns about N170, 000 per month, while their counterparts in South Africa earns about N300,000 per month and even more in several other countries? So you can see there are many reasons for the brain drain, which at the long run also affects how our healthcare is positioned," he explained.
On the way forward, he advised that private investors should consider investing in the health sector of the country like the way they have invested in the country's power and oil sector. "Public private partnership of the health sector would mean that when private investors partner with the government in the management of hospitals, part of the running cost would be taken care of by such investors, while regulation of the hospitals would be under the guideline of the medical council", he opined.
This he said would enable infrastructural development and the staff of such hospitals would be more serious and not go on strike for trivial issues, just like the way they are presently going on incessant strike in the sector. " Of course if such workers go on strike, you and I know what would happen", he added. Tunde-Vincent stressed that private-public partnership of the health sector has helped the healthcare system of developed countries and as such, Nigeria should adopt same approach.
Polio Eradication Success
It wasn't all about knocks however for the health sector. Usigozu said the nation has achieved great things in the sector from the curtailing of Ebola Virus Disease (EVD) to reducing Human Immuno Virus (HIV) and eradicating polio in the country. He believed these are models for improvement.
According to him, "it is a big kudos to the government for the management of EVD. We have also been able to manage the incidence of HIV to a certain level. If these efforts are channeled into areas like malaria, typhoid and other common but dangerous diseases, I believe soon Nigeria's health system will reach international standard."
He also commended the country for its delisting from countries still affected by polio, adding that, maintaining such efforts and spreading such good news to other disease areas affecting the people would determine how far a country's healthcare system has gone. But not everyone believes the country's healthcare system hasn't fared well. To some, Nigeria has made considerable progress, even though it hasn't reached the desired level.
Positive Milestones
While speaking with THISDAY, the Medical Director, Dorcas Memorial Clinic, Dr. Ibeauchi Chinasa, said Nigeria's healthcare system has improved if figures from 58 years ago are to be relied on. He said in 1960 there was just one fully accredited medical school in Nigeria, two in 1965, six in 1975, 11 in 1984, 18 in 2005, adding that as at today, there were more than 26.
"If you also look at the number of medical doctors graduating every year, you'll know we have improved. According to medical and dental council of Nigeria, Nigerian medical schools graduate between 2000- 3000 medical doctors annually, and even higher number of healthcare personnel being produced in other disciplines has increased," he added.
He said new diagnostic facilities have been introduced, thereby improving the quality of patients' management, including; ultra sound scan, CT Scan, MRI, endoscopy, to mention but a few. "New drugs with greater efficacy and lesser side effect has been introduced to curb endemic, emerging and re-emerging diseases, a good example is the introduction of ACTs as replacement for chloroquine which is being resisted by malaria causing parasites," he said.
According to him, favourable government and World Health Organisation policies like the roll back malaria initiative, kick polio out of Africa, sustainable development goals, among others have been put in place to improve healthcare delivery.
Also putting the country's healthcare system on the positive note is a banker, Ayegbeni Ake. He said medicare has improved since 1960. "There was a time when sicknesses like tuberculosis killed easily even during my time as a child. In the North, health facilities have also improved unlike before. I give it 50 per cent," he stated.