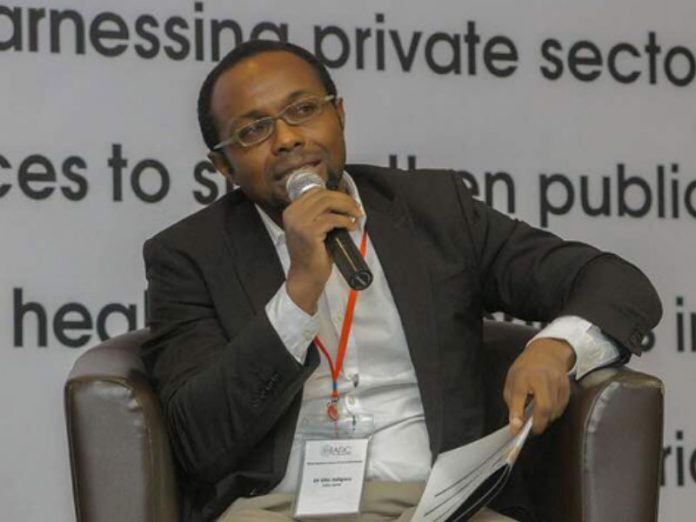 Dr. Peter Obi Adigwe is the Director General, National Institute for Pharmaceutical Research and Development. In this interview with Martins Ifijeh, Adigwei said although Nigeria has had its fair share of ups and down since independence, some progress have been made. Excerpts:
How will you rate the Nigerian health sector since 1960? Are things getting better or worse?
The Nigerian Health sector has definitely had its ups and downs. Currently, low life expectancy, high maternal and infant mortality rates are representative of the poor health indices that characterise healthcare in the country. This administration has however taken the bull by the horn as regards healthcare improvement. For the first time since it was passed four years ago, the National Health Act (NHA) has now been budgeted. The Patients' Bill of Rights has just been launched to improve quality and access to care for the common man. The pharmaceutical sector has also prominently featured in successive fiscal policies since 2016. These and other similar innovative policies of the current administration are indications of how seriously we are taking improving access to healthcare for the average Nigerian. These various interventions are however at differing levels of implementation, but by the time they all reach a critical threshold and synergy; we should start to see an improvement of health indicators.
What are those systemic approaches that have contributed to the deterioration of the sector?
For me, policy inconsistencies would be the top culprit as the bane of development in the sector, although you could argue that I am biased, since I am a policy person. Going forward however, we should aim at building systems and institutions that outlive maverick administrators. Policy interventions should be incremental and in synergy with the government's overarching objectives. Significant effort should also be made to ensure that sustainability is embedded in the conceptual policy planning, ab initio.
As Nigeria celebrates 58 years of existence, are there milestones in the health sector worth celebrating?
At the National Institute for Pharmaceutical Research and Development (NIPRD), we have commenced our partnership with May and Baker to get NIPRISAN out there in order to improve access for Nigerians. NIPRISAN is a home grown, internationally acclaimed product for sickle cell. In fact two days ago, I inaugurated the implementation committee with marching orders to ensure that the product hits the market before the New Year. It will interest you to know that we have several other similar blockbuster products at NIPRD, and we are currently doing an internal analysis of potential companies to partner with, before we go public. Sector wide, there is also some progress. Nigeria has over 120 manufacturers of pharmaceuticals and related products.
These represent a significant proportion of all companies that manufacture medicines and such products in Africa. Nigerian Pharmaceutical companies have attained the highest standards in products as well as in processes. For instance, four out of 10 companies who have World Health Organisation GMP certification in sub-Saharan Africa are Nigerian companies. Additionally, Nigeria currently has one of the highest populations of professionals with technical capacity in various fields of pharmaceutical development. These are significant milestones that the country can leverage, in developing a Pharmaceutical hub for Africa.
The pharmaceutical sector has also had its fair share of ups and downs. What would you love to see in the sector going forward?
Nigeria's market share of the Continental Market (estimated at close to 50 billion USD) is disappointingly low (less than 0.01 per cent). This means that despite its potential to be a pharmaceutical hub, Nigeria is not harnessing resources that can position it to capture the market. With the proper policies, the pharmaceutical sector will not only improve access to health in Nigeria, it will also improve other socioeconomic indices, such as foreign direct investment, employment generation, knowledge transfer, capacity building, export of Nigerian products and backward integration in ancillary industries.
For us in NIPRD, we are currently engaging at the highest levels of government to ensure the prioritisation of the sector. If we are able to achieve this, our preliminary analysis indicates that the sector can contribute close to five per cent of our GDP as well as generate about one million direct and indirect jobs.
In what way can your parastatal help in making the health of Nigerians better?
As you know, we are statutorily charged with the responsibility for research and development of drugs, vaccines, phytomedicines, and diagnostics aimed at improving sustainable access to safe and high quality medicines. NIPRD also undertakes activities relating to capacity building, policymaking, data collation, drug distribution and the development of contextual partnerships that can expedite access to healthcare. Our current approach is heavily underpinned by a strategic use of our existing strengths, one of which is our human capacity. It is a well-known fact that we have the best faculty in this part of the world. So what we are doing is using these resources to develop innovative programs that fit into government's current priorities of improving access to health, developing capacity and earning income for innovators and the government.
I have already spoken about the success of NIPRISAN and how we are expediting development of other research findings from the Institute, to ensure that they become available for use by Nigerians. We are however also developing other projects, one of which is the Contextual Processing Protocol (CPP) that we are putting together for all geopolitical regions in the country. The CPP involves identifying natural resources and getting them processed to the highest international standards, using local people, particularly the women and youth. Nigeria has over 8,000 species of natural plant resources with potential benefits in ethno-medicine and ethno-pharmacy. This is a market that generates several trillion dollars globally, every year. Given Nigeria's significant natural resources and human potential, the country's potential in this area is considerable and NIPRD aims to catalyse development in this area with our CPP.
It has been barely a month since your appointment but you appear to have hit the ground running. What is the secret?
As you know, I have a PhD in policy and that makes me an advocate of strategic planning and methodical organising. The vacancy for the position of DG was advertised early in the year, and from the minute I made my mind up to throw my hat in the ring, I had begun working on what to do if I emerged successful in the interview.
So, despite teething challenges, I already had well laid out plans and programmes, as well as potential collaborators. Since resumption a month ago, I have met with over two dozen directors general, chief executive officers and managing directors, to discuss projects, programmes and partnerships. It also helps that I have had some significant achievements in my previous roles, and so I have a track record for reliability, efficiency and productivity. All these have helped with hitting the ground running at NIPRD.
To get to where we ought to be as a nation, there is a need to be aggressive and strategic, that is why we aim to do big things and we plan to do them quickly.