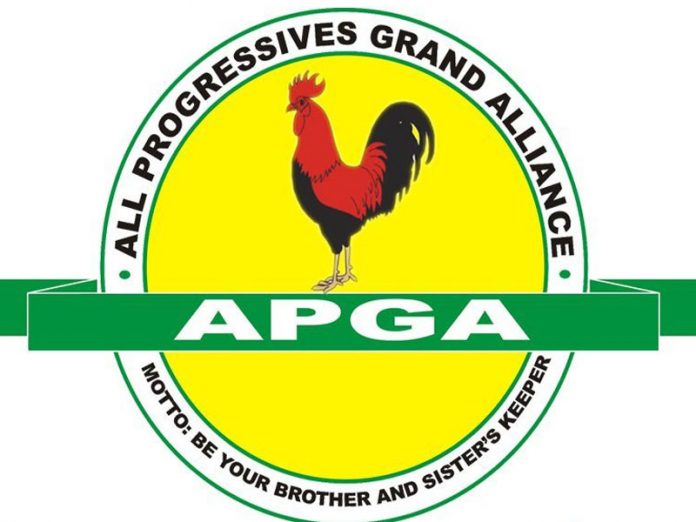 Amby Uneze writes that the battle for the governorship ticket of the All Progressives Alliance in Imo State on Friday, October 5 features a line-up of political and business titans who will infuse a lot of colour and drama into the contest
The 2019 elections seems to be unique in Imo State as a result of the influx of very many credible aspirants vying for various positions on the platform of the All Progressives Grand Alliance (APGA). The scenario is more competitive considering the credibility and pedigree of the governorship aspirants. At the last count, there were 20 candidates jostling for the APGA governorship ticket in Imo. These are men who have reached the top in their chosen field. They are professionals of the highest order.
However, the road to the 2019 general elections is not easy in the sense that there seems to be so many obstacles. In Imo State all the major political parties are fielding several egg heads cum technocrats and solid politicians who are no push over.
As the primaries for various elective positions are on hand, it becomes pertinent to present some of the frontline contenders in APGA.
APGA supporters, especially delegates may find it difficult to choose who among the aspirants should become its governorship candidate for 2019 elections. Obviously, a lot of considerations would be taken before decisions are finally made.
Senator Bright Nwanne:
Senator Bright O. Nwanne is one of the front runners. For Imolites, the aspiration of this gentle man is an answered call by them for a technocrat with integrity and history of accomplishments. Nwanne is coming into the race with a rich history of accolades garnered over the years from both public and organised private sector. This Aba-based industrialist whose companies are into manufacturing of chemicals and real estate has given employment to hundreds of young people.
The Onicha-Mbaise born philanthropist attended the famous Methodist College Uzuakoli before proceeding to USA, where he studied Business Administration at the University of Texas, Arlington. He also attended numerous courses in business and leadership.
He was a nember, Constituent Assembly that drafted the constitution which ushered in the Third Republic and was elected a Senator at a very young age to represent Owerri Zone under the defunct National Republican Convention (NRC). He was a member, Senate Standing Committee, Governing Council Member of Federal University Birnin Kebbi and also member, National Commission for Mass Literacy among others.
Strengths: His aspiration is well received by Ndi Imo because he is the only aspirant who has visited all the 305 electoral wards in the state to have on the spot assessment of their challenges and where they have comparative advantage. It was after the tour that he couched his manifesto, Imo Development Agenda which is premised on Education, Health, Agriculture, Job creation and Diaspora matters. Nwanne's campaign which is devoid of personal attacks has enabled him build a mass movement and followership.
He believes that a leader must put people first. He is well-prepared for leadership and is not coming into the race with scores to settle with any one, group of people or issues with the EFCC. His philanthropy is second to none.
Weaknesses: The retinue of aspirants from Owerri Zone where he comes from is seen as a disadvantage. But his acceptability by delegates from Okigwe and Orlu zones puts him far ahead of others.
Stanley Amuchie:
Stanley Chiedoziem Amuchie is a First Class graduate of Industrial Chemistry from the University of Benin and holds M.Sc. in Corporate Governance from Leeds Beckett University, UK. He started his career at Arthur Andersen, Lagos, Nigeria (now KPMG Professional Services) in September 1995 where he rose to the level of a Senior before exiting the firm in February 2000 to work in the banking industry.
He was, until his resign recently, the General Manager/Group Zonal Head, Zenith Bank Plc. Prior to this position, he was in Financial Control & Strategic Planning Department of the bank from February 2000 to May 2018 where he rose to the rank of Group Chief Financial Officer of the Bank.
He is a Fellow of the Institute of Chartered Accountants of Nigeria (FCA), and an Honorary Senior Member of the Chartered Institute of Bankers of Nigeria (HCIB). He has attended various local and foreign leadership courses in institutions like Insead Business School in France and Harvard Business School in USA. He is the Founder/President of The Goodlight Foundation.
Strengths: He is highly skilled in financial management and that will be very valuable if he is elected governor of Imo State. He is fresh and is not involved in the political animosity that characterises the relationship among other political aspirants. The sentiment in Imo State is that the position should go to someone who is untainted and without baggage.
He has a history of philanthropy through his Good Light Foundation, which has been involved in interventions across the 27 local government areas of the state.
Weakness: He does not have political experience.
Okey Ezeh:
Ezeh hails from Obohia Ekwerazu in Ahiazu Mbaise Local Government Area of Imo State. He is an accomplished investment banker and entrepreneur. He was educated at the Federal Government College Okigwe, Universities of Nigeria Nsukka and Benin from where he holds degrees in Mass Communication and Business Administration.
He is a consummate professional with rich banking experience with leading multinational institutions around the world in a stellar career spanning operationsand technology, internal control, private, commercial and corporate banking. His company is a cutting-edge player in treasury management, financial and investment advisory sub-sector catering to a slew of multinational blue-chip clientele.
Ezeh (a Knight of the Order of St. Mulumba of the Catholic Church) brings a different flavor to the race to Douglas House.
Strengths: He has professional and technical competence/pedigree: Ezeh is among the aspirants whose names evoke excitement and hopefulness among Imolites for the simple reason that the state is desperately seeking a thoroughbred technocrat conversant with global best practices in management and administration to steer the ship of Imo from allocation-dependency and unviability to a prosperous economic hub in the South East. He is credited with crafting a seminal blueprint tagged The Imo Marshal Plan (I-Map) designed to birth prosperity in Imo using the state's available human and natural resource endowment.
He is one of the very few in the crowded field of aspirants that is still within the youthful age band of below 50 years and undoubtedly possesses the verve, mental acuity and the passion to set about the difficult work of building a post-Okorocha Imo.
Ezeh's biggest advantage lies in his wide acceptance among critical population segment groups in the state like the youths that view him as part of them, the professional class that yearn for one of their own to come and clear the mess left by the career politicians that have run the state aground for years and the church especially the Catholic church where he is positively viewed on account of his personal records.
Weaknesses: Ezeh is not known to be backed by any of the traditional political godfathers in the state and this could prove a minus in a heated political warfare where political horse-trading could prevail.
His coming from the Mbaise clan could be a double-edged sword depending on how he is able to convince the people that he will pursue an all-inclusive administration and banish for good all stigmatization, rightly or wrongly, associated with that part of the state.
Hon. Uche Onyeagocha
Hon. Uche Onyeagucha hails from Obinze Owerri West LGA of Imo state. He attended Government Secondary School, Owerri and obtained his GCE A' level certificate in 1984. He attended University of Calabar where he graduated in 1989 with a bachelor's degree in History. He proceeded to study Law at Rivers State University of Science and Technology, Port Harcourt where he obtained LLB in 1992. He was called to the Bar in 1993. He proceeded to De Montfort University, Leicester, England for his LLM and was made a Chevenning Scholar in 1999.
He is Solicitor and Advocate of the Supreme Court of Nigeria; Chairman, Board of Trustees and Founder, Right 2 know; Chairman Kisi Trust Fund; Member, Board of Governors, Civil Liberties Organization; Co-convener, Save Nigeria Group
He was the first person in Nigeria to win election under the platform of APGA as a member House of Representatives 2003-2007. He is a dogged pro-democracy, women and child rights campaigner as well as a labour, student and people's advocate and a great fighter for the Igbo cause and a fearless leader. He is an ardent believer and practitioner of the principles of rule of law, equity, justice and fairness.
Strengths: Onyeagocha has the advantage of being the first ever APGA House of Representatives member. He is also politically exposed.
Weaknesses: Inconsistency for not remaining in APGA for too long before joining APC from where he jumped back to his former party.
Chief Nick Opara-Ndudu:
Opara-Ndudu hails from Emekuku in Owerri North Local Government of Imo State. His brilliance in education, banking, private sector and government earned him accolades in his every field. As a Grade One West African School Certificate holder, he continued to maintain that excellence even while in the University of Nigeria, Nssuka where he graduated as an Accountant. His experience in the banking industry took him to the position of a Deputy Managing Director where he excelled in the field of human and capital development.
He has been a strong believer that the professional class has a responsibility to be involved in helping bridge the capacity deficits that has seen the public sector underperform in its effort to deliver on the goals of public sector governance. This spurred him to seek the opportunity to reposition the economy of Imo State.
Opara-Ndudu has served Imo State between June 2011 and September 2014 in various capacities; including Chief Economic Adviser, Commissioner for Planning and Economic Development, Commissioner for Works and Transport, and Commissioner for Internal Resources (IGR) and Pension Matters.
Strengths: Ability to create and recreate opportunities to move the state forward. His blue prints tagged 'Imo – Creating Pathways to Prosperity and Growth' centres on quality education, agriculture, quality health care, social welfare programme, works and transport, housing and environment, waste management, etc gives him an added advantage over others.
Weaknesses: His major weakness is probably inability to visit delegates in their wards and convincing them that with his rich credentials he would make the state rise again. He may also not possess the financial muscle that is required in Nigerian politics.
Mazi Daniel Kanu:
Daniel Kanu was born on 20th January, 1971. He is a politician, an entrepreneur and a philanthropist. He became well known throughout Nigeria for organising the Two-Million-Man march in 1998. He sits as the chairman of several organisations dedicated to youth development. Kanu hails from Ndi Ejezie Ancient Kingdom of Arondizuogu in Ideato North LGA of Imo State. He is the son of HRH Eze M.O. Kanu, Ochiriozuo 1 of Arondizuogu. He graduated in 1990 from North Garland High School, Garland Texas. Thereafter, he attended Richland College in Dallas, Texas, receiving a certificate in Global Studies on International Business and Trade and a degree in Arts. In 1993, he returned to Nigeria.
Kanu's involvement in Nigerian politics saw him in a number of political organisations and groups, notably Youth Earnestly Ask for Abacha (YEAA) and leading the 2 Million-Man-March campaign in support of the controversial Nigerian leader, the Late General Sani Abacha. In 2002, he won the Peoples Democratic Party (PDP) primary election for House of Representatives (AMAC and Bwari), but his victory was annulled.
In 2011, Daniel Kanu joined All Progressive Grand Alliance and thereafter was appointed Senior Special Assistant (Agriculture and Water Resources) to the Governor of Imo State. In 2012, he was appointed Special Adviser to the Governor of Imo State on Agriculture and Water Resources. He left that administration when he realised that the government's agenda was in contrast with his values.
Strengths: Kanu has vast ideas of creating wealth for the state. His connections with various interests outside the state seem to be going for him. His major strength is the zone – Orlu where he comes. He is also favoured by the traditional institution, as a prince.
Weaknesses: He is relatively new in the political terrain of the state and as such people may find it hard to assimilate his claims. Again, where he comes from – Orlu zone – is not favoured in the political calculation of the state.
Rt. Hon. Ike C. Ibe
Ike C. Ibe was born to the family of Late Hon. Justice G.I. Ibe and Mrs. V. U. Ibe of Amuzi, in Obowo Local Government Area of Imo State. He later gained admission to the old Imo State University passing on the admission to Universities of Nebraska, Alabama, and Tulane all in the United States.
Ike C. Ibe is one of the few Nigerians with an unquestionable local, national and international reputation. He has wined and dined with the high and mighty at home and abroad. He is at home with and consulted for various world developmental agencies. Many great American institutions like Howard University Hospital, Project CURE, Africare, Books for Children of the World, TIS African Children's Fund, Elizabeth Taylor Center, US Export Import Bank, Overseas Private Investment Corporation, World Bank, US Trade and Development Agency, and many governors and mayors in the US have a good relationship with him. His reach within the European Union is phenomenal.
Ike has shown in his community, state and country that nothing pays more than hard work, honesty, commitment and integrity; hence his life is laced with several accomplishments dotted with excellence. Ike has become a man of history. His career in private and public service which spans through the judiciary, legislative and executive branches of government is full of accomplishments and ingenuity. Ike C. Ibe is a problem solver and his national and international reach is like a bridge between Imo state, Nigeria and the western world. He has a vision for a stronger, better, more united and prosperous Imo State. He is a leader who has shown he can make things happen.
Strengths: He has no known political enemy, considering his friendly disposition. He has the political experience having served as a onetime Speaker of Imo State House of Assembly as well as the 2015 deputy governorship candidate on the platform of APGA.
Weaknesses: Ike C. Ibe seems not to have traversed the nooks and crannies of the state ward-by-ward to woo delegates and to sell his manifesto.
Frank Nneji:
Frank Nneji is no doubt a household name when it comes to professionalism and excellence in managing human and corporate organisations. As the Managing Director of ABC Transport Plc, he became the first public transport company in Nigeria to introduction decency into road transportation, as well as, going into the Nigerian stock market. Frank Nneji hails from Nguru in Aboh Mbaise LGA. He read Zoology at the University of Nigeria, Nssuka, Lagos Business School (LBS) and Wharton Business School, USA.
He believes that the greatness of Imo will only be revealed when the foundation for economic prosperity are built and also that economic re-orientation on the back of world class institutional reforms is urgently required to put Imo on the path to maximizing her potential and giving her citizens and residents renewed hope. His mission and vision for Imo state is to become a state where citizens have a true sense of pride and where residents have the opportunity to actualise their dreams.
Strengths: Frank Nneji is blessed with quality ideas on how to attract economic growth to the state. His being a 'home boy' no doubt gives him an edge since he knows the problems of the state and how to fix them. He has the magic touch to reposition agriculture and tourism for the overall benefit of the state.
Weaknesses: He is seen as a shrewd entrepreneur who may not easily inject loose cash into governance. Being a new entrant into the murky waters of politics may also work against him.
Ikedi Ohakim
Ikedi Ohakim was the former governor of Imo state between 2007 and 2011. During his tenure Imo was noted for its clean and green status which subsequently won it the cleanest state of the federation. His four-year term was remarkable because the people saw quality road construction.
Ohakim's economic blueprint remains one of the best that can be adopted by any enterprising state, hence he is eager to return to complete what can be termed the best era of the state.
Strengths: Ikedi Ohakim is the one aspirant that will spend only one term in office if elected governor, having served his first term some years back.
Weaknesses: He is coming from a zone, Okigwe that had produced a governor before. He is also new in APGA, having decamped from the PDP.
Senator Ifeanyi Araraume
He is a known name in Nigerian political circle, especially when it comes to aspiring for governorship position in the state. Araraume is also not new to jumping from one political party to another, making him look like one who lacks political ideology. Until recently, he was a chieftain of the APC, having dumped PDP immediately after he lost the governorship primaries in 2015. He helped Rochas Okorocha win the supplementary election against the candidate of his former party – the PDP.
Strengths: Araraume has kept his political structure intact over the years. His followers have confidence in him at any time. He also has the finances to embark on political campaign at any time.
Weaknesses: His inconsistency in staying with a particular political party is a minus. He is also noted for a do-or-die approach to politics.