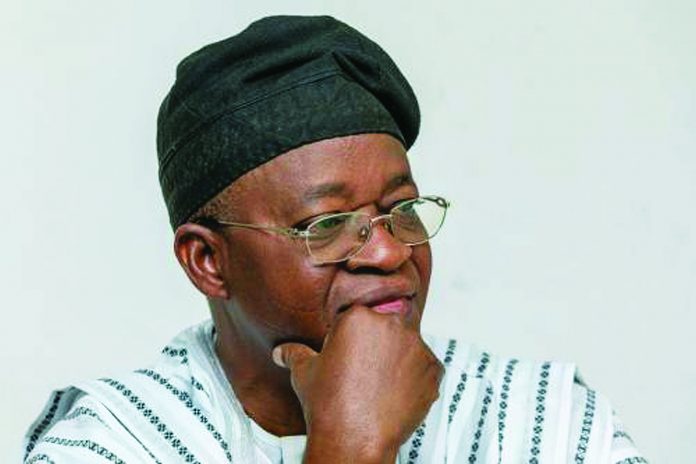 Ojo Maduekwe writes that governing Osun State is going to be an uphill task that ironically, Governor-elect Adegboyega Oyetola appears to be in denial and unready to tackle
The recently held governorship election in Osun was a tough contest between the All Progressives Congress (APC) and the People's Democratic Party (PDP).
What should have normally been a straight win for the ruling APC, based on the entrenched incumbency factor, ended with a controversial rerun.
PDP's Ademola Adeleke won the initial September 22 election with 254,698 votes, defeating APC Gboyega Oyetola's 254,345 votes with a 353 lead. Citing electoral laws, analysts said this margin was enough to declare Adeleke winner.
Instead, in a controversial move construed as political and an indicator of what to expect in next year elections, the Independent National Electoral Commission (INEC), declared the election inconclusive and decided on a rerun.
The decision wasn't helped by the PDP's accusation that a substantial amount of its votes were subtracted by INEC and given to the APC candidate.
In refusing to declare Adeleke winner, INEC's returning officer, Prof. Joseph Fuwape, activated Section 153 of the Electoral Act to argue that Adeleke's 353 margin lead over Oyetola was less than the 3,498 cancelled votes.
But former INEC Chairman and one of the architects of the inconclusive election clause, Prof. Maurice Iwu, said the phrase could only be applied in Senatorial, House of Representatives, and State Assembly elections, in which instances the 1999 Constitution does not specify how returns should be made.
Accusing INEC of abusing the clause, Iwu said he and others while reviewing INEC's election manual in 2010 included it to address instances where elections did not hold and not in situations where it did but votes were cancelled.
He also said that during the review they had realised that the clause was inconsistent with the provision of the 1999 Constitution in the case of presidential and governorship elections, wherein the rules on returns are clear.
In the case of governorship elections, Section 179 (2) (a) (b) states that the winner must poll majority of the votes cast, and in addition, must obtain 25 percent of the total votes cast in two-third of the LGAs of the state in question.
Several analysts have argued that following this provision and having fulfilled the legal requirements, Adeleke should be declared winner.
According to Iwu, since the constitution was clear on how a return should be made in a governorship election returns, "the electoral act or INEC guidelines cannot supersede the constitutional provisions for that purpose."
For a party that had two terms to convince the voters and the alleged partiality of federal government institutions, winning the election in such slim margin and highly controversial manner couldn't have been more troubling.
If after eight years the APC still struggled to defeat the PDP, whose candidate's biggest credential were his publicised dance moves, experts worry that governing Osun is likely to pose an even bigger challenge for the APC.
In its 2018 State of States report, BudgIT ranked Osun 35 out of 36 states for its ability to sustain its current spending and tax without threatening solvency or defaulting on some of its liabilities or promised expenditures.
Frightening for a state whose 2018 budget is estimated around N173 billion, and an IGR and federal allocation that is so far less than N30 billion.
Looking at available economic indices bordering on the state's debt profile and its inability to pay civil servants salaries – statistics that were lost to the flood of political rhetoric's during campaign – it is going to be an uphill task; one that ironically, Oyetola appears to be in denial and unready to tackle.
During a debate prior to the election, it took compelling by the candidate of the Social Democratic Party (SDP), Iyiola Omisore, before Oyetola admitted that Osun was in debt. The National Bureau of Statistics pegs the state's domestic debt at roughly N136 billion and its external debt at about $102 million.
Where analysts fear that the state might plunge into bankruptcy if it continues on its current path, Oyetola has pledged to continue on the exact same path, with no convincing template on how to reduce the state's debt profile or measures intended to increase revenue so as to offset outstanding salaries.
Judging from their campaign, neither the APC nor PDP were interested in the serious task of governance. For both parties, winning the election was more about gaining a vantage point ahead of next year's general election.
While the electorates are hoping that Oyetola after his November 27 swearing in, would settle down to govern the state, it is likely that he will be preoccupied instead with reconciling aggrieved party members in the state and assisting his party at the center in winning next year's presidential election.
As it is customary with election financing in Nigeria, there are fears that Oyetola might pile up Osun's debt through party donations, which alongside other APC states, he's expected to help finance the ruling party's 2019 elections.
With little time for Oyetola to settle into governance, there appears no winning in sight for the Osun electorates. Held few months to the general election, Osun people couldn't have been more disadvantaged. And for a state that relies heavily on the federal government monthly allocation, Osun will be badly hit if Nigeria relapsed into another recession as is being rumored by experts.
From the start, the voters in Osun had little choice between a candidate known more for his dancing prowess, and one who as part of the outgoing administration had pledged to continue with the policies of the last eight years.
Whether after reconciling aggrieved members and assisting his party with the 2019 general election Oyetola would pick up the task of governing the state is something Osun electorates, especially the public servants, are hoping for. For now, having voted for continuity, the status quo remains.