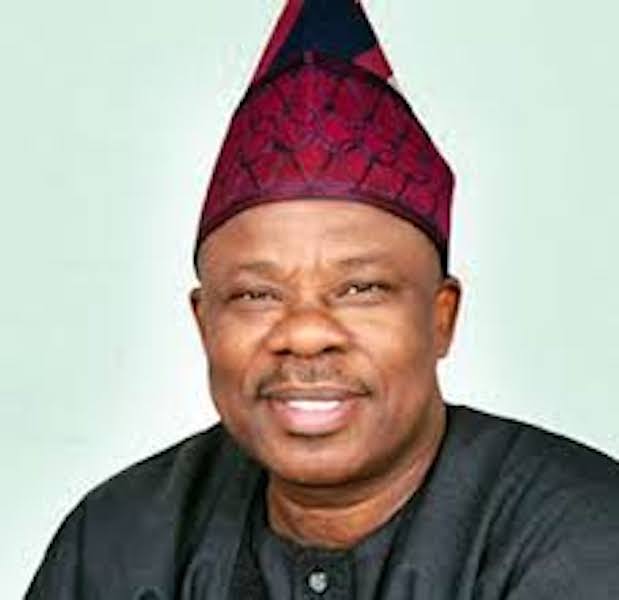 Femi Ogbonnikan in Abeokuta
Ogun state Governor, Senator Ibikunle Amosun, yesterday, berated the other aggrieved governorship aspirants waging war against his preferred consensus governorship candidate for the All Progressives Congress (APC), Hon. Adekunle Akinlade, and vowed not to "surrender" the governorship baton of the state to those he described as "desirous of reaping from where they have sown nothing".
Amosun added that he and his supporters are on ground, well prepared and are ready for the 'profiteers' on which ever date the governorship primary is fixed.
The governor who made this known, while addressing scores of APC members and supporters at the MITROS Hall, Ibara, Abeokuta, urged them to keep their " gun powder dry" for political battle ahead.
Amosun also debunked the allegation of "security breach" by five APC governorship aspirants in the state.
He said nobody was facing any threat and urged the people not to de-market Ogun State with allegations of security breaches.
"Don't worry because of them. This position we are today is by the benevolence of God. We are more now; I have to tell them; we have the government; we have the party; and we have the people.
"They have been trying all the tricks in the book; they will have trouble having 10 or five per cent of the people. If they do it one million times, the result will be the same.
The disgrace they got last time (2015) will be more this time.
"Keep your gun powder dry; we will mobilise you with the necessary logistics when the time comes. If they are doing "kuru-Kere" moves, tell them that they will be disgraced. We are on ground here. We will give you money for your motor (transport fare) back.
"Nobody is going to kill anybody, if you have the love of Ogun State, don't demarket it, nobody will kill anybody," he said.