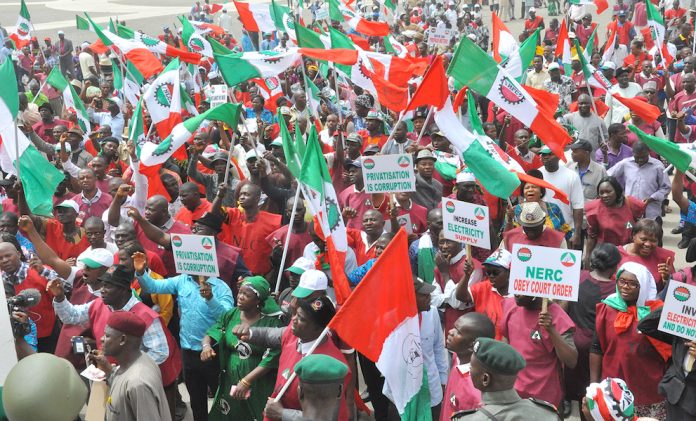 WINDOW STORY
Ready for negotiations on Thursday
By Onyebuchi Ezigbo in Abuja
There was widespread relief yesterday as organised labour suspended its warning strike and announced its readiness to resume negotiations with federal and state governments on Thursday over its demand for an upward review of the prevailing N18, 000 national minimum wage.
The strike, which recorded partial success in many states of the federation had crippled the economy as some workers, especially government staff shunned work and stayed at home even though compliance level of private sector workers was low.
With Nigerian's grumbling over the debilitating impact of the strike that kicked off last week, the Chief of Staff to the President, Alhaji Abba Kyari, had intervened and pleaded with labour leaders to suspend the action and take up federal government's offer of resumption of talks on Thursday.  
The labour leaders yielded to pressure yesterday, agreeing to abate the strike and return to the negotiation table. Addressing a press conference in Abuja, the President of the Nigeria Labour Congress (NLC), Mr. Ayuba Wabba, said that government had formally invited organised labour unions to the tripartite meeting on minimum wage holding on Thursday.
Wabba said the strike was suspended because labour had received a firm commitment from government to reconvene the committee between Thursday and Friday this week.
He expressed optimism that the Thursday and Friday meeting would be the final session of the committee and that a final report would be submitted to the president after the meeting.
He said, "We invited you here today to inform you that we have received a firm and formal invitation to reconvened meeting of the tripartite committee scheduled for 4th and 5th October, 2018. We demand that this shall be the final session of the committee and that a final report will be submitted to Mr. President immediately.
"In order to avail the committee the necessary conducive environment to hold this crucial meeting and conclude its work , organised labour has, after obtaining the mandate of their necessary organs, decided to suspend the strike with effect from today (yesterday) Sunday September 30th, 2018".
Labour had commenced a nationwide warning strike last Thursday to protest the delays in new minimum wage negotiations and what it described as the unilateral indefinite adjournment of the tripartite meeting by the federal government.
The labour unions said their action was intended to get government to reconvene negotiations and conclude action on new national minimum wage.
The workers' warning strike had caused the nation enormous economic loses and disrupted activities in public service sectors.