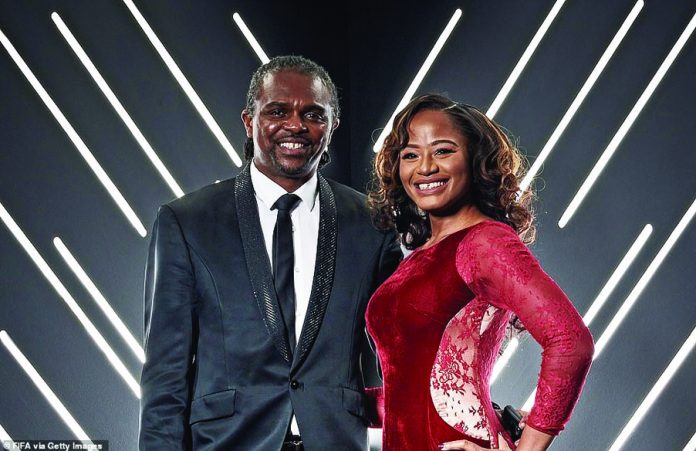 Former Super Eagles captain, Nwankwo Kanu and his heartthrob, Amarachi, have been exemplary in their marital exploits as both continue to wax stronger in romance, Omolabake Fasogbon reports
Arsenal and Ajax legend, Nwankwo Kanu, has  been married to the love of his youth for 14 years and ever since, it has been an exciting, passionate, hilarious and fulfilling marital journey.
There have been no public account of disagreement between them, and they look perfectly fit for a model couple after studying their trajectories.  
The fondness between the lovebirds has further befuddled the law of science that says that love loses its intensity with time, as both wax stronger in a cage of endless love.
Looking stunning as usual, the pair, yet again got aspiring and actual couples fantasising the 'sweetness of togetherness' as they made a public appearance at the FIFA The Best Awards ceremony that held in London recently. Kanu got global attention with beautiful Amarachi, as photographers struggle for shots of these stunning couple.
Taking a closer look at the duo right  at the occasion, their body language read new intense feelings of a newly wedded twosome, relishing the richness of true love and both feeling important, understood and secured for each other.
Love struck Amarachi recently set the social media agog with a complete family picture, putting on customised jersey.  
All looking radiant and beautiful, the picture which was to further hype Kanu's heart campaign was well received with inspiring and likeable comments by numerous fans. This is not the first time she would be posting pictures, this particular one drew more attention.
The two-time African player of the year may not be known for heart-melting candy-coated expressions, his actions indeed speaks volumes about love and got Amarachi seeking more of him.
His architect wife once attested to this when she said: "He (Kanu) is a kind man with a big heart. He is also very sensitive and intelligent. He shows me compassion through his actions and he doesn't say too much"
While Kanu the philanthropist is busy strategising on breaking new grounds and redeeming more lives with his heart focused NGO, as visible in his social media posts, his 32 year-old wife is quite expressive about her emotional feelings. Not unusual of women, the brilliant architect, as much as she tries to be discreet with her private life, cannot hide the fact that she is in love!
The wife of the football legend maintains that she finds no reason to fall in love on the basis of temporal reality.
She bared it  in an interview she granted a while ago:  "When I was getting married, I was not ready to be thrust into the limelight. I didn't even know what I was getting into. I wasn't a football fan and I knew nothing about the Premiership. I didn't know I was getting married into that level of limelight as I was young, vibrant and in love. Getting married to Kanu was the best thing that could have happened to me. I was in love; I think the love I had and still have for my husband was all I needed to feel comfortable and good."
For the obvious, one may want to believe the fitness expert for her words that indeed, hers is not physical closeness and emotional distance, a situation which Robert Firestone terms as 'Fantasy bond'. More reason to believe her is the glowing spark in the 14 year- old relationship.
Although, he is a man of few words, Kanu who recently clocked 42 is not completely dry in displaying affections publicly with words. One of those few displays was when he appreciated his wife for saving him from untimely death following the return of a life threatening heart valve defect some 22 years ago.
Also on the occasion of their 14th wedding anniversary in July, the father of three wrote on his Instagram page: "Is a goal. Happy anniversary to us" while Amara replied, "confident in the knowledge that the best is yet to come. Happy wedding anniversary to us".
For as much as she cannot stand a minute without her husband, she also gives her all to the kids. This is non-negotiable. On her children, she says: "Motherhood is the best thing that has ever happened to me. In terms of motherhood, women empowerment and business sense, Beyonce inspires me. My children will always be my priority and I give God the most gratitude for blessing me with children. If I invest my time in them, they will give me more value at the end of the day."
Kanu found Amarachi at a village beauty competition in Imo State when Amara, as was fondly called, was barely 18 years old. After dating for some time, Amarachi and Kanu got married in December 2004, in Imo State.
Unlike in some cases where girls are given away in marriage at an early age, with opportunity for education foreclosed, Kanu gave Amara quality education. She holds a degree in Architecture and an MBA. She also obtained a diploma before the birth of her daughter.