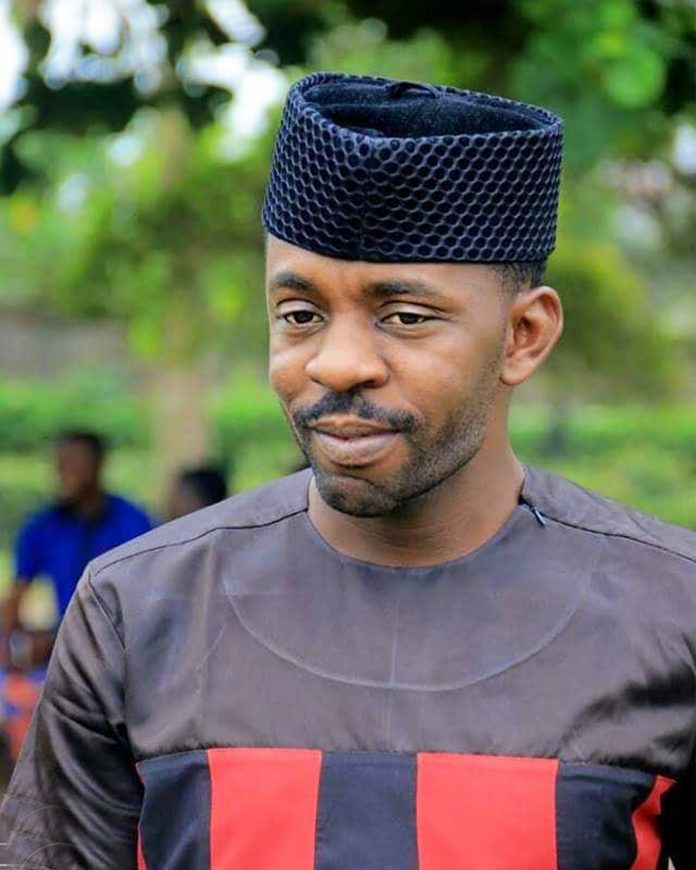 Other than his character in The Johnsons, little is known about his private life. Gaji Samuel, better known under his nom de plume of Mohammed in the popular sitcoms – The Johnsons – is a delight to watch daily on TV. Full of humour, Mohammed always thrills his audience with witty displays. But his rise to fame wasn't all that funny. It was a roller coaster ride all along. In this interview with Chinedu Ibeabuchi, Samuel shares his off-stage experience
A side Mohammed in The Johnsons, so little is known about Gaji Sammy. Tell us who Gaji Samuel is and your family background?
I am from Adamawa State. I studied Computer Science at National Open University of Nigeria. My Dad is a Hausa man and my mum is a Yoruba Woman. I am the first of three boys.
How did you come about the name 'Mohammed'?
The name Mohammed started from the Johnsons. It was initially Mohammed but in the course of acting, Charles Inojie localise the name to Mohamoha.  Anytime the Johnsons want to praise the character Mohammed, they call him Mohamoha. Actually, my grandmother gave me that name Mohammed but growing up, I refused to bear the name.  Today, Mohammed has become my nomenclature and it's the one paying my bills.
You grew up in Jos. How was growing up like in the midst of volatile ethno-religious society?
My growing up was adventurous. I didn't grow up in Jos. I was only born in Jos. From Jos we moved to Abuja then to Lagos and then to Kano. My dad was working in the Nigerian Airport Authority (NAA), now Federal Airport Authority of Nigeria (FAAN) before he passed on. He was the head of his department. Growing up was fun because he was always transferred from one location to another which means us moving around.
How did your acting career begin? Give us a little of your background from cradle to stardom
My acting career started in the Winners Chapel Church in Osun State. I had always liked acting though my dad wanted me to be a medical doctor but he realised that I don't like seeing blood. So, he said, 'ok, anything you want to be, go ahead.'
You are often a delight to watch in The Johnsons. How come you fit into this Mohammed role perfectly?
Starting my professional career wasn't easy because the way I moved from Osun State to Lagos was kind of funny. I actually came to Lagos as a modernised houseboy in the sense that I have nobody in Lagos. I just came to Lagos to hustle. Eventually, I met one of my church members who relocated from Osun State to Badagry. Whatever a houseboy could do, I was doing it for him. During one of the Mother's Day celebration in my church, I was impressed with the way the drama group portrayed their acting and decided to join them. The name of the drama group was Perfect Example Theatre. It was tough initially to get roles because I had health issues and the director didn't like me. Notwithstanding, I was enjoying it and was in charge of carrying around group costumes during shows.  After about four to five months, some of the troupe left to school and there was shortage of cast. My friend who was part of the drama group then encouraged me to try a vacant role. I did and performed very well. So when The Johnsons came out, there was already someone playing the role of Mohammed but they called me for auditioning and I was successful. That's how the success story of Mohammed started in the industry.
Before limelight, many face one hurdle or the other. Can you describe yours and how you surmounted this?
My challenges were so much. I had challenges financially, educationally and had health issues. I had many downsides. One of such critical challenges was the tumur I had on my left cheek in 2008 when I was with my mom in Osun State. It segregated and isolated me from people. I couldn't relate with people because I was so ashamed. I had to leave my mom because sometimes she would look at me and start crying. That's why I left my mom to come to Lagos to live with a church member I knew in Osun then. As I said earlier, I came to Lagos as a repackaged houseboy. People used to describe me in church as that guy with a swollen cheek. To survive in Badagry, I hawked bread, sachet water, zobo, soft drinks, CDs, etc to meet ends meet. From there, I learnt graphic designing before gaining admission. I am truly grateful to Winners Chapel, friends and my family for the support. Whilst the health issue was ravaging, in my brain, I was like, 'if this is how God looks in heaven, then let it be' because we had gone to several hospitals including OAU teaching hospital where I was asked to bring N300,000 in 2010 but couldn't afford it. Anywhere you could think of for solution, I went there. This was what even affected me in the drama group I joined in the church in Lagos. For three months, I couldn't act. The director was like, 'who brought this person?' It was not funny at all. Breakthrough came when one of the pastors in my church, late Adeleye called me and told me he wanted to pay for the surgery. In the process of going for x-ray to ascertain the cost, another assistant pastor in the church informed me of an NGO from Spain who came to Benin Republic to carry-out surgery for indigent Africans. When I got there and realised it was free, tears busted out my eyes. I had three stages of surgery – first was in Benin Republic, the second in Togo and the third was in Spain. So, my journey to stardom was not easy but each day I woke up, I was full of hope that I would make it.
What's your advice for upcoming actors?
My advice for actors is that whenever you are given a role, go and study someone behaving in such manner. Initially when I started acting the role of Mohammed, an Aboki man who is a gateman, it wasn't easy for me but then I started imagining how the common Malam in the North behaves. The way an educated Hausa man behaves is not the same the common Hausa man in the streets behaves. I went to the streets and interacted with the common Hausa man selling water, sugarcane and mending shoes, etc to understand his lifestyles.
 Any similarities between Mohammed in The Johnsons and Gaji Sammy?
The two Mohammeds are contradictory. Mohammed in The Johnsons is married but Mohammed in real life (Samuel Gaji) is not married; Mohammed in The Johnsons is not educated but Mohammed (Samuel Gaji) in real life is educated.
Aside acting, what else do you do?
Outside acting, I am a graphic designer and computer analyst. I studied computer engineering in NOUN.
One would have thought that having grown up in the North, you would have settled down for Kannywood. Why Nollywood?
I went for the big shot. Nollywood is like the grandfather to the father and to the son. In Nigeria, Nollywood is the ultimate. We are still growing and will get there some day like Hollywood.
Between Kannywood and Nollywood, which do you prefer?
I prefer both. There is hood in both and I am not discriminating anyone. I can feature in any.
Kannywood has some restrictions. Do you think this is healthy for creative art?
One thing we always forget in Nigeria is culture.  We always like to adapt the white man's culture to ours. In many gathering I find myself, I always say this: we should not always forget our father's land. If Kannywood has restrictions and you are a member, then you should abide by it. For instance, Kissing is restricted in Kannywood.  A Hausa man is very jealous and like to guard his wife. That's why you see that some of them don't allow their wives to work.  
Aside The Johnsons, what are some of the notable movies or series you have featured in?
I featured in series as far back as 2007 called Rescued. The second series was The Johnsons. But before the Johnsons, I had done several stage plays. As I mentioned earlier, I belonged to Perfect Example Theatre Group.
Nollywood doesn't pay many actors' bill. Is acting lucrative for you?
That was back then. Now, acting has moved to another realm with the help of MultiChoice, Africa Magic and iRokoTv. What I will like to say is that most of the actors like to live beyond their status. Nollywood actually pays my bill.
You like playing the role of a gateman or peasant. Tell us why you are able to play these roles perfectly
I don't want to be stereotyped with gateman roles. Most times when I see scripts and it's a gateman role, I reject them. 
If not I would have been in several movies but I don't want to restrict myself to gateman roles alone. I am an actor and a good actor should be able to picture himself in different characters. 
One issue with Nollywood is that once they see that you perform a role very well, they will think that's what you are best at but I ensured I am not stereotyped to only that role. So outside The Johnsons, I hardly play a gateman role.
What's your attitude to life?
Mathew 5:5 – blessed are the meek for they shall inherit the earth. My attitude to life is meekness. Wherever I find myself, I try to humble myself because you don't know who will be at the top tomorrow.
Fans often tend to relate with actors based on their prominent role on screen. Can you share a time when you were ridiculed or embarrassed in public?
I was at the Ikeja City Mall when someone told me she never knew I was educated. I was shocked. But it only makes me to realise that I am portraying that role well.