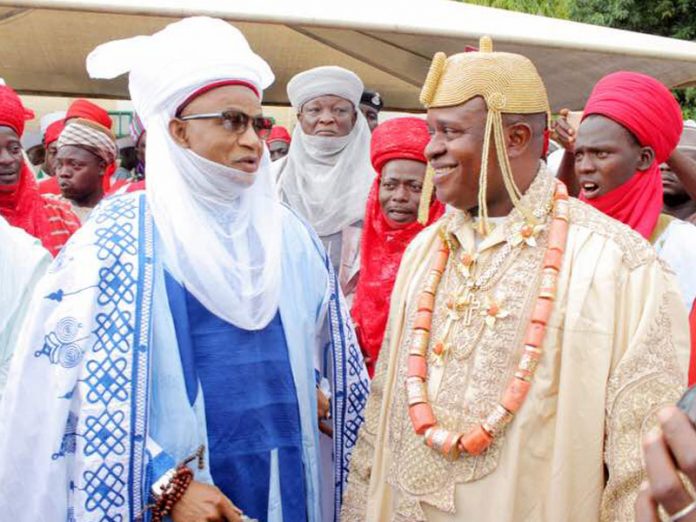 Mary Nnah
In continuation of his peace talk and crusade for unity and harmony in Nigeria, the Egbere Emere Okori Eleme, Rivers State, Dr Appolus Chu, recently took his campaign to Bida in Niger State.
This crusade according to Chu, was part of moves to strengthen cultural ties and peaceful coexistence amongst the different regions and ethnic groups in Nigeria.
Apart from organising various events in his community to achieve this, like hosting high class traditional rulers and other dignitaries across the country in his palace regularly, Chu has recently been travelling from one part of Nigeria to another on a regular basis, trying to establish a crusade of oneness, a gesture he wants other traditional rulers to emulate.
In Bida, Niger State, Chu's arrival was heralded with the salute of gunshots, while he was being escorted by royal horsemen to the palace of another royal father, Alhaji Yahaya Abubakar, the ETSU Nupe of Bida and Chairman Niger State Council of Traditional Rulers.
It was an unending celebration accompanied by cultural dances of all sorts by different cultural troops in Bida – from the women group to the Hausa community.
Settled at the palace, Chu thanked the ETSU Nupe of Bida and the people of Bida for their contribution towards the unity of Nigeria, even as he expressed satisfaction at the respect been maintained in the kingdom. He further described Abubakar as a role model and icon in the crusade for national unity.
He said: "I am one of the young kings in this country that admire your style of leadership. One thing we have to note is that he is not just a king for Nupe people but a king of all Nigerians because he is one of those leaders in Nigerian that have been doing his best to educate Nigerians on the importance of national unity and also how to bring traditional rulers together in this country.
"He is a man that moves from one kingdom to another to talk about the unity, security, and development of this country. I know that it is not a job of one man alone. We need the collective support of all the traditional rulers in this country to join in this crusade."
Chu who incidentally found his match in the ETSU Nupe of Bida in the campaign for unity, peace and harmony in Nigeria, said he was also supporting his host in this crusade of advocating for national unity and peace of the nation.
"The government cannot do it alone without the support of the traditional rulers, coming together as one. Government is far away from the grassroots, but we the traditional ruler are the ones close to the people.
"We can better communicate with our subject in the language they understand easily and as a result they would be more yielding to our instructions. This way, we can easily maintain peace and harmony in our communities and the nation at large", he added.
He said he embarked on the journey all the way from Okori-Eleme in Rivers State just to strengthen the bonds between him and the traditional ruler of Bida, which will strengthen his kingdom with that of Bida and its people as a symbol of love.
He said his journey was also to portray the fact that there was no difference between the North and South.
On the security challenges bedeviling the nation he said: "Insecurity is a distraction and the virus eating deep into the fabric of the nation at this point. And it is high time for us, as a nation to rise together and eradicate insecurity and all the restiveness that is happening in this country.
"If we don't fight for peace ourselves, nobody will come and fight for us. And we are not going to fight for peace and security with guns but by coming together as one."
In his response, Abubakar, thanked Chu for the visit, describing it as a symbol of respect, love and unity between the North and the South-south.
"What we are actually propagating here, considering the situation we are in now and considering the history and political activities in the country, is unity.
"The traditional institution in Nigeria has been playing a very significant role in uniting this country and also ensuring that we have good government administration."
He said for any country to develop, it must have the required peace and understanding, adding, "we hope, Chu's visit will go a long way in ensuring that the unity, peace and progress we are looking for this country will be achieved."
He further extolled the resilience in Chu in building synergy traditional rulers while he called on other traditional rulers across the nation to emulate Chu's giant stride.
Abubakar later presented a royal horse as a gift to Chu.