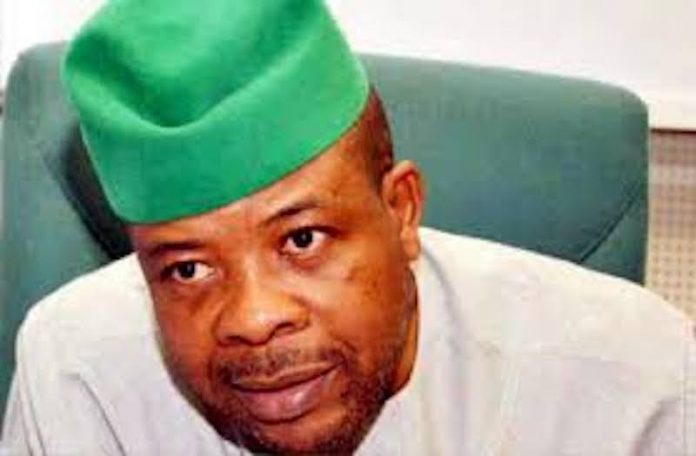 Amby Uneze in Owerri
The internal wrangling between the former Deputy Speaker, House of Representatives, Hon. Emeka Ihedioha and his closest rival in the governorship ticket in Imo State's Peoples Democratic Party (PDP), Senator Samuel Anyanwu was yesterday settled in order for the party to work for victory in the 2019 elections.
The stakeholders working under the auspices of Imo PDP Integrity Forum comprising Chief Osita Okorie; Mr. Chibuike Achigbu; Mr. PGU Madu; Mr. Alozie Nwaokoro; Ben Ekwueme; Chief Samuel Egbukwu; Nze Charles Onwunali and Chief Elvis Obinna Duruaku coordinated the peace parley which brought the two major frontline governorship contenders to agree to working together even after the primary for the victory of the party.
At a brief ceremony held at the Party's Okigwe road Secretariat, the State Party Chairman, Charles Babatunde Ezekwem described the two gladiators as a blessing to the party, having worked hard to redeem the image and integrity of the party over the years.
He thanked the party leaders who championed the peace process between the two frontline governorship aspirants and promised that the state exco of the party would gladly work with any of them that clinches the governorship ticket so as to recover the state from the present APC-led government.
Highlight of the event was the shaking of hands by the two top aspirants, who resolved and agreed to work harmoniously for the PDP to take over Imo State Government House come 2019.
They also agreed to accept and respect the outcome of the gubernatorial primaries election scheduled for September 30, 2018.
They unambiguously pledged that whosoever emerges at the guber primary shall become the candidate of the party and would immediately integrate the others for a unified campaign to reclaim Douglas House by PDP.
It was also unanimously agreed that it would not be a winner-takes-it-all syndrome, and that the party's candidate would embrace and accommodate the other aspirants and their supporters to make sure that together PDP would as a block prevail over APC in the 2019 elections.
They used the opportunity to thank the good people of Imo State for their understanding and support of PDP in all ramifications.