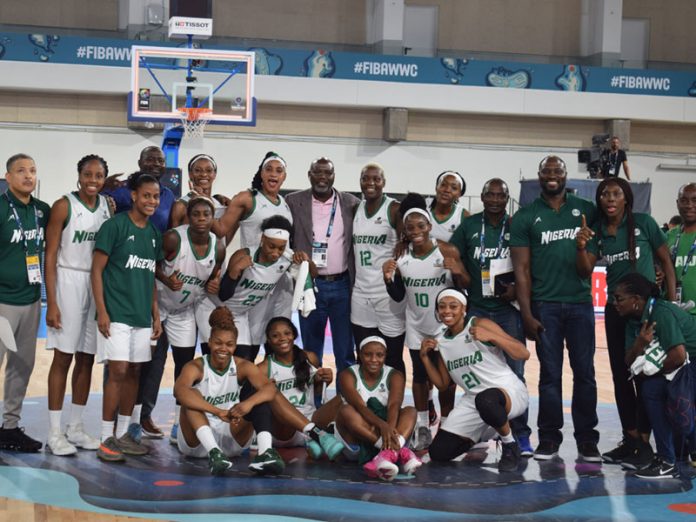 FIBA WORLD CUP
Nigerians have eagerly waited for this day to come as D'Tigress take on Team USA with the Women's World Cup now a lot tougher. And it is surely another day to bank on making history for the Nigerian ladies.
In today's quarter final clash with reigning champions and favourites USA, D'Tigress are clearly the underdogs just as they were before they faced Turkey and swept past them; they faced the South American champions Argentina and made them pay dearly for what happened at an entirely different event in Russia last June.
Nigerians desired vengeance for what the Super Eagles suffered in the hands of Lionel Messi and his colleagues and D'Tigress rose to the occasion fulfilling their promise. The Greeks are known for world-class basketball but that did not stop D'Tigress from believing in themselves.
It can be rightly said that having gone this far more Nigerians have come to believe in them. But there were not many individuals and corporate bodies that believed in these young ladies way back in 2017 as they prepared to face the entire Africa in Mali AfroBasket but the ladies believed in themselves and so did AFA.
About two years ago some young Nigerians with a dream to maximize the potential of the game of basketball in the country assembled in Lagos. This gathering gave birth to Africa for Africa sports but commonly known worldwide now as AFA Sports. The company became the first ever African sports apparel manufacturer to feature in a major international tournament as they became the proud kit sponsors of D'Tigress at a time no other big name companies were ready identify with them. But AFA Sports and D'Tigress kept the faith and made history together in Bamako. That success reverberated around the world and those who had forgotten Nigeria began to put calls through to the Nigeria Basketball Federation to schedule negotiations.
The Chief Executive Officer of AFA Sports, Ugo Udezue says he can beat his chest now because he believed in them early enough.
He says, "We saw a world-class team even when some others saw otherwise and decided our money on them. They hadn't played a game but we believed in the organisational structuring from which the team was emerging. Perhaps a monumental part of this journey to the world is how much their performance is powered by the support from AFA Sports. The CTG technology in the AFA shoes provides extra grip, speed and precision so that you are always one step ahead of the competition. The soft micro mesh material allows athletes to stay hydrated in the most humid of climates.
"The truth is that no one can understand the needs of an African athlete more than a fellow African, and these products were tailor made to fit the needs of the African athlete like a glove. Now we can all gladly say go D'Tigress and the joy is for every fan of the team."
Even after they conquered Africa there was still just a modest sense of expectation that the Nigerians could do something positive in Spain. They had stopped over in Ankara to camp and play the Turkey national team who incidentally were in the same group at the World Cup. The Nigerians were beaten from the tip off to the buzzer that that those who had no investment in them gave them no chance in Spain. Australia beat Nigeria 86-68 to help those in doubt and their investors were satisfied that they played well against the Opals. They responded remarkably drilling the same Turkey 74-68 in a quick turnaround. They have moved on to an unprecedented three straight wins and a resounding quarter final battle against the classy USA.
It's a fairytale for everyone involved as team captain Adaora Elonu, who is a EuroLeague Women regular and has WNBA minutes to her name told FIBA.Basketball.
"We didn't know what to expect from the World Cup as none of us had been here – it's just a ride that we're taking," she confessed. "I'm happy for us, because we've been through a lot and our motto was to stay together and we stayed together.
"The national team is who you are and your culture. It just resonates so much stronger than any other team – not to take anything away from any other team.
"But here, the girls, what we've been through and what we've had to fight through just to get here, preparations, treatment – it's been really hard.
"But the way that we stick together and have fun off the court, on the court, this is just a great moment."
And what should Nigerians expect from the game against Team USA?
"Playing USA does sound really nice," Elonu said. "I don't know what to expect, but we're just going to keep pushing. We go with the same mentality. As a player, as a competitor, you have to go with the same mentality.
"We're not here, you know, just being happy to still be here. This is a new experience, but we want to put on the best show and performances that we can."