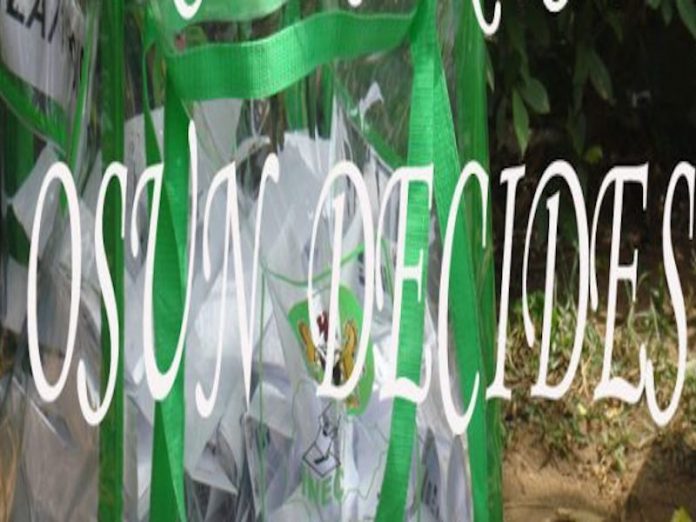 By Yinka Kolawole in Osogbo
Security agents deployed in Osun State for the governorship rerun are preventing observers and journalists from monitoring the ongoing supplementary election in the three polling units in Orolu local government area of the state.
Speaking with our correspondent in Osogbo, one of the ]observers who were turned back,
Mr Bukola Idowu, said some policemen barred them from the polling units.
Our correspondent also gathered that some journalists were prevented from gaining access to the polling units.
They were, however said to have been allowed after some other journalists arrived the polling units and persuaded the policemen to allow them access to the polling units.
Idowu said the policemen cleverly hid their names and demanded that they produce identity cards of the Independent National Electoral Commission instead of the accredited tags given to observers and journalists by the commission.
The observer from Kimpact organisation said some observers were arrested and later released after some protests.
"We are not allowed to go and observe the election at Orolu. In Osogbo too, we were turned back. Some of us were arrested and taken to the police station. I have been turned back. I have called INEC staff and they said they didn't give the security agents such order.
"The policemen said we should provide means of identification and we presented. Then they asked us for INEC identity card and we showed them the accredited tags given to us by INEC. But they said we should have been issued INEC identity cards and we told them we are not INEC staff but observers.The policemen cleverly hid their tags for us not to see it," he said.
Reacting to the development, the DIG in charge of Osun election, Habila Joshak, said policemen were not given such order.
He said "that's not the mandate they were given. Maybe these observers were not accredited. We will make sure that everything is in order."
He urged INEC and security agents to ensure observers and journalists were allowed in order to make the supplementary election acceptable.