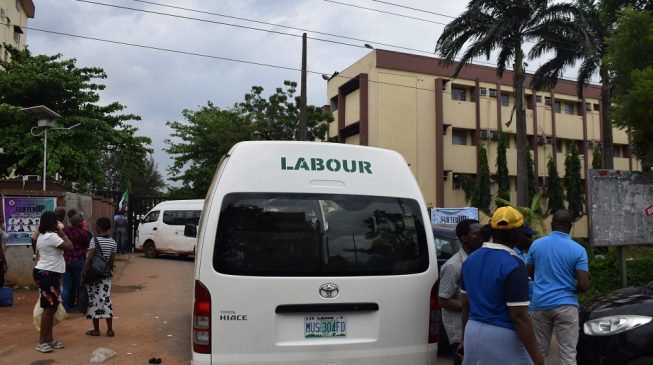 By Gboyega Akinsanmi
Officials of the Nigeria Labour Congress (NLC) and Trade Union Congress (TUC) Thursday shut the Lagos State Government Secretariat, Alausa in compliance with a seven-day warning strike the organised labour directed its members to embark upon.
Likewise, the Old Secretariat, all court premises, Lagos Internal Revenue Service (LIRS), headquarters of 20 local government areas (LGAs) and 37 local council development areas (LCDAs) and other government office complexes across the state were shut.
Specifically, the five gates to the Alausa secretariat were shut early in the morning, thereby denying all public servants in the complex access, while all entrances to the Old Secretariat were completely shut.
NLC officials stormed the secretariat around 5:30 a.m. and shut the gates, blocking the entrance with vehicles. Some civil servants who came to the office despite the warning that they should stay away from work were prevented from entering the secretariat.
No vehicles were allowed into the secretariat as union members vowed that the strike must be 100 per cent effective and they did achieve their aim. Inside the secretariat, all offices remained shut as the area was like a ghost town.
Also, public schools in the state were shut. Pupils and students who reported at school were sent back home, as union officials enforced the strike across government institutions in Lagos.
The Lagos State Chairman of NLC Idowu Adelakun said the industrial action was long overdue, noting that every public servant "is prepared for the strike".
Adelakun said their presence at the secretariat was to ensure that some bad people did not take advantage of the strike to go inside the premises and start spoiling government property.
"When we call strike like this and we are not here some people may decide to go inside and start spoiling government property and as leaders we are responsible enough.
"All these properties are our properties. If people destroy them today they are still going to use tax payers money to rebuild them, so that is why we are here as leaders to make sure that the protest is peaceful and make sure no way for people to do otherwise," he said.
Justifying the strike, Adelakun said the federal government set up a committee on minimum wage in 2017 and promised that by September they would start paying.
"September is gone already. The tripartite committee has not been able to come up with any report. If we do not fight now, when are we going to fight? We only have skeletal services in hospitals because of the nature of their work, there is a total compliance," he said.
Earlier, some banks opened for work in the state, but NLC officials later forced them to shut down for business, as the workers were sent home.
The organised labour had ordered all its workers to proceed on a seven-day warning strike with effect from Thursday in order to demand a new minimum wage after a last minute meeting held with the federal government to stop the strike was deadlocked.