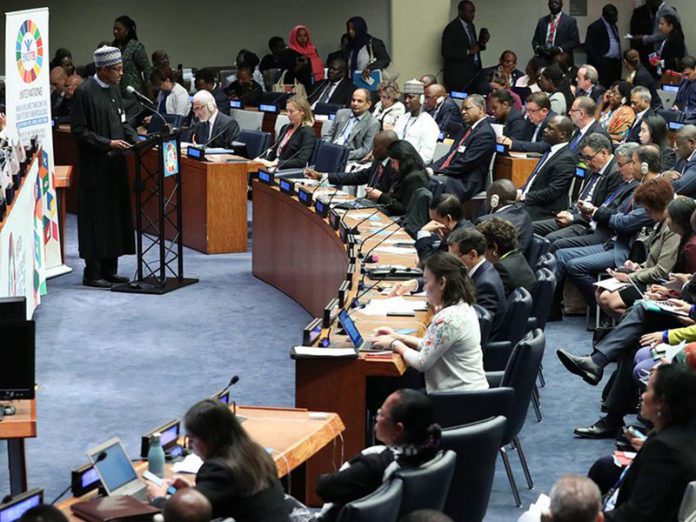 Omololu Ogunmade in Abuja
President Muhammadu Buhari yesterday in New York pledged Nigeria's commitment to eradicating tuberculosis in the future.
The president made the pledge while addressing a summit on the theme, "United Against Tuberculosis: Global Action Against Global Threat" on the sidelines of the 73rd Session of the United Nations General Assembly.
He said he was glad that the event was taking place "at a period when the pain of the disease, and its dire consequences on the health and socio-economic development of many developing countries, is on the rise."
Special Adviser to the President on Media and Publicity, Mr. Femi Adesina, said the president welcomed the adoption of "the all-important political declaration on: 'United to End Tuberculosis: An Urgent Global Response to a Global Epidemic,'" describing the forum as the first with dedicated focus on worldwide tuberculosis pandemic.
He quoted him as saying, "TB has become a global challenge that requires consistent and an all-inclusive global strategy based on research and discovery of new drugs."
He also said the president observed that "such efforts must include mobilisation of funds and global partnership of relevant stakeholders working together to frontally address the scourge."
According to Adesina, Buhari said the task before world leaders "is to initiate a global response towards eradicating the disease especially in developing countries, where counter-measures are sometimes beyond the capacity of such nations."
He also said the president emphasised the "need to develop new strategies that connect national responses with international finance and technical partnership to stop the ravaging disease."
Quoting him further, Adesina said Buhari stated that "Nigeria welcomes the adoption of this Political Declaration, especially its relevant provisions which commit to provide diagnosis and treatment to 40 million people, including 3.5 million children between 2018 and 2022."
Furthermore, the statement said president argued that "the Declaration should also serve as a template for preventing TB for those most-at-risk, through rapid scale up of access to testing the infection, especially for the high-burdened countries."