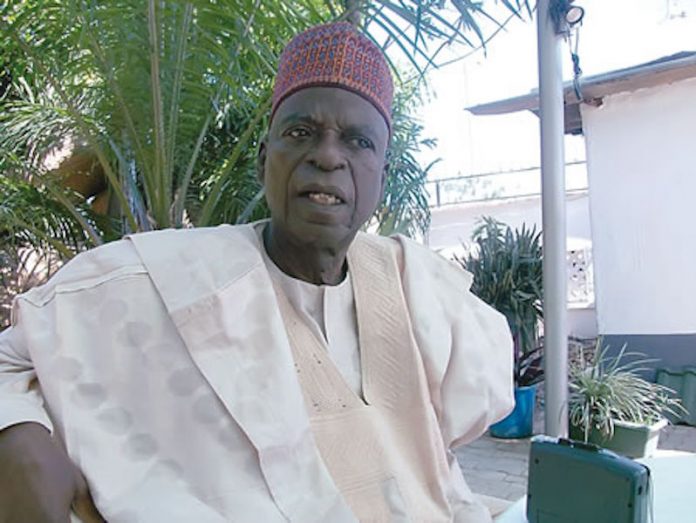 Seriki Adinoyi in Jos

A member of the Board of Trustees (BoT) of the All Progressive Congress (APC), Ambassador Yahaya Kwande who was queried by the party over alleged anti-party activities, has replied the ruling party, saying he was quoted out of context.
"I have not done anything wrong by my action, because to do otherwise would have been a primitive behavior to our leader (Atiku), who once, as you know, assisted us," he said yesterday, in response to the query.
The elder statesman was queried for anti-party activities when he attended a rally in Jos, the Plateau State capital in support of Alhaji Abubakar Atiku, a presidential aspirant of the Peoples Democratic Party (PDP), and also allegedly said it was not impossible for him to lead Governor Simon Lalong to return to the PDP.
Angered by the anti-party activities of Kwande, the state Chairman of the APC, Letep Dabang issued a query to him for canvassing for support for Atiku, describing it as anti-party.
Dabang in the query asked Kwande to explain why he accompanied a presidential aspirant of an opposition party for submission of nomination form to contest against the APC presidential candidate, President Muhammadu Buhari.
He said APC was not a lawless party and that its entire members should respect its principles as no one was above the law.
But Kwande, who said his comment at the rally was a mere joke at the end of his speech, added that it was not meant to malign anybody or the party.
He said, "My comment at the occasion was meant to be joke. If anybody was to be unhappy with me, it should have been Alhaji Abubakar Atiku and not my party APC. I did not shout the PDP slogan nor did I say I have defected to the PDP, which they thought I will do because of the presence of my friend and mentor, Atiku. My statement has been taken out of context.
"I never thought that my party constitution prevents me to attend to my friend request, more so, when I know that Alhaji Atiku Abubakar is a friend to the leadership of both my government and my party in the state."
Kwande also declared that he also reminded the gathering when called upon to speak at the PDP secretariat that as the leader of Gomai Nation, the only symbol of pride at the moment is the position of the governor which the people now have, adding that as a patriotic member of the tribe he is not willing to threw it away.