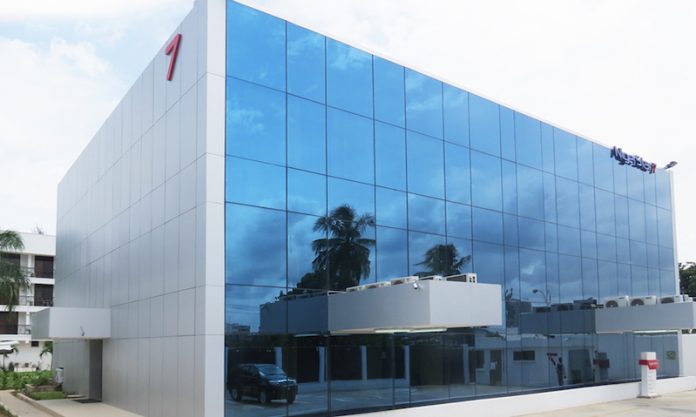 Ejiofor Alike
NigerStar 7, a frontline operator in the services section of the oil and gas industry has officially renamed and launched its newly acquired vessel. The new vessel which has been named NigerStar 7 Adaba will boost capability in the maritime segment of the oil and gas industry.
The vessel is the most powerful Nigerian flagged DP2 Anchor Handler (140mT bollard pull) owned by a Nigerian company and operating in Nigerian waters. It has a 52-passenger-on-board accommodation capacity, 460m² deck space, and an Electronic Fuel Monitoring System. It is the first of its kind to explore Nigerian waters and has been hailed as a major complement to the local content policy of the federal government.
Speaking at the renaming ceremony which was held at Nigerdock Shipyard in Lagos, NigerStar 7's Chief Executive Officer, Mr. Yann Cottart said, "our mission is to serve Nigeria's offshore oil and gas industry by executing the largest and most complex EPIC deep-water projects, and today with this new addition to our fleet, we are closer to our goal as we become the only Nigerian Tier 1 EPCI contractor with a number of modern assets 100% owned and positioned in the country."
"With this investment, NigerStar 7 is creating employment opportunities for marine personnel, our teams onshore and contractors/suppliers providing support services to our vessel,".
On his part, the Executive Secretary of the Nigerian Content Development and Monitoring Board (NCDMB), Mr. Simbi Wabote extolled the partnership between NigerStar 7 and Nigerdock Shipyard while calling for more collaborations that can deliver on the goal of growing local content in the maritime, oil and gas industry.
According to Wabote, "we must commend NigerStar 7 for its renewed commitment to local content practice and the noticeable repositioning it has undertaken to project the value proposition it offers as an oil and gas service provider of high repute."
He commended NigerStar 7 for its commitment to Nigeria and called on other companies to emulate the example of the company in terms of making visible investment in the Nigerian economy.
In accordance with NigerStar 7's commitment to the Nigerian Oil and Gas Industry Content Development Act of 2010, the personnel on NigerStar 7 Adaba, including its Captain were Nigerians.
The crew have a robust understanding of the peculiarities of the Nigerian environment and are set on delivery of quality service to clients.