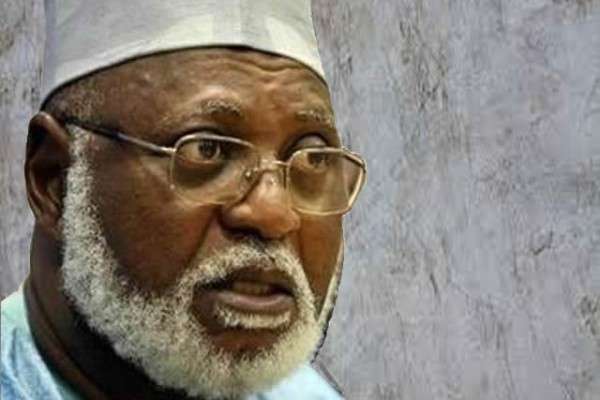 By Adedayo Akinwale in Abuja
The National Peace Committee, headed by a former Head of State, Gen. Abdulsalami Abubakar (rtd), Tuesday held a meeting with the Independent National Electoral Commission (INEC), the security agencies and representatives of registered political parties ahead of the 2019 general election.
Abubakar, while briefing journalists after the first meeting with the INEC Chairman, Prof. Mahmoud Yakubu, and the security agencies, said that the meeting was to ensure that politicians do not heat up the polity ahead of the 2019 general election.
According to him, "As you are all aware, we are approaching 2019 elections and already you are very much aware how the polity is being heated as a result of which we have decided to step up our action to ensuring that there is peace in the country."
Abubakar stressed that the politicians need to play by the rules of the game, while the security agencies and INEC also need to play their roles accordingly.
In furtherance of ensuring that the peace continues, the committee later met with the registered political parties, where they listened to their complaints and also appealed to them to make sure that politics is played without bitterness.
He stated: "All in all, we have had a briefing and then later this afternoon we are going to meet with the political parties. The INEC chairman has told us there are 91 registered political parties.
"As you are very much aware, if there is no peace in any country, there will be no country at all. So this is the essence of this meeting to ensure that we are all on the same page to ensure that there is peace in our country."
A member of the committee and the Bishop of Sokoto Diocese, Bishop Mathew Kukah, revealed that the entire members of the committee were pleased with the efforts of INEC with the way the chairman presented the commission's activities.
He noted: "It does seem very clear to me that there is a great improvement on the way that things have gone.
"This election by the grace of God ought to be a better improvement from the 2015 election. Our hope is that elections after this we will also see a greater improvement because as we are moving forward, you are correcting all the mistakes.
"It is our greater joy that we are no longer complaining about open ballot box snatching. Now we are complaining about vote buying. I believe that from what we heard the chairman saying, this is not a one person job, it belongs to all of us Nigerians."