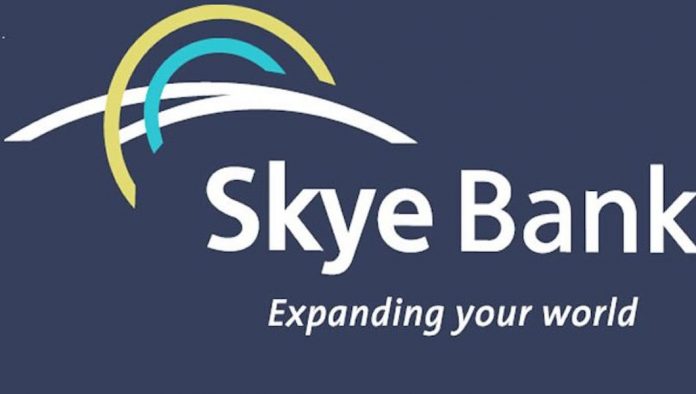 Nume Ekeghe
With the takeover of Skye Bank Plc by the Central Bank of Nigeria (CBN) and the Nigeria Deposit Insurance Corporation (NDIC) on Friday, Polaris Bank Limited Saturday asked customers across the federation not to be panic because of the development.
This appeal was contained in a statement the bank's Group Managing Director, Mr. Adetokunbo Abiru and its Chairman, Mr. Muhammad Ahmad issued yesterday.
Evident in its statement, the bank assured customers nationwide of continuous banking services and liquidity. He therefore urged them not to stop patronising the bank
It states: "Pursuit to Sections 33(1) (C) and 39(1) of the Nigeria Deposit Insurance Corporation Act No. 16 0f 2006(NDIC Act) and by a Purchase and Assumption Agreement dated September 21, Polaris Bank Limited as a bridge bank has assumed all the deposit liabilities and certain other liabilities, and has had vested in it, all the assets of, Skye Bank Plc. effective from September 21.
"By this notice, all depositors of Skye Bank Plc are hereby notified that they are now depositors of Polaris Bank Limited, which is fully capitalised and has the support of both the Central Bank of Nigeria and the Nigeria Deposit Insurance Corporation.
"All depositors shall be able to conduct their normal banking transactions in respect of such deposits at all branches previously operated by Skye Bank Plc. which branches are now being operated by Polaris Bank Limited," the bank explained"
Specifically, the bank assured its customers of liquidity, saying customers "are free to withdraw all their monies without any prejudice, though should endeavour to keep faith with the bank.
"All depositors are further given notice that they are entitled to make withdrawals from their deposits either in full or in part, subject only to any security agreement existing on such deposits, as their accounts are now maintained by Polaris Bank Limited.
"Depositors are strongly encouraged to continue to maintain their deposits and normal banking relationship with Polaris Bank Limited. Polaris Bank Limited shall continue to pay interest on all deposits in accordance with any deposit agreement formerly existing between each depositor and Skye Bank Plc. as at the date of assumption of such deposit by Polaris Bank Limited.
"In the event that Polaris Bank Limited seeks to make any changes to interest payable on any deposits, any such changes shall be notified in writing to each depositor and shall only take effect after a reasonable time following the giving of such notice.
"The CBN has retained the Board and Management of the defunct bank to manage the affairs of Polaris Bank Limited as a result of their good performance following the intervention in the defunct bank in July 2016. All customers and depositors of the bank can reach their relationship managers for any further clarifications if required."
The bank, therefore, appreciated all its customers for their support "to the defunct bank and hopes that this support will be extended to Polaris Bank Limited. We will also like to use this opportunity to assure all customers of our continuous excellent services at all times."